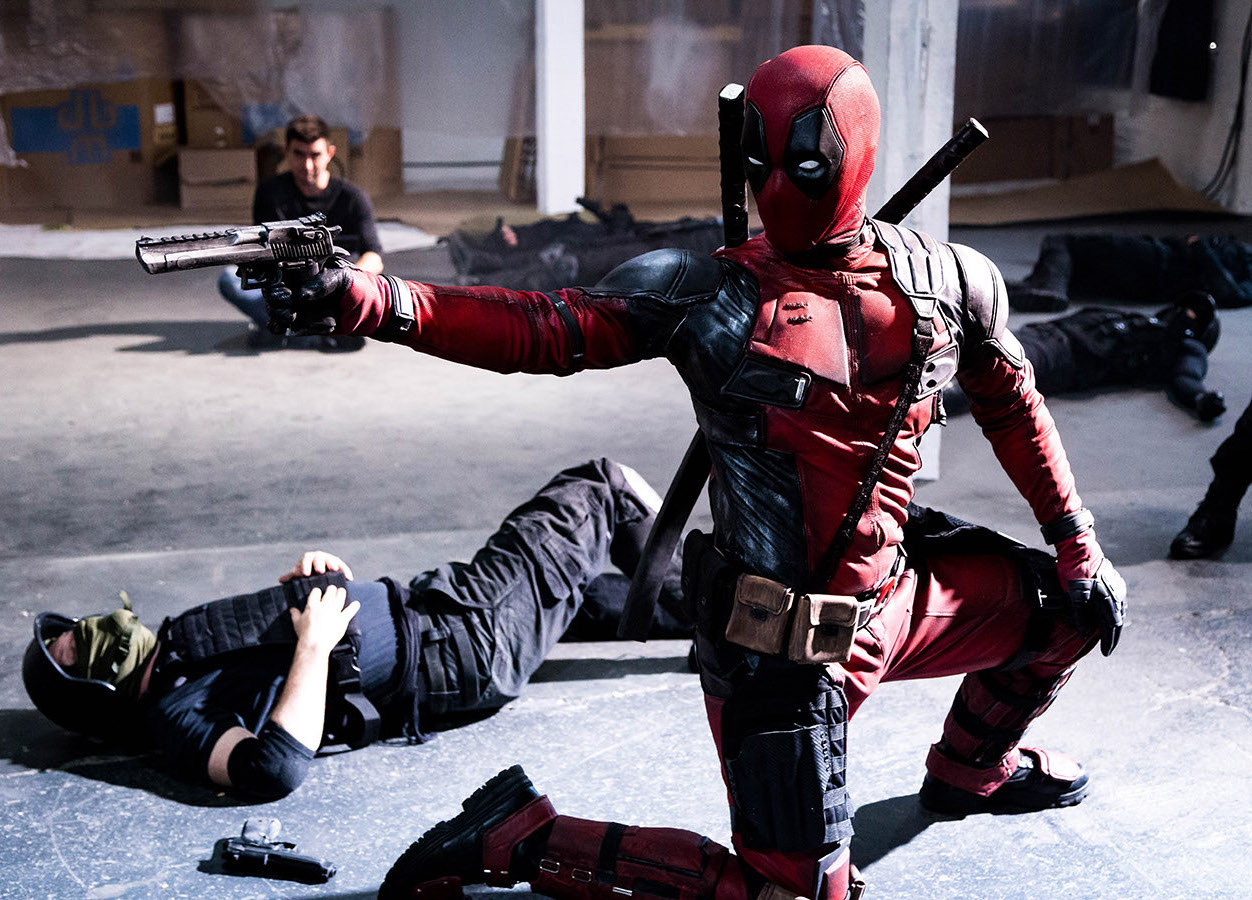 by Steve Savitsky • photos by Zamurai Productions
A costumed psycho mercenary singing songs as he dispatches bad guys left and right—no, it's not a bizarre fever dream or a Tarantino flick, it's Deadpool The Musical 2, an epic fan-film that sets new heights of excellence for writing, music, stunts, and of course costumes. Following their 2017 musical parody mashup of Deadpool and Beauty And The Beast, Zamurai Productions' sequel features even more Disney songs, more action, and more superhero teams with movie-quality costumes. Along with a screen-accurate Deadpool and X-Men favorites like Wolverine, Rogue, Cyclops, and Beast, there are appearances from the Avengers, Captain Marvel, Dr. Strange, and Star-Lord, plus deep-dives like Puck and Sasquatch from Alpha Flight. CCM spoke with much of the creative team about their new production, an obvious labor of love, and how the costumes were created for this huge cast of cosplayers and stunt people.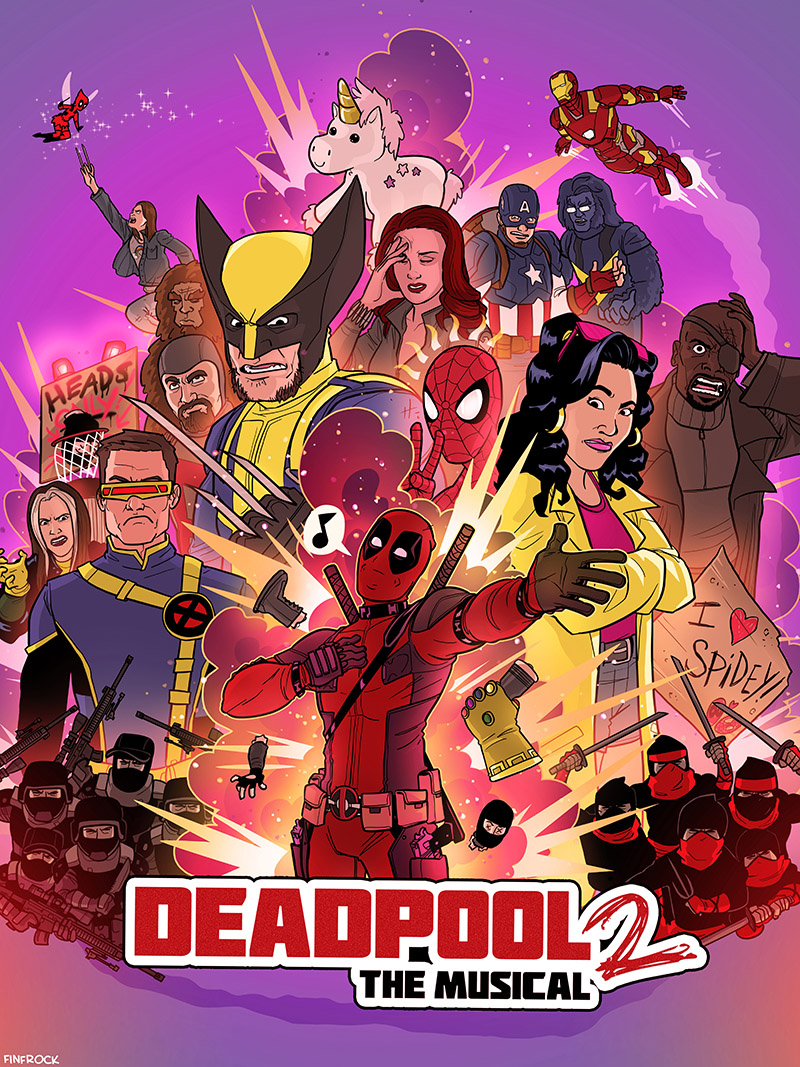 As Executive Producer and Deadpool actor Michael Parker explains, the first Deadpool Musical was inspired by a professional Deadpool costume that he ordered, and their small production company was formed to create a movie-quality short. For the more ambitious sequel, the big challenge was the scope and logistics, with the goal of upping the the action and stunts twice as much. "It was huge, a full five-day shoot in a warehouse in L.A.," says Michael. "Credit goes to producers Brian, Julian and Paul, for scouting, finding locations, assembling all this together. We do call it a fan-film, out of respect to the original property, and we make no money at all, we do this out of love. But it's a full set of 50 plus people." "We always knew we were going to do a second one," Writer/Producer/Production Designer Paul Bianchi adds. "A lot of it just came down to when all the people we need to do this have the time to execute it."
The writing, which was done before any Deadpool 2 trailers had come out, was wish-fulfillment as well as high-concept musical mash-up, as Producer and Stunt Coordinator/Choreographer Brian Danner explains. "We wrote as fans wanting to use the freedom of a not-for-profit fan-film to incorporate characters, that until recently, Disney/Marvel wouldn't have been able to do. We went full throttle, just throwing everything at the wall." Michael adds, "We actually shot before Deadpool 2 came out, and were surprised to see a few things in it. The Deadpool 2 movie is about being on a team, and so is ours. Paul, like Brian, really understands the characters; here's a loner who wants to be a part of the team." Appropriately, all four worked together on the story, focusing on making a bigger film that wasn't just a series of fight scenes.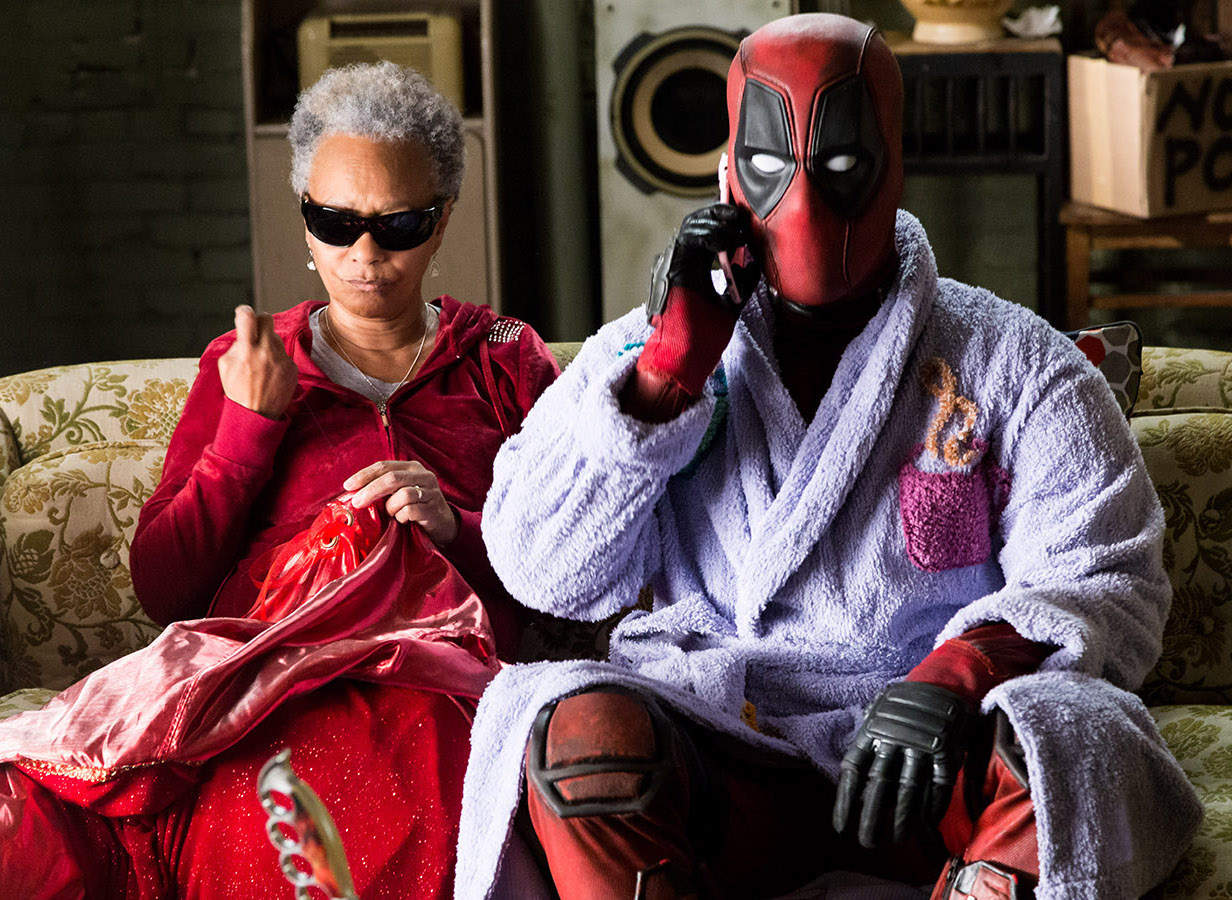 Costume designer Bridget Desjarlais was brought on as Wardrobe Supervisor, coordinating costumes as well as creating them. "I made all of the Ninja costumes," she says. "42 in total for the Hand Ninjas, and 23 Morlock costumes, and also the cloak for Nick Nury. And of course my favorite one I made was Deadpool Princess (for the big finale)."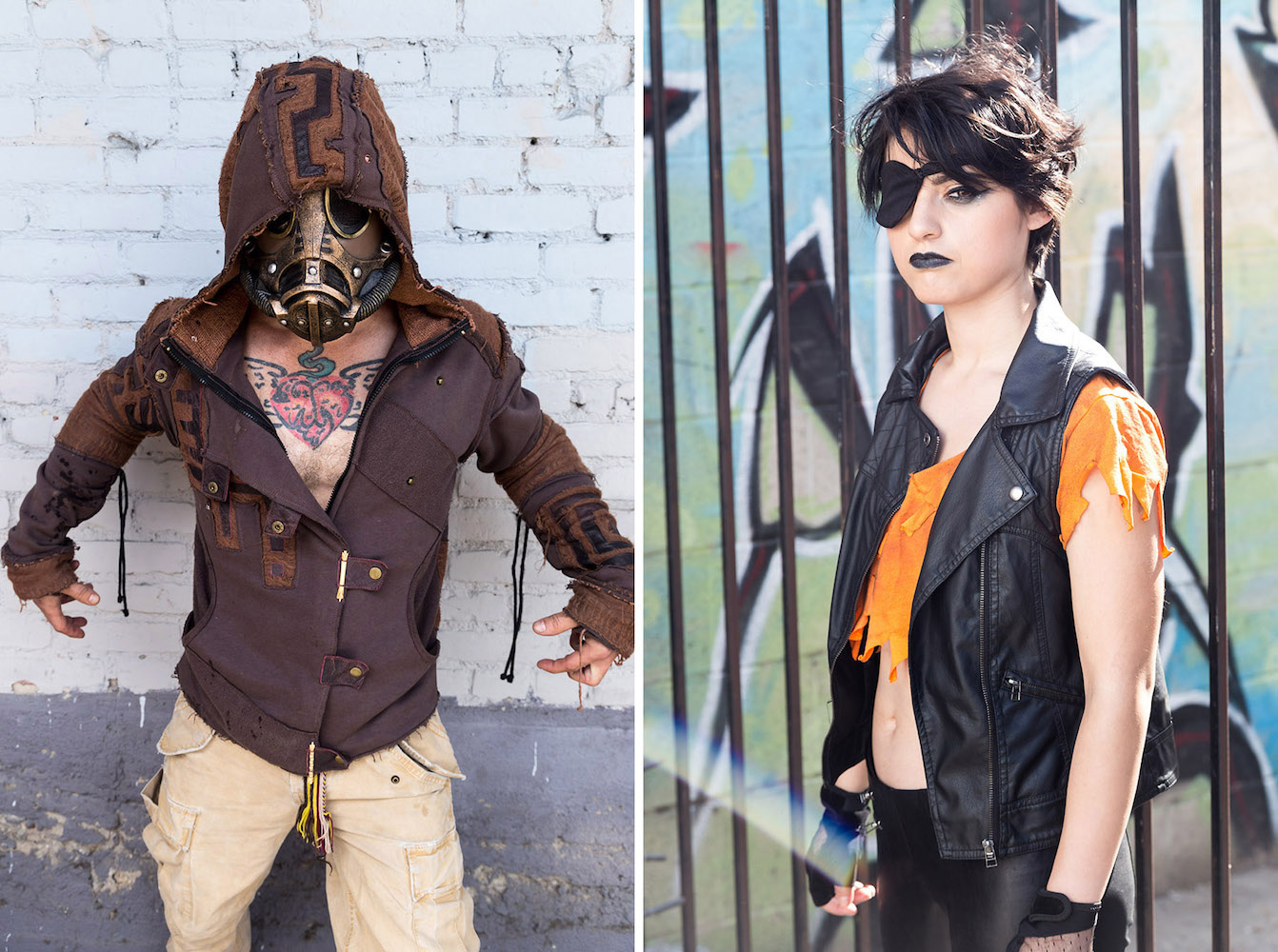 Art Director Jo Crandall, who makes screen-accurate replicas and is an active member or the Cosplay community, fabricated the Star-Lord and Baby Groot costumes and made a lot of the stunt props. "For the art department and Wardrobe, we started out about three weeks ahead of the shoot date." Adds Bridget, "I wrapped a movie and then had two weeks to get everybody together. And I am not a stitch house — it was just me."
With a great looking screen-accurate Deadpool costume, all of the costumes had to be at a certain consistent level. A major goal of Paul's was "to make sure that the design of the other superhero costumes fit within a cinematic universe. This was easy with characters that have been seen in the cinematic universe, but there's also characters making their theoretical MCU debut in this project as well," such as Alpha Flight's Sasquatch and Puck.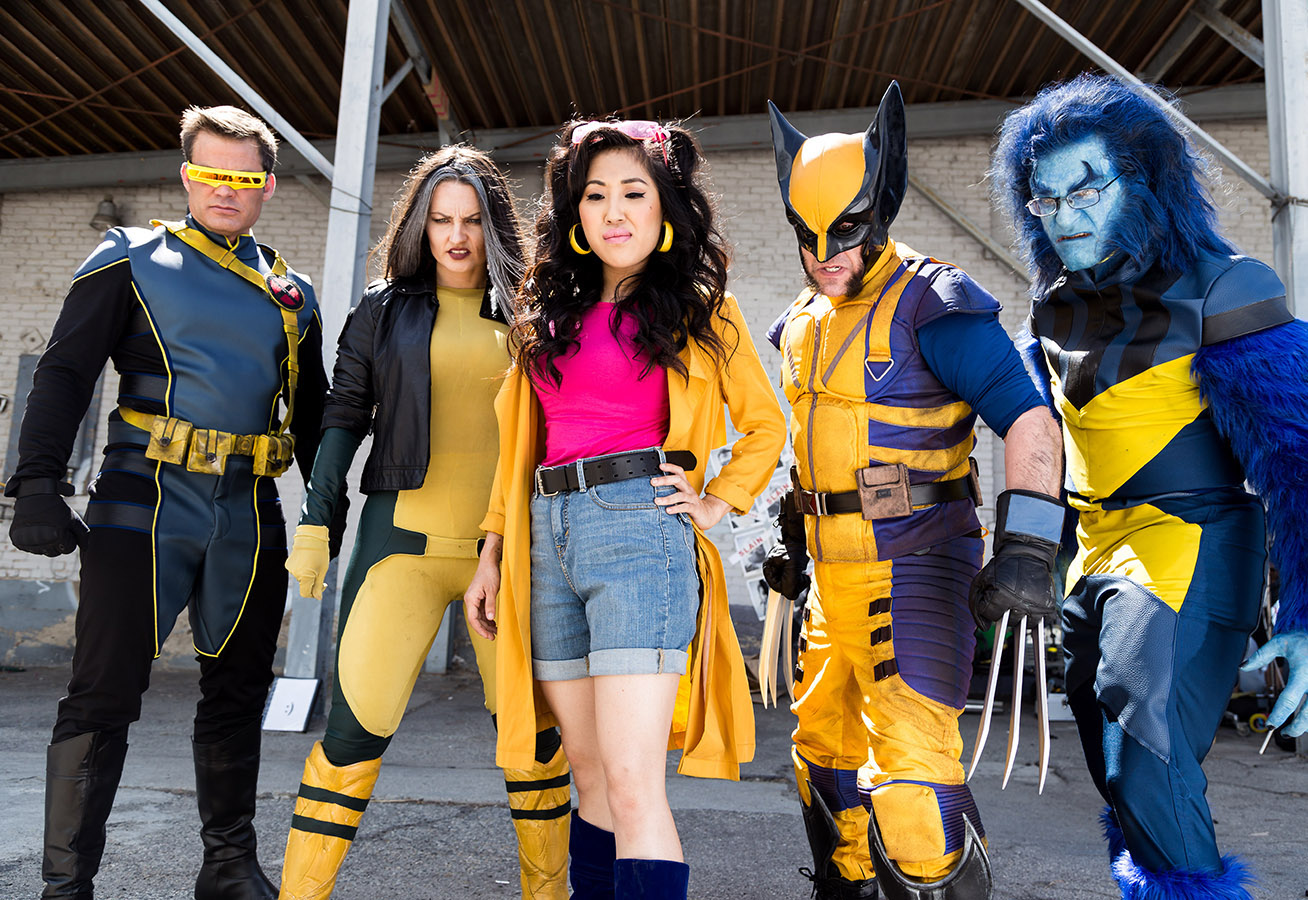 As a real favorite of his, Brian was especially excited to depict Puck on film. "This is a character no one has seen. If we do it right it we'll be the first ones to put him on screen and people will love him." Paul was responsible for the concept designs of Puck, Beast, and Cyclops.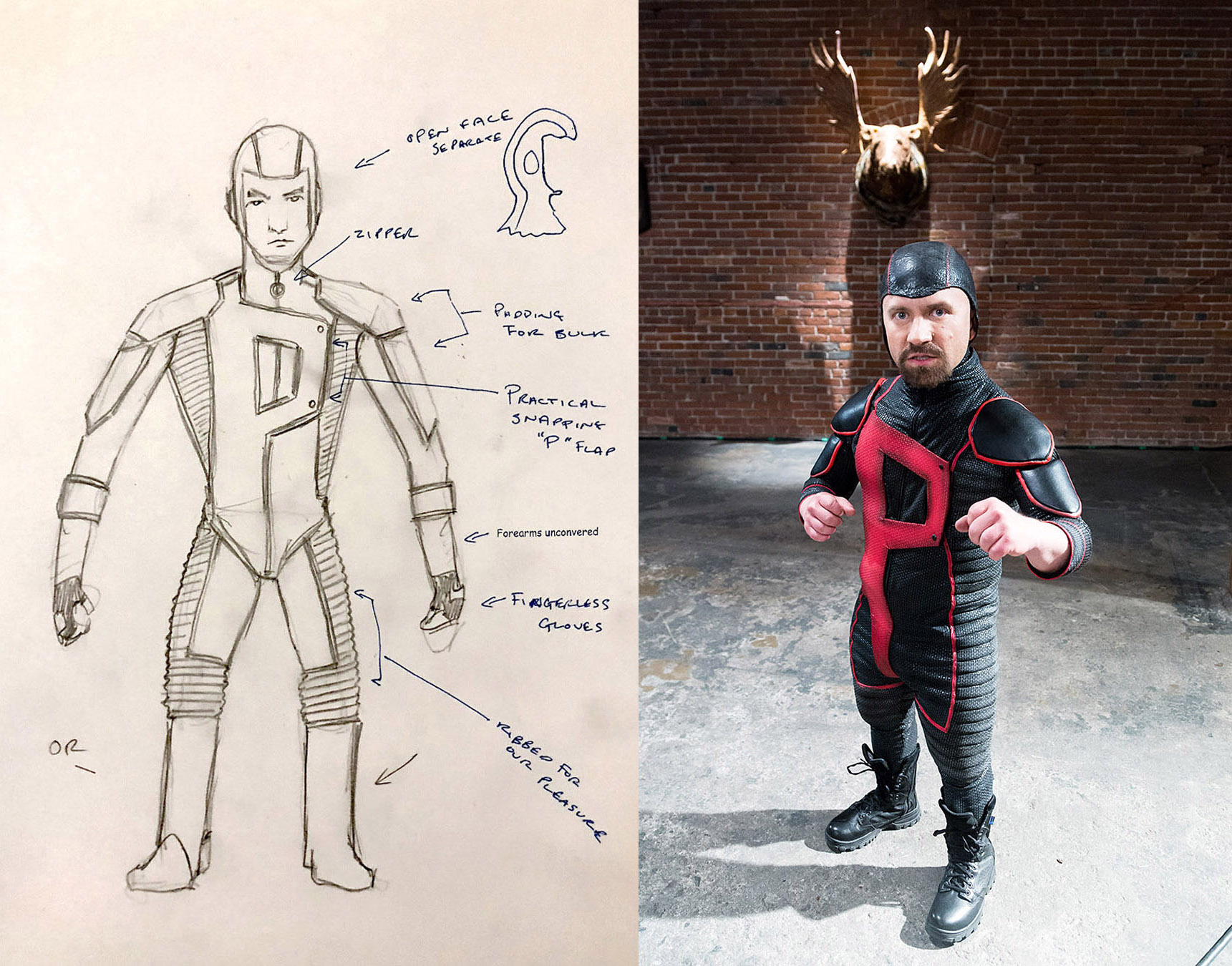 There were three Deadpool costumes created, one for lead actor Michael and the others for two stunt men. All were made by Jose at Professional Cosplay, with a screen-printed, multi-textured fabric. Paul explains that several different eye pieces had to be made, "more like a metal mesh screen," which are easier to see through when doing stunts.
"The fabric that Puck was wearing, which was a collaboration between myself and Professional Cosplay, was another one of those fabrics with a very distinct texture." For others, there was "a lot of digging around in the fashion districts in Los Angeles trying to find fabrics that look utilitarian, and hoping you find four-way stretch. Unfortunately, sometimes you have to use two-way stretch knit as well, which can be tricky to get very form-fitting."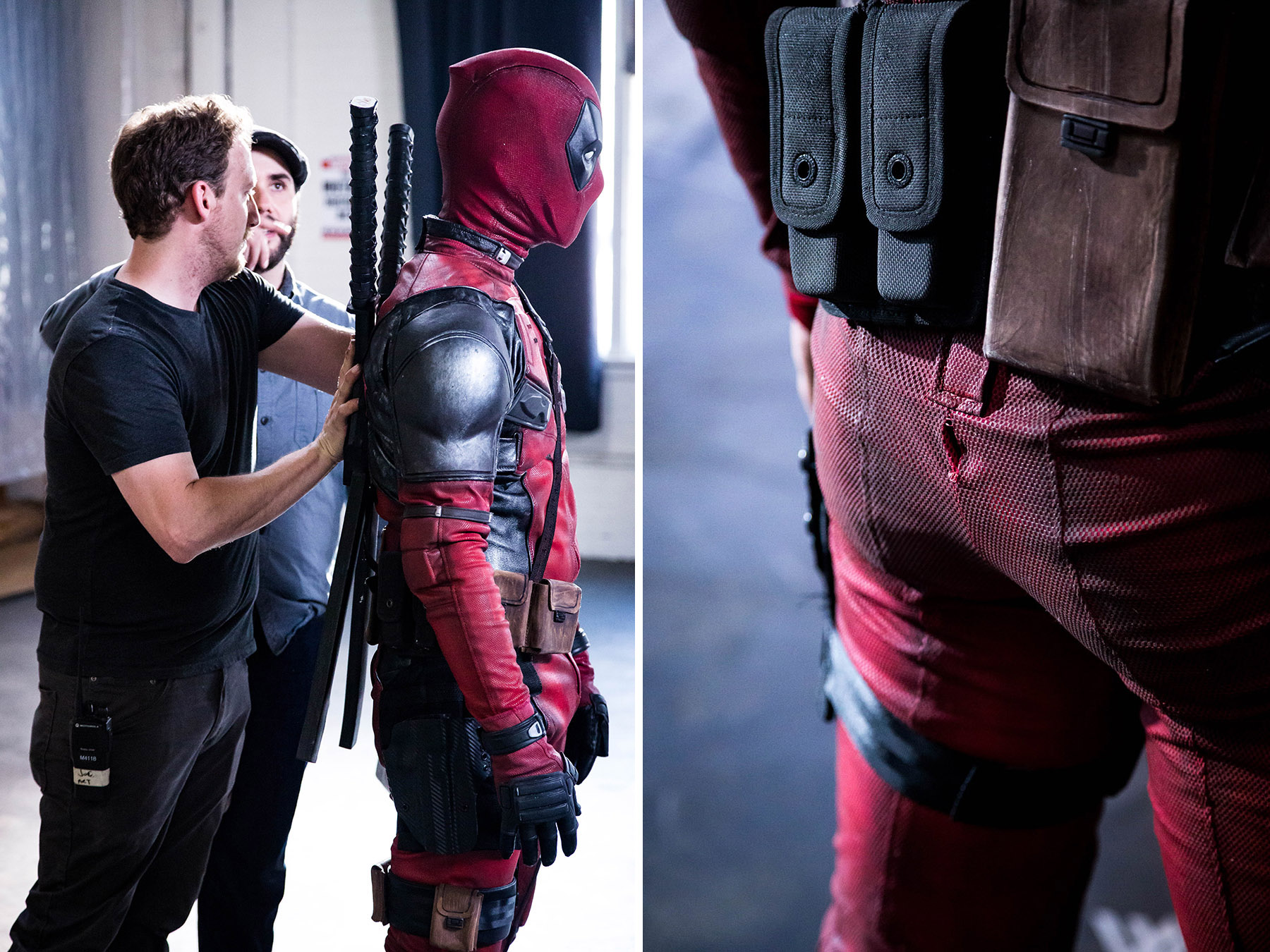 Other practical problems were addressed, such as Deadpool stunt double Drew Knigga tearing through the butt of his pants multiple times. "Even though you're working under a really tight deadline," says Jo, "you have to give yourself time to make sure that you're not only being screen-accurate, but also putting together the pieces in a way that will hold up. We may only use it for a day, but in that day you're putting enough wear and tear on it to last a year. And so we use techniques like layer on layer, whether that be cloth or foam." For other techniques, like printing on fabrics and translucent layers, Bridget says, "I have used some of those things on other projects, but on this one we did not have the luxury of custom-printed fabric."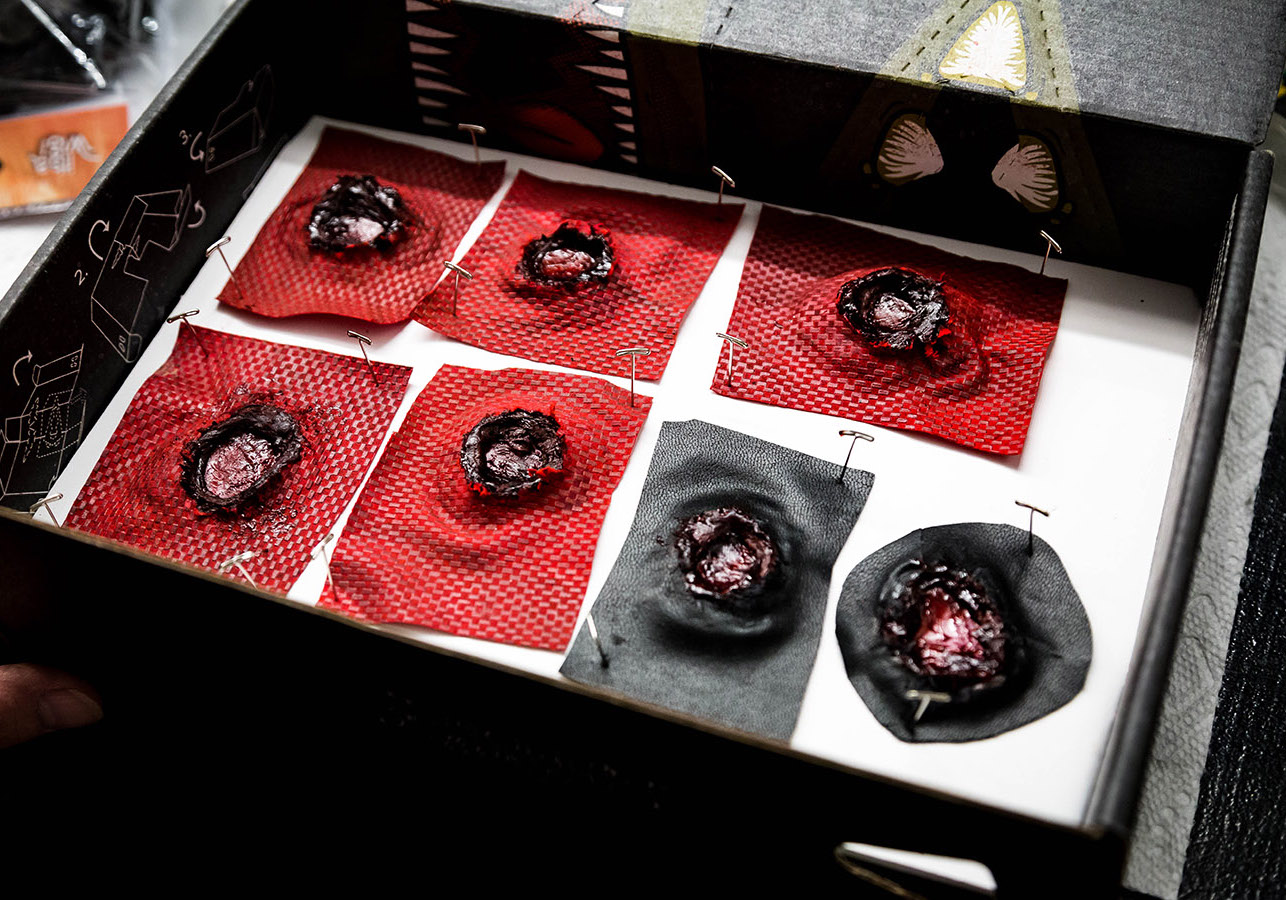 The Sasquatch costume was altered and enhanced from an older unused version, as Paul explains: "Jo crafted the muscular chest and thighs, and I made frequent runs to a Sally Beauty Supply to get the rust-colored hair and a lot of spray adhesive and hot glue. And you better believe that guy was shedding on set! A nice trick you can't see in the actual project is a zipper between his pectorals so he could very quickly get in and out of costume."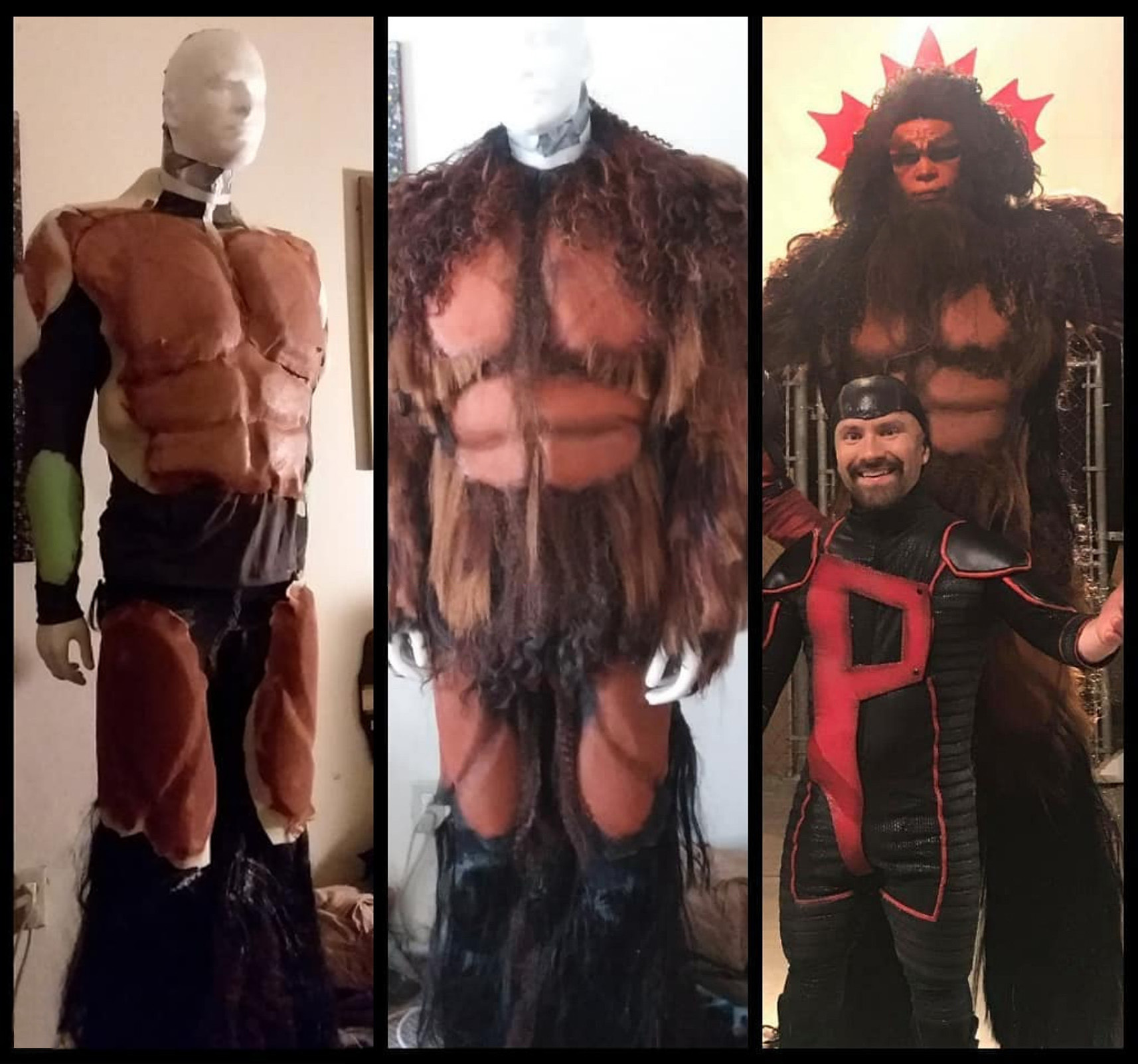 Another favorite of Paul's was Rogue's costume, which was inspired by Negasonic Teenage Warhead's suit from the first Deadpool movie, combining "the classic Rogue green-and-yellow look, but with a darker movie palette of dusty gold and more subdued green. I got a lot of compliments on that costume, both on the day and by fans who watch the video, so I felt pretty happy with it."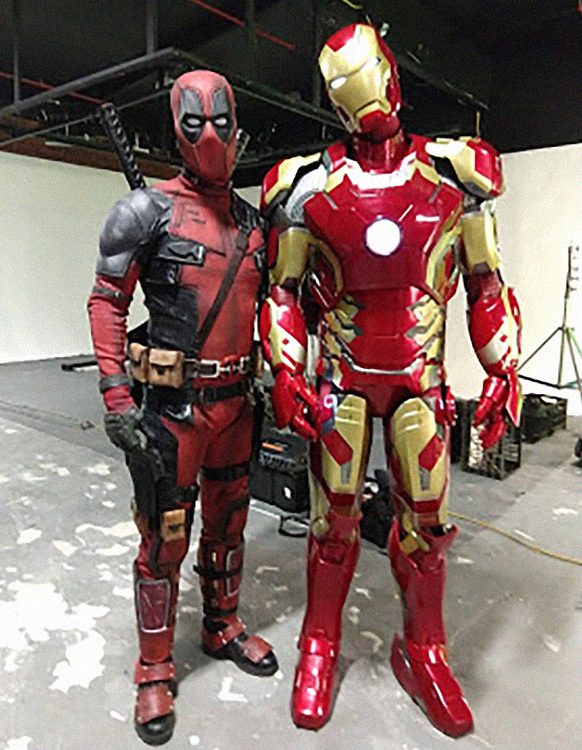 Jo Crandall was partial to a 3D-printed Iron Man suit that had been shipped from Malaysia. "No instructions came with this thing, so it took me a good week and a half to get it to a point where all the elastic is holding together, there's not weird gaps in the pieces." Another problem: "Because the feet were basically these fiberglass socks that you put on over your shoes, they would easily chip and you'd have no traction. By spraying PlastiDip on the bottom that matched the color, it helped keep him from slipping around on the green screen. Although a lot of people don't like it, I use PlastiDip for a lot of my stuff."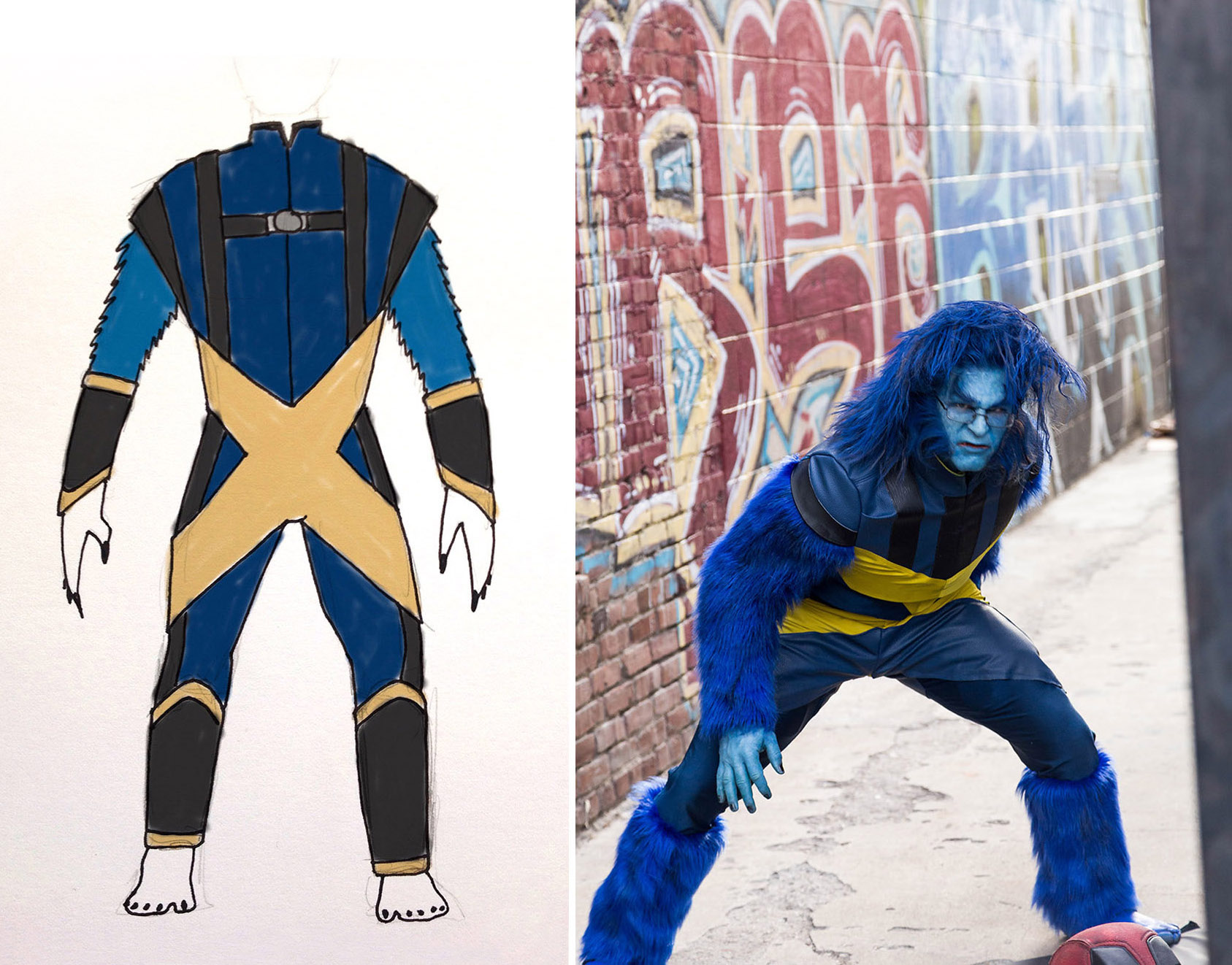 For Beast, they ended up getting a make-up artist who actually worked on the third X-Men movie, Thomas Surprenant. According to Paul, he wasn't quite sure how he ended up on the set, but "he did a terrific job. Christy Hauptman fabricated the Cyclops and Beast costumes that I sketched up and she executed to great ability." To avoid having Beast in a make-up chair all day, "we came up with the furry arms and fur at the bottom of the legs. I'm so amazed with that makeup job; the day they put it together it just blended really well with everything that they did. I felt like it had a mythic quality."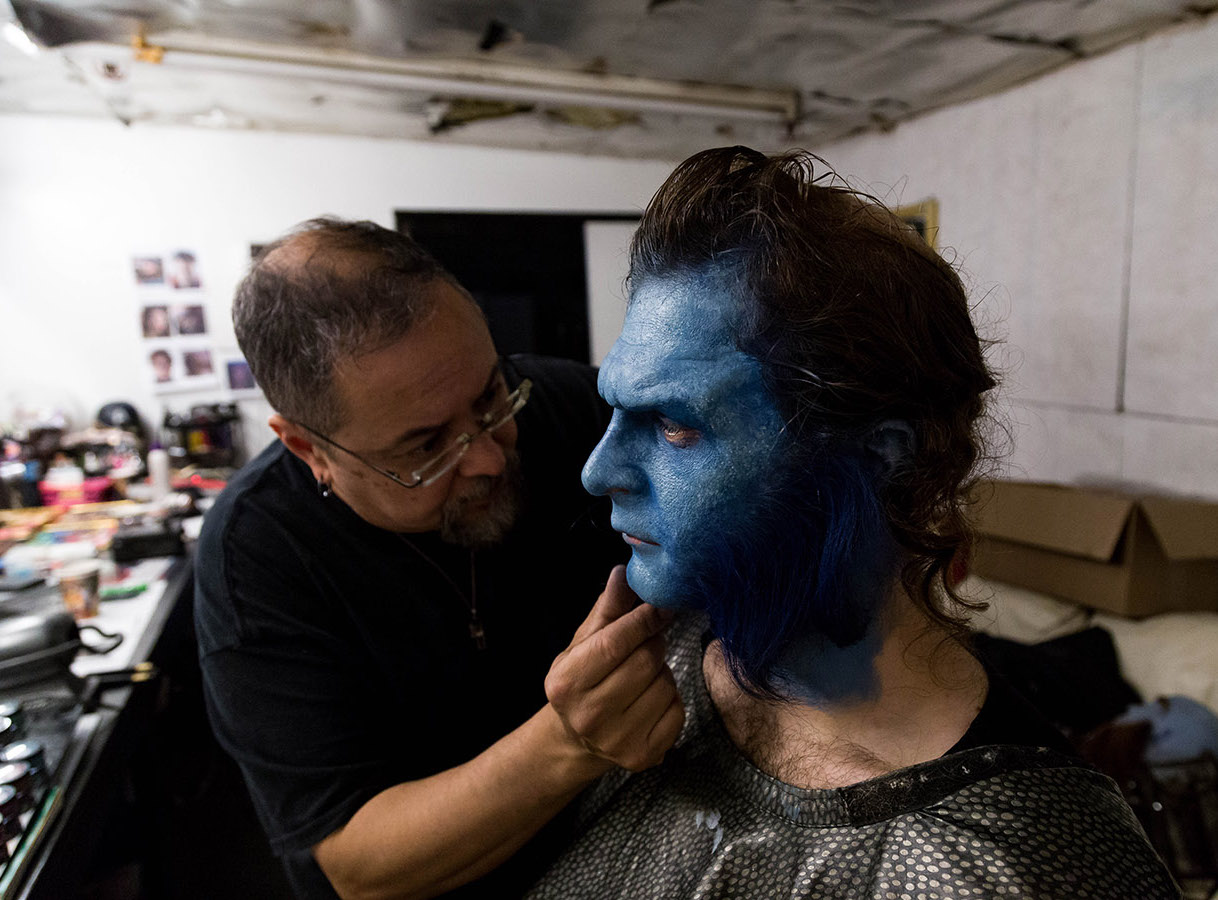 With the L.A. acting community to pull from, there was no shortage of pro actors, cosplayers, or both. "Actor Casper Van Dien played our Cyclops and Jenny Van Dien our Rogue," says Bridget. "The princess group was provided by cosplayer and costume fabricator Ali Williams."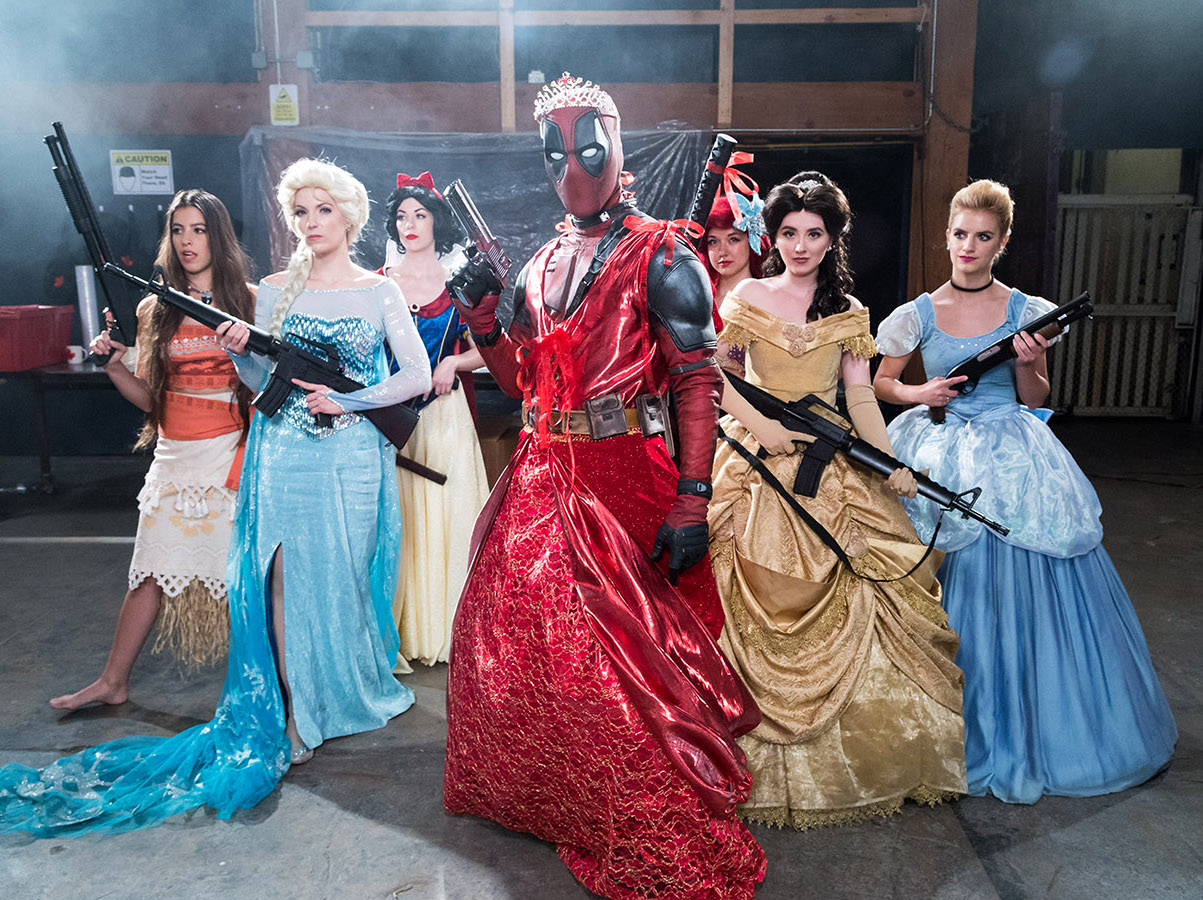 Jo mentions that at least 40 people were brought in for stunts. "Brian Danner did an amazing job — they worked on those fights for a month or so. When they do the stunt rehearsal, they're not making up anything on the spot." Michael agrees, praising Deadpool stunt doubles Adam Critchlow and Drew Knigga for their work in the opening sequence and other fight scenes. "They were just phenomenal in the suit."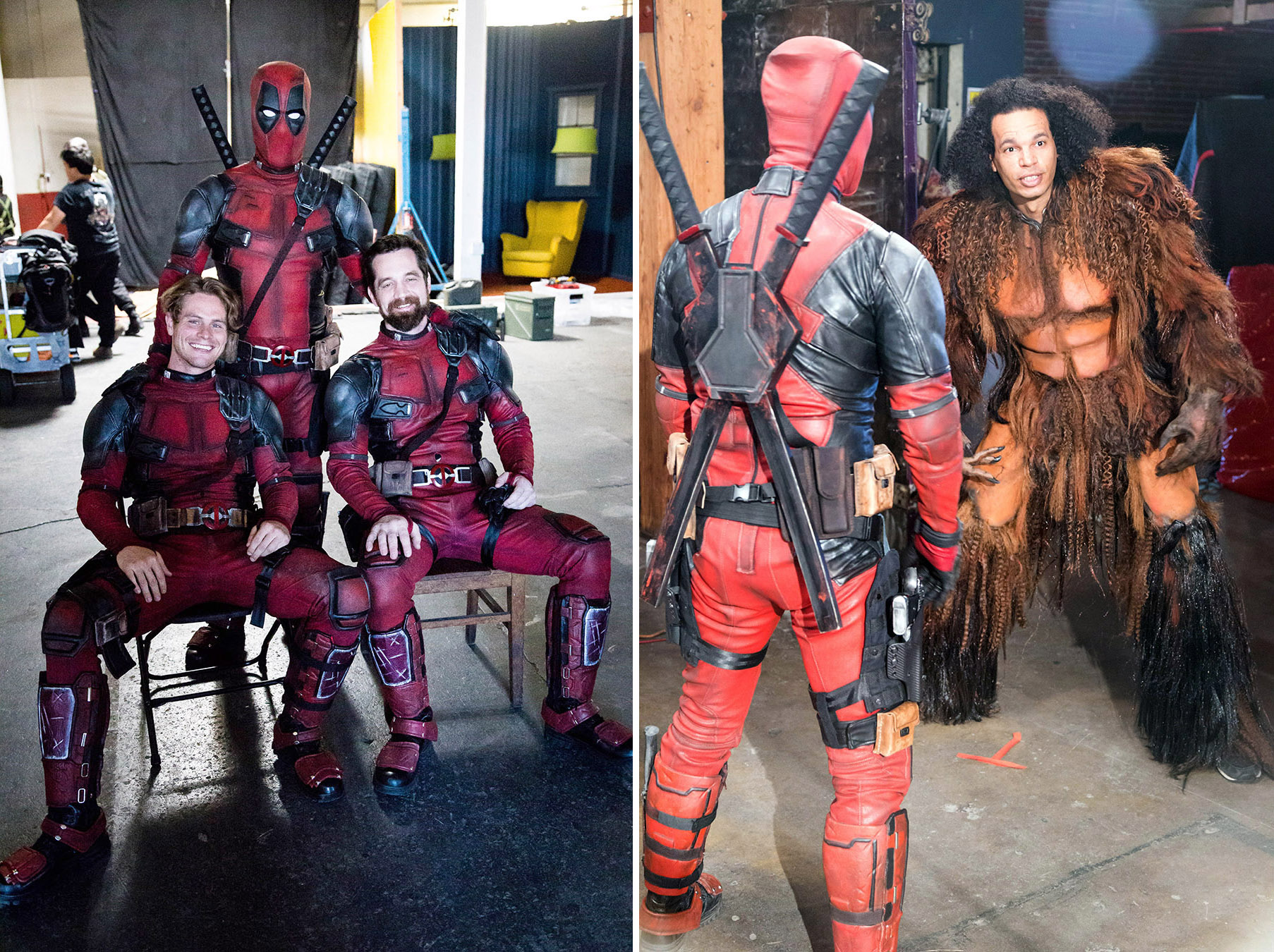 As fight choreographer and stunt coordinator, Brian led the blocking of action for the five major songs. "I've been in stunts for the better part of 20 years and have been coordinating for the last 10 to 12. Because this one was so big, we started our blocking a good four or five months before. I'm lucky to have a team of 30 performers who I can just point in the right direction and are super collaborative and creative."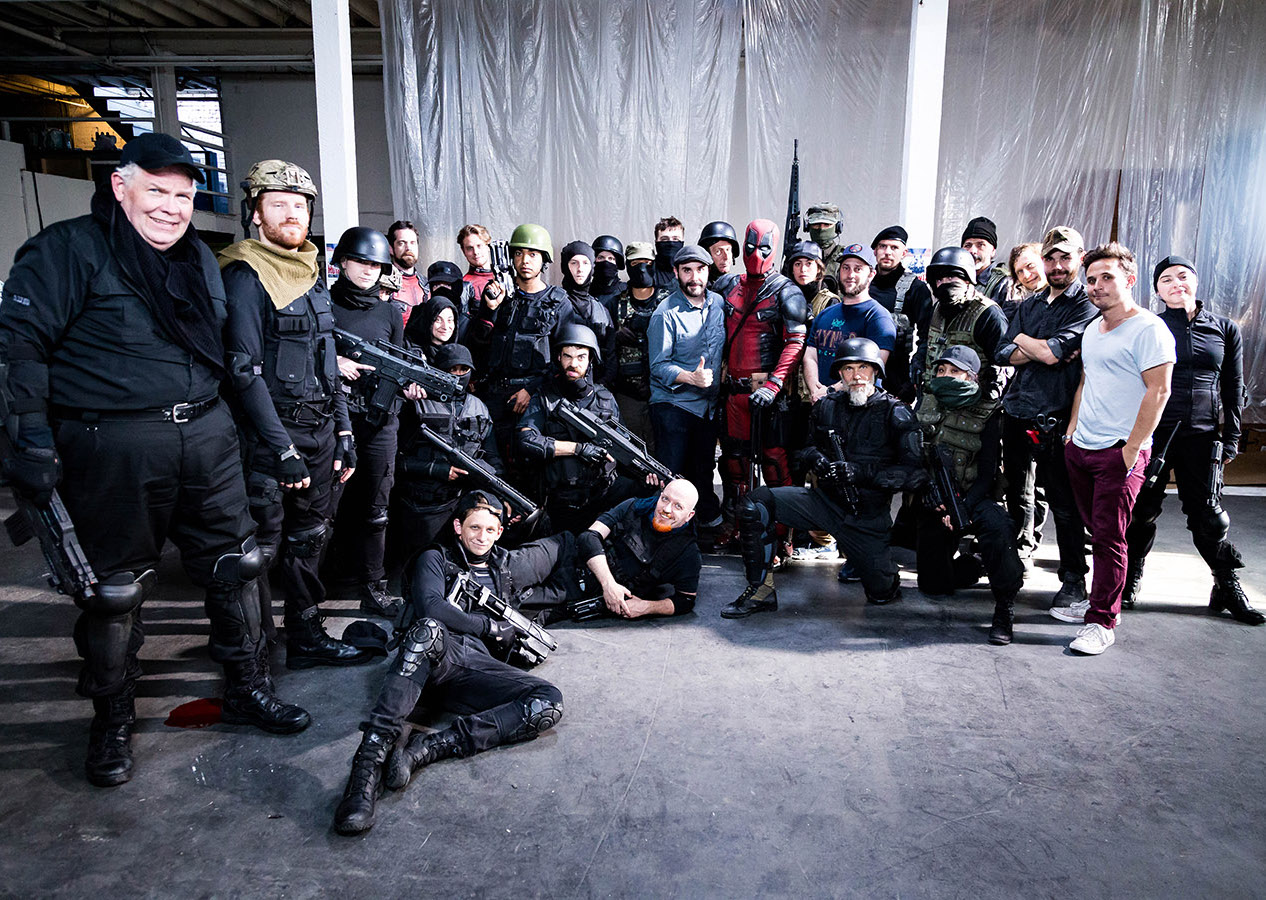 While Deadpool The Musical 2 has gotten considerable attention online and at film festivals, the team hasn't officially been contacted by anyone at FOX or Disney. "We've never been praised nor threatened," says Michael, "but our understanding is that they really appreciate what we've done; they recognize that we have the greatest respect for their intellectual property." As Paul puts it, "When you put things online and don't do this for money, that's the saving grace of parody. The fact that we haven't been pulled shows that they really like what we're doing." Michael agrees: "When you look at fan-films, if you're gonna go this route, you can't lie about it. Otherwise, go create your own thing and make as much money as you can."
And according to Paul, the team's future plans may include doing just that: "Fans can so quickly get behind material they're familiar with, but they've seen what we can do and hopefully that's enough to get them behind us. If we choose to do something original that can actually make some money, that'd be wonderful." For Jo, life after Deadpool includes production of his next Star-Lord costume and filling back orders on his Etsy Store, some of which came from people "seeing the stunt and custom props that I made for the film. I work as a prop fabricator, but this was the first time that people actually sought me out to do that."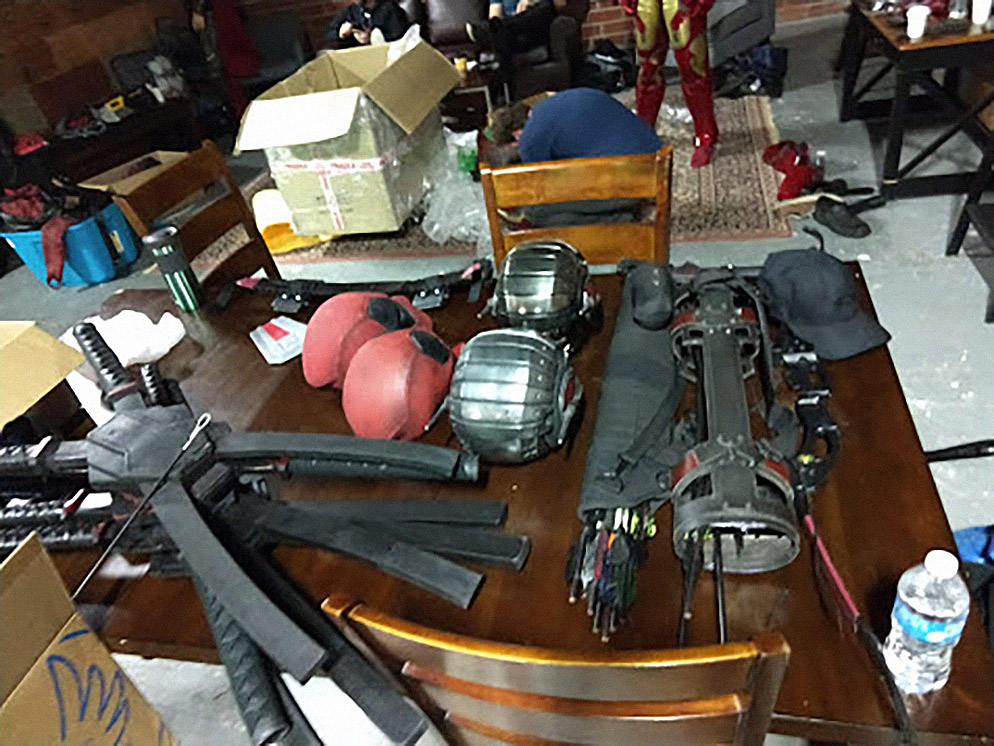 Says Michael, "Right now we're still don't know what the next thing is. This was such a phenomenal amount of work to get out, I think we're still looking at pushing this. As for where it goes next, it's in the hands of a charitably R-rated demented, mutated superhero…!"
"Don't let him lie to you," interjects Brian. "It is definitely a Wolverine-Deadpool / Thelma and Louise team up — it writes itself!"
More info at
http://www.deadpoolmusical.com
and FB: http://www.facebook.com/DeadpoolMusical