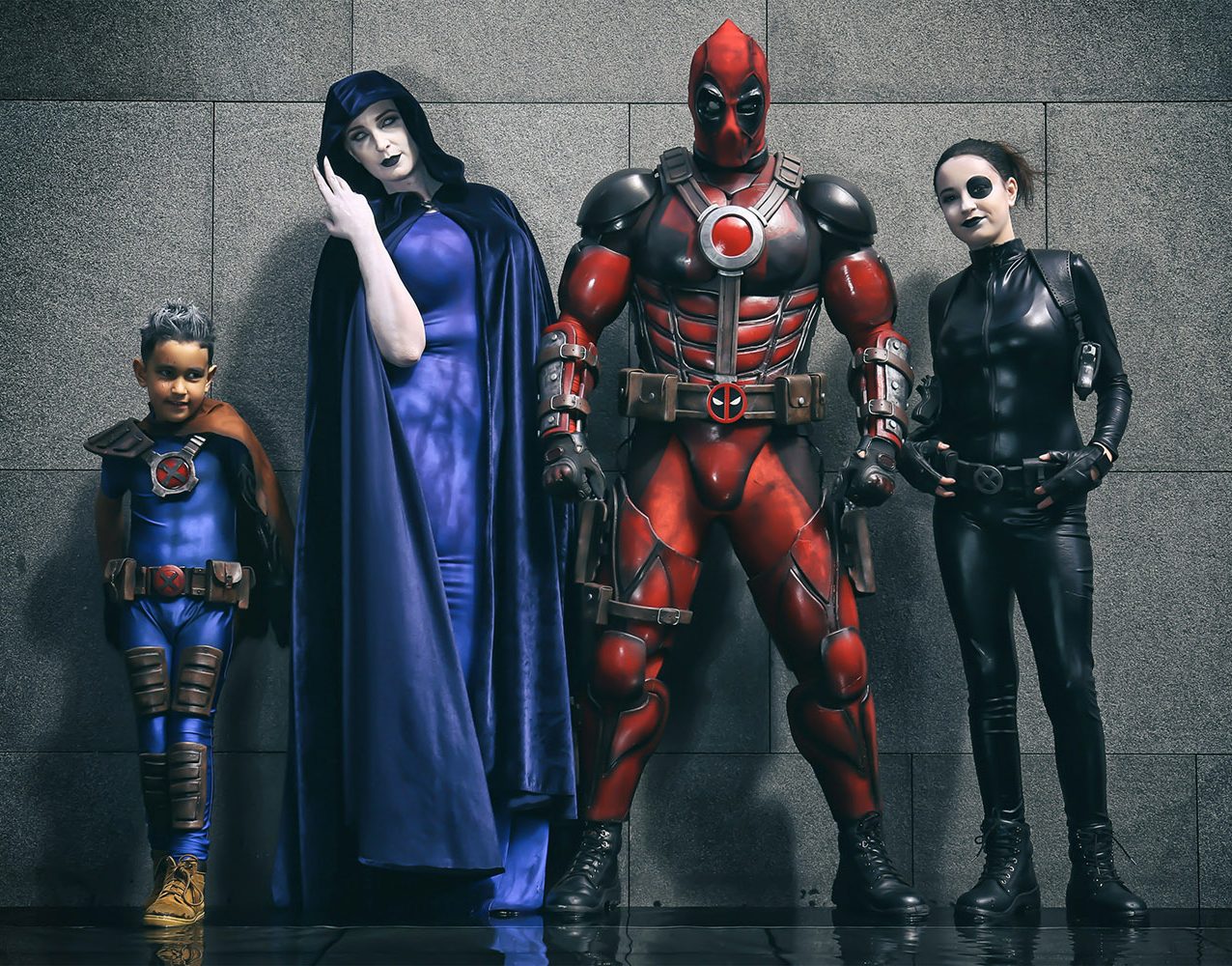 By Steve Savitsky
Photos by Reagan Smash Productions
Until rather recently, when most people thought of Australia, cosplay was generally not the first thing that came to mind, being a bit at odds with the wallabies and rugby often associated with the continent. But a seemingly endless list of film actors and directors like Chris Hemsworth, Margot Robbie, Hugh Jackman,  Taika Waititi, Joel Edgerton, Mia Wasikowska, and Ben Mendelsohn are making Australia and New Zealand one of the primary go-to sources of entertainment on the planet. And cosplay is quickly becoming another Aussie artistic category attaining world prominence: with its 2016 win of the prestigious Crown Championship of Cosplay from amongst a multitude of countries, Oz has shown it can match the best of international competition and step up its game.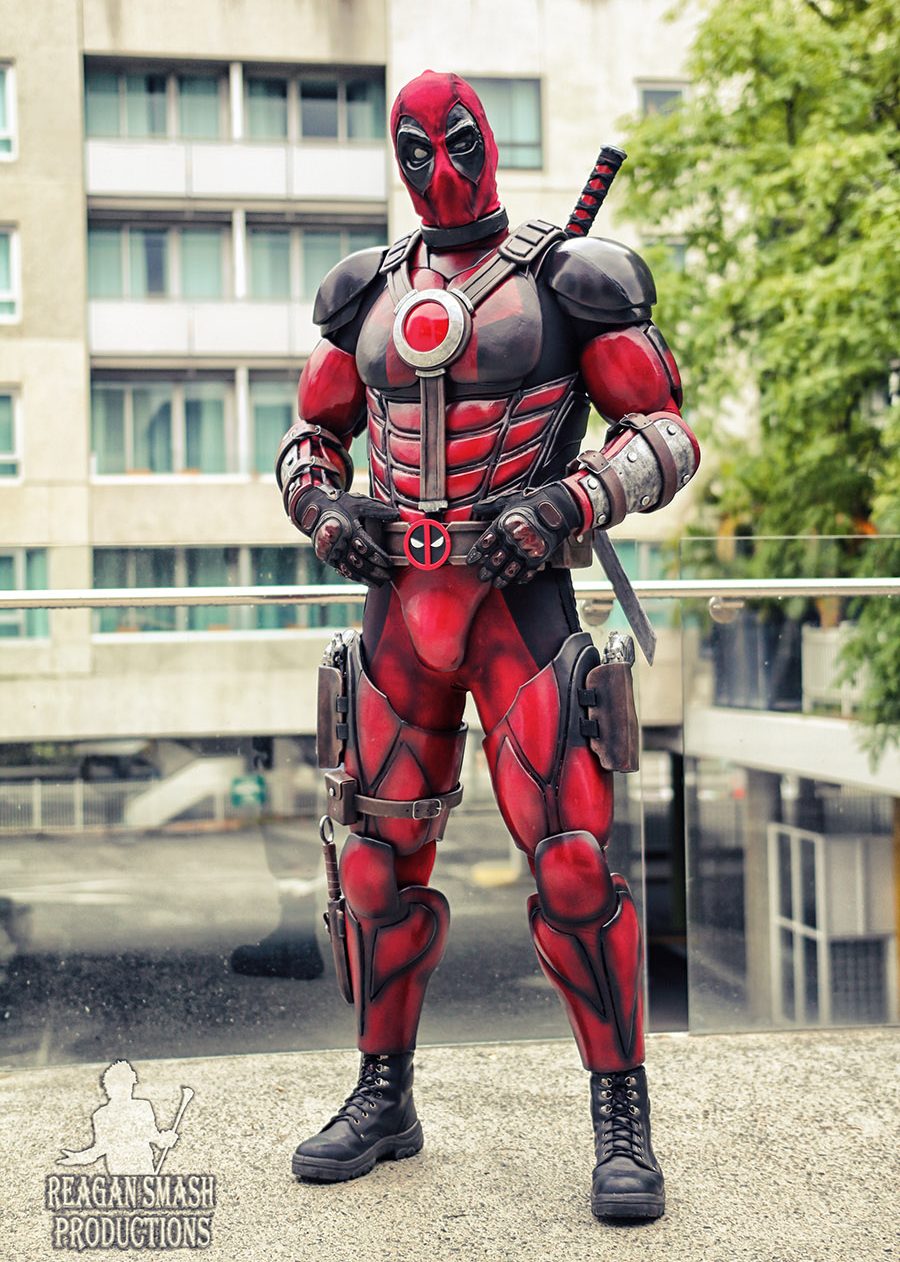 Another Australian stepping up his game is cosplayer Julian Gemmell, also known as Dadpool. Bringing his own fun and unique style to cosplay, Dadpool ups the ante further by including his entire family. Julian, his wife Casey, plus daughter Willow and young son Xavier all make up one of the more successful cosplay family teams around, seen by many at local cons as the Punisher Family, the X-Men, or Bat-Man Family. We spoke with the group just as they were readying for local con Evolve Perth, discussing past and future plans and how to integrate a busy cosplay schedule with family life.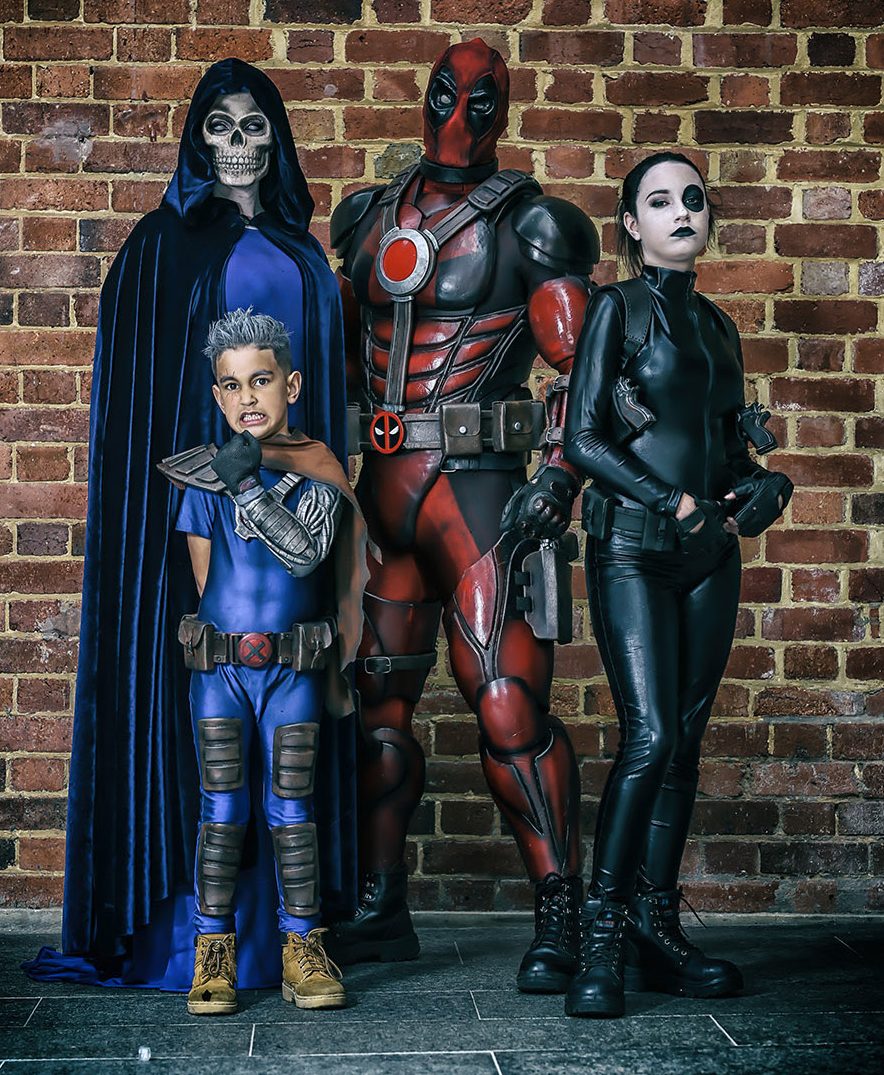 Dadpool has been killing it in the cosplay scene since 2013. After stumbling onto a tutorial for DIY Iron Man armor on Youtube, he created his first cosplay just for fun but with no real intention of wearing it in public. "The first time I cosplayed was at Oz Comic Con, and I was so nervous and shy that I dressed in the car park below the con. Luckily people loved it and I had one of the most amazing days of my life." His Iron Man eventually led to global recognition — Robert Downey Jr. himself shared it — and a TV spot on a local current affairs show. This motivated Julian to continue with his epic builds, creating Iron Wolverine, Deathstroke, Nightwing, Punisher, and most recently, Deadpool and Ghost Rider.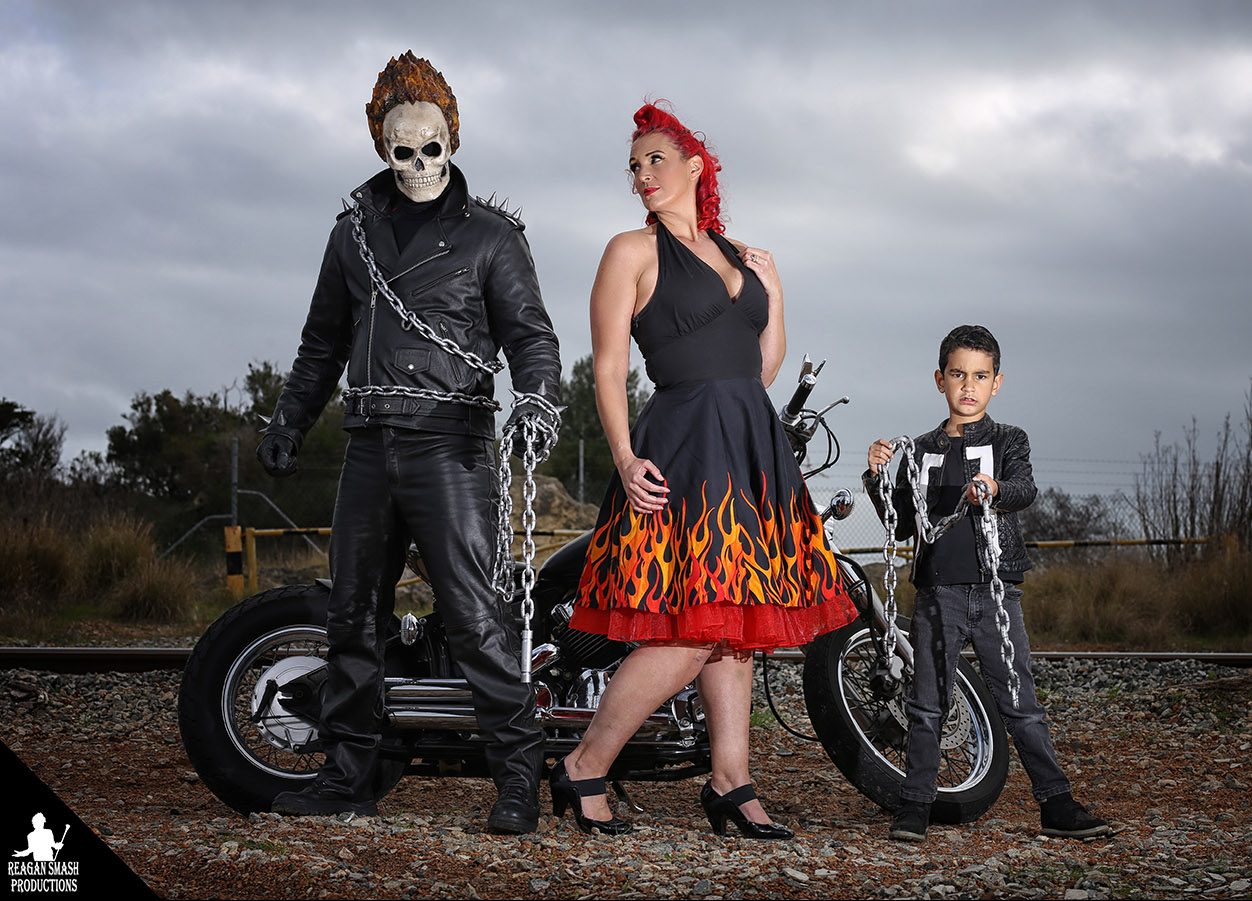 Originally from Christchurch, New Zealand, the family moved to Perth, Australia after earthquakes devastated their home town. While literally shook up, "the move allowed us the opportunity for a new life and to try new things, cosplay a major one of them." Julian had always been a fan of comics and superheroes, but it wasn't until the move did his cosplay building really take shape. With no formal training or teaching, he taught himself the art of cosplay building, sewing, welding, fabricating, and clay sculpting. A big leap came with the idea of using a basic generic muscle armor for multiple characters.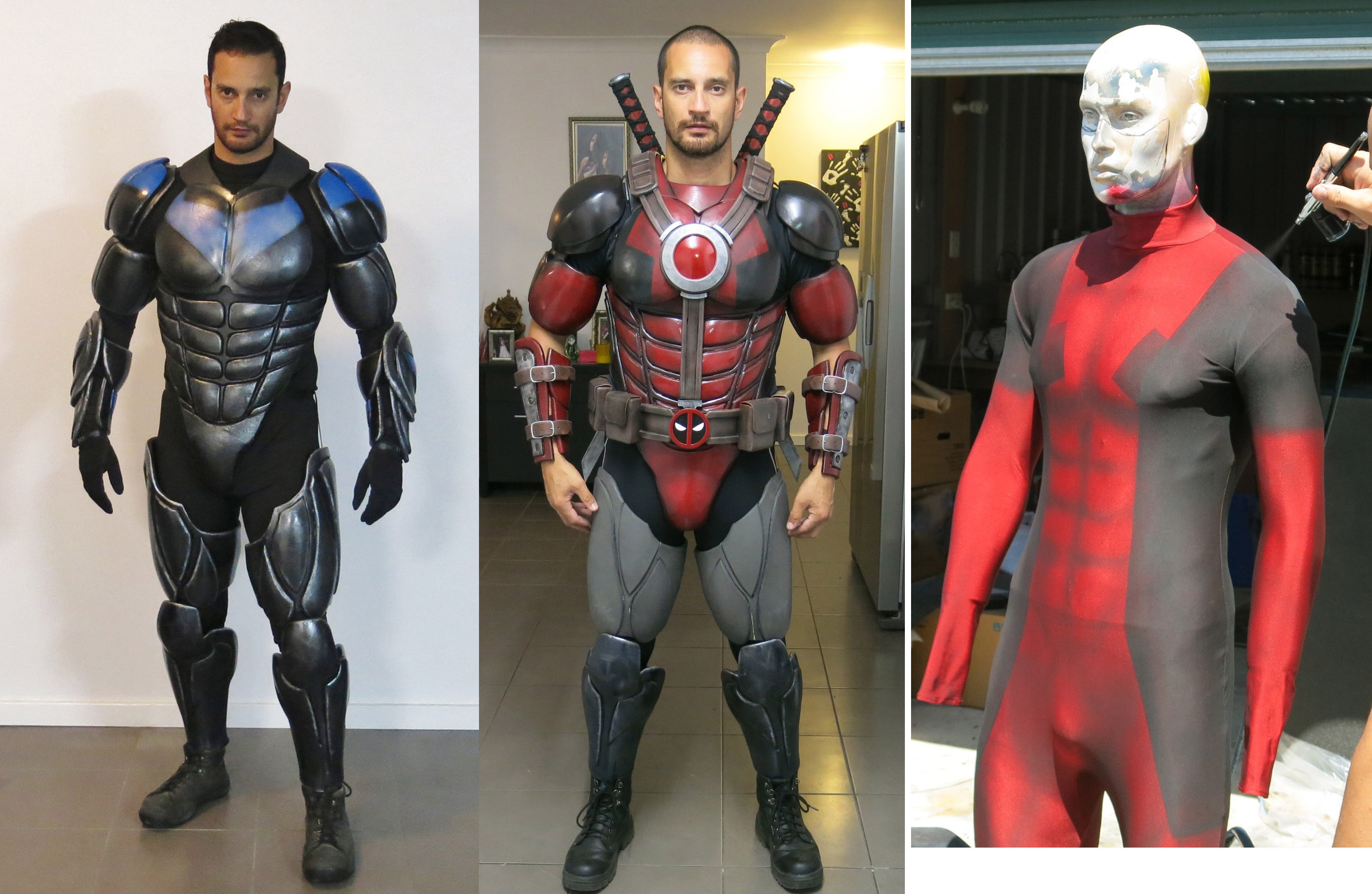 "I'd never really seen people building armor designed along the lines of the whole human anatomy (apart from Batman-type armor). I realized that 90% of superheroes all have the same basic muscled body — all you'd need to do is add that particular character's accessories and colors and you could be almost anyone. A muscle suit would do a similar thing, but I loved the challenge to see if I could make it work with armor, with the intent of accentuating the muscled physique I don't have, so that I or others could cosplay the heroes or villains their body type couldn't."
First to test this concept was a cosplay of Batman's sidekick Nightwing, "which was a great character to show the agility and movement of the armor." This was followed by a classic comic version of Wolverine, for which Julian just changed the shins and gauntlets, and added some Wolverine signature pieces.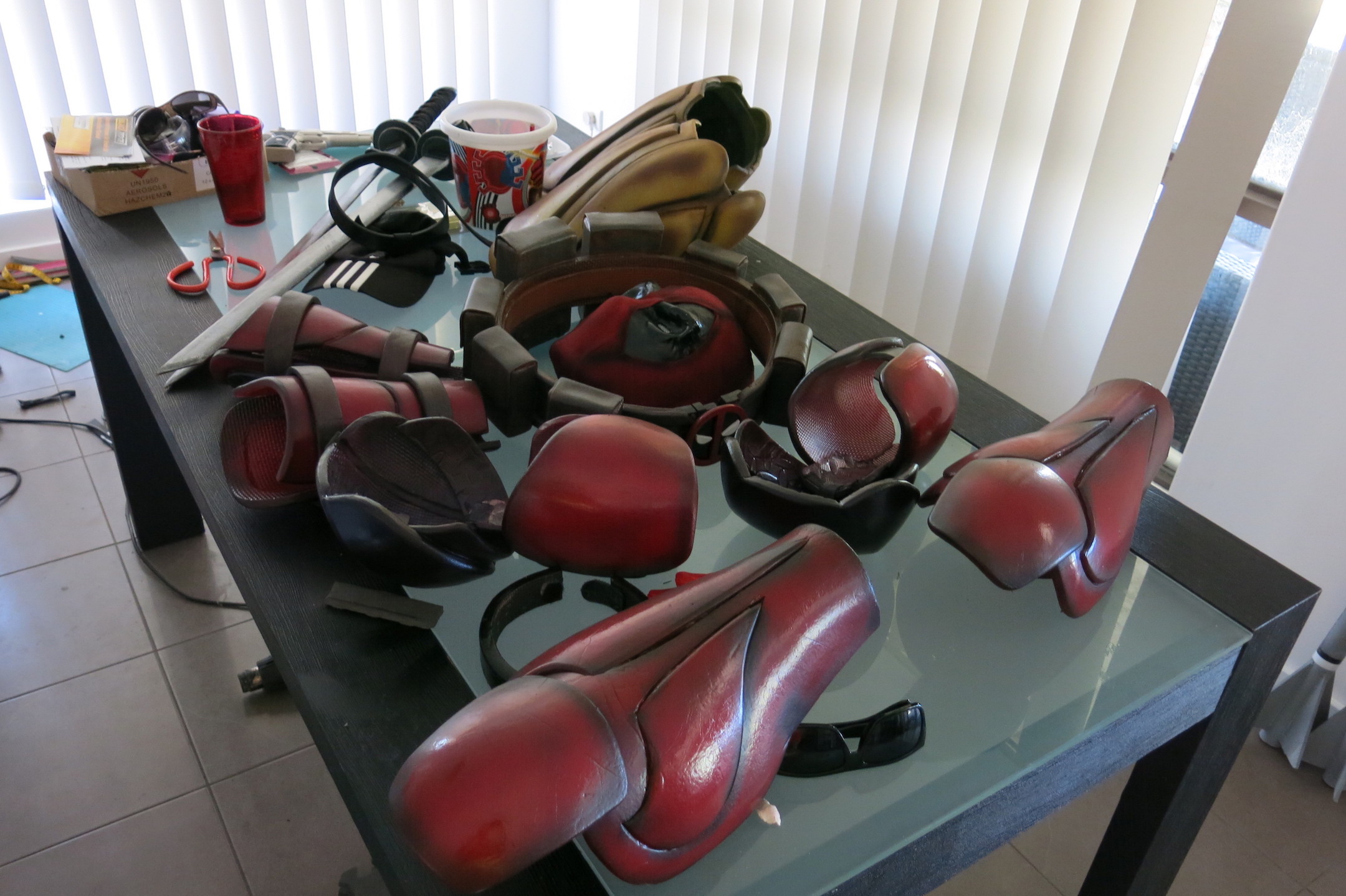 Planning is his favorite part of the creative process: "That's when I have the most motivation and excitement; when the ideas are flowing and bouncing around, the sky's the limit." While costume design and love for a character both draw him to a specific cosplay, the character is the most important part. "Once I have settled on a character, my focus is designing it in a way that I feel connected to it artistically. At the same time I am aware of the character's creator and hope to build a cosplay that lets them know I really appreciate them. I completed my Deadpool in just over a month, which is fast for me. It is one of my most detailed cosplays, but my love for Deadpool made that build feel effortless."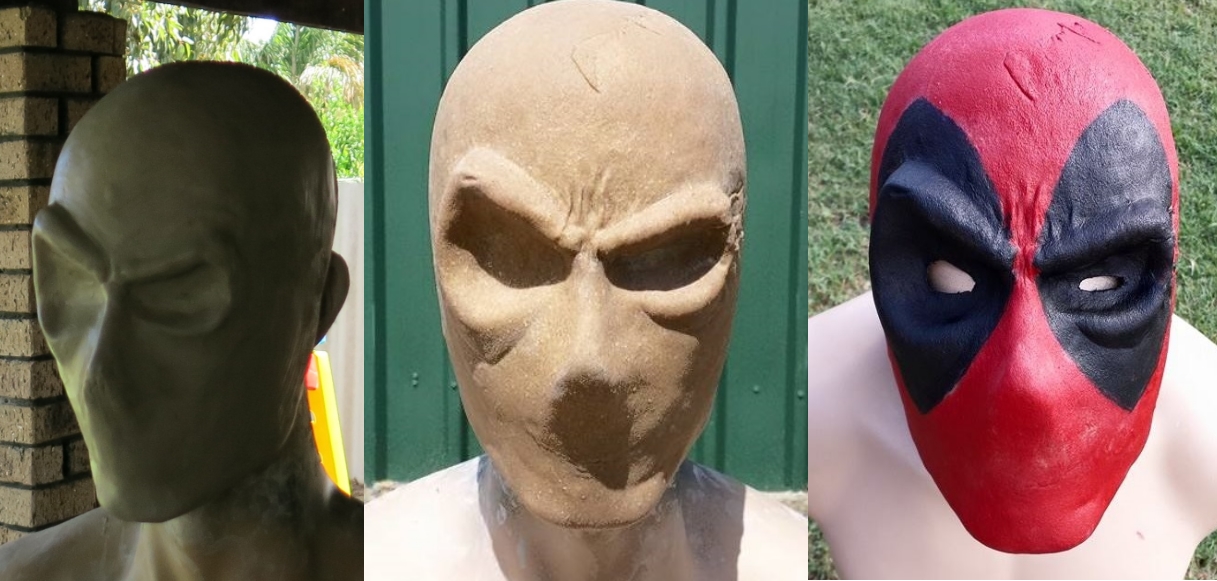 And apart from great craftsmanship, incorporating his wife and children into the act is what makes Dadpool stand out. Other members of the family began cosplaying with Julian quite early, when he built a little War Machine suit for daughter Willow so she could team up with his Iron Man. And during his excitement in building his Wolverine cosplay, he also created a Nightcrawler suit for his son.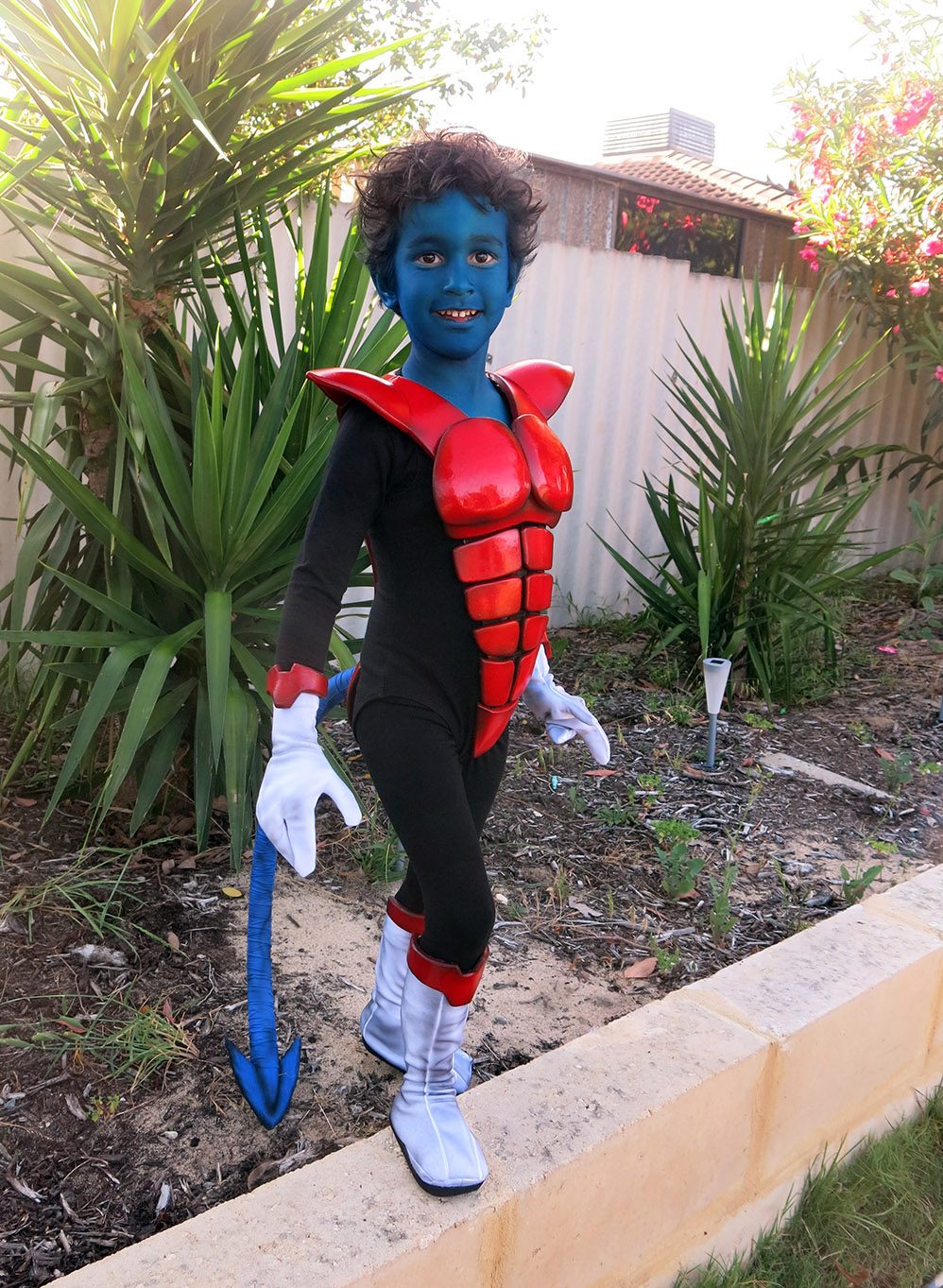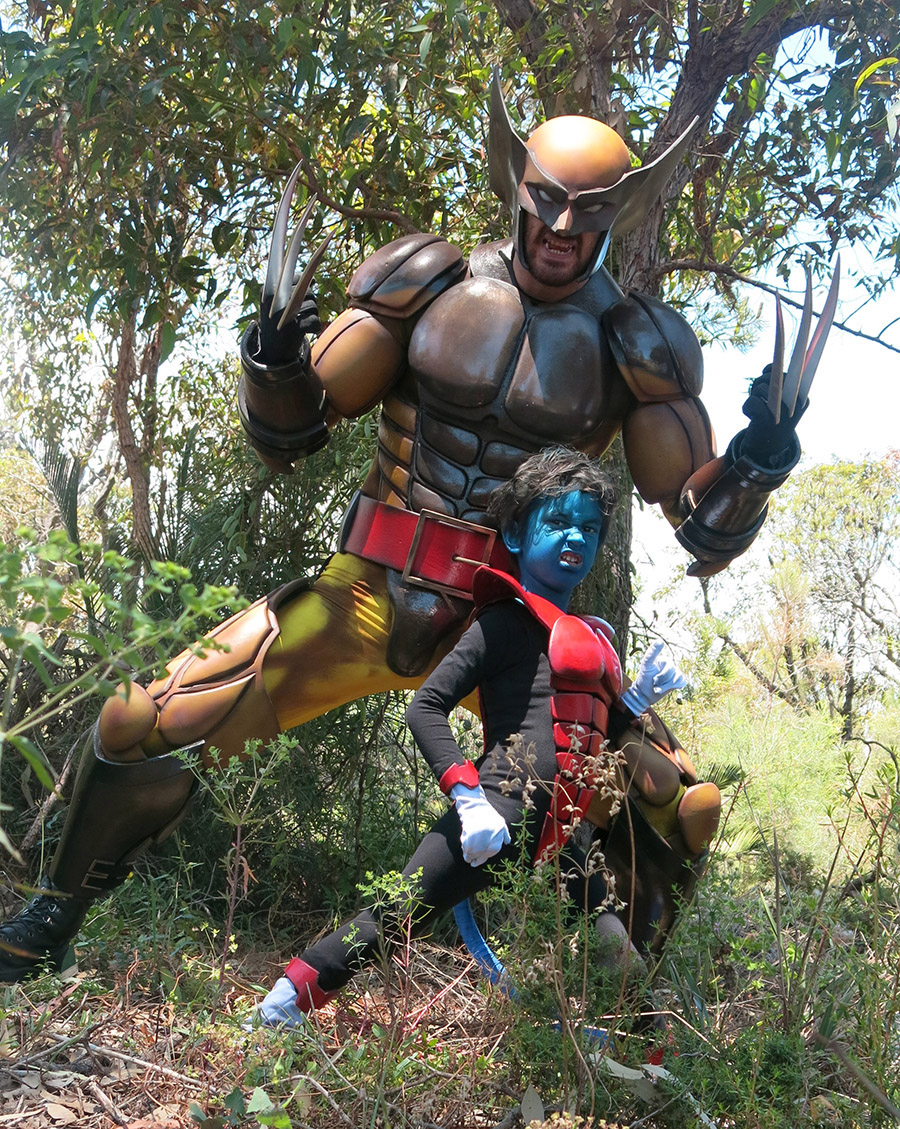 Having a a love for many of the same characters, the family determines which characters to create. "Normally everyone is on board when we decide." Julian's wife Casey (AKA Mumpool) adds, "We now cosplay as a family as much as we can — such as with the Punisher Family, and get a great response from social media."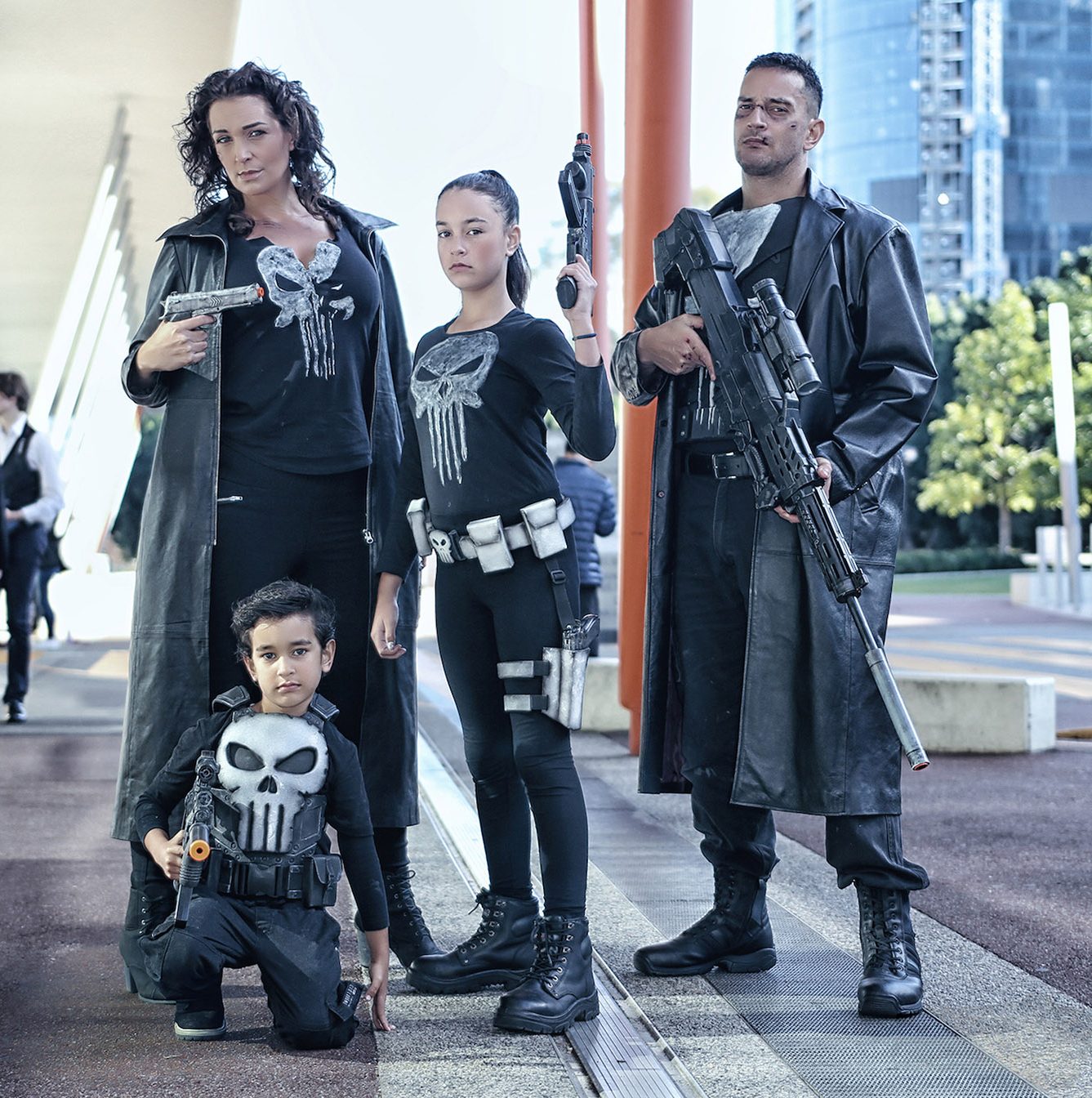 "When people see the kids and us cosplaying as a family," Julian explains, "a lot of them realize cosplay isn't just for young adults and individuals — everyone can get involved. Often we hear children telling their parents that they want to 'do that' after seeing our kids, or parents saying they are going to cosplay next time. One of the biggest gifts cosplay can give is confidence. I love that cosplay gives that shy child or adult the chance to fly."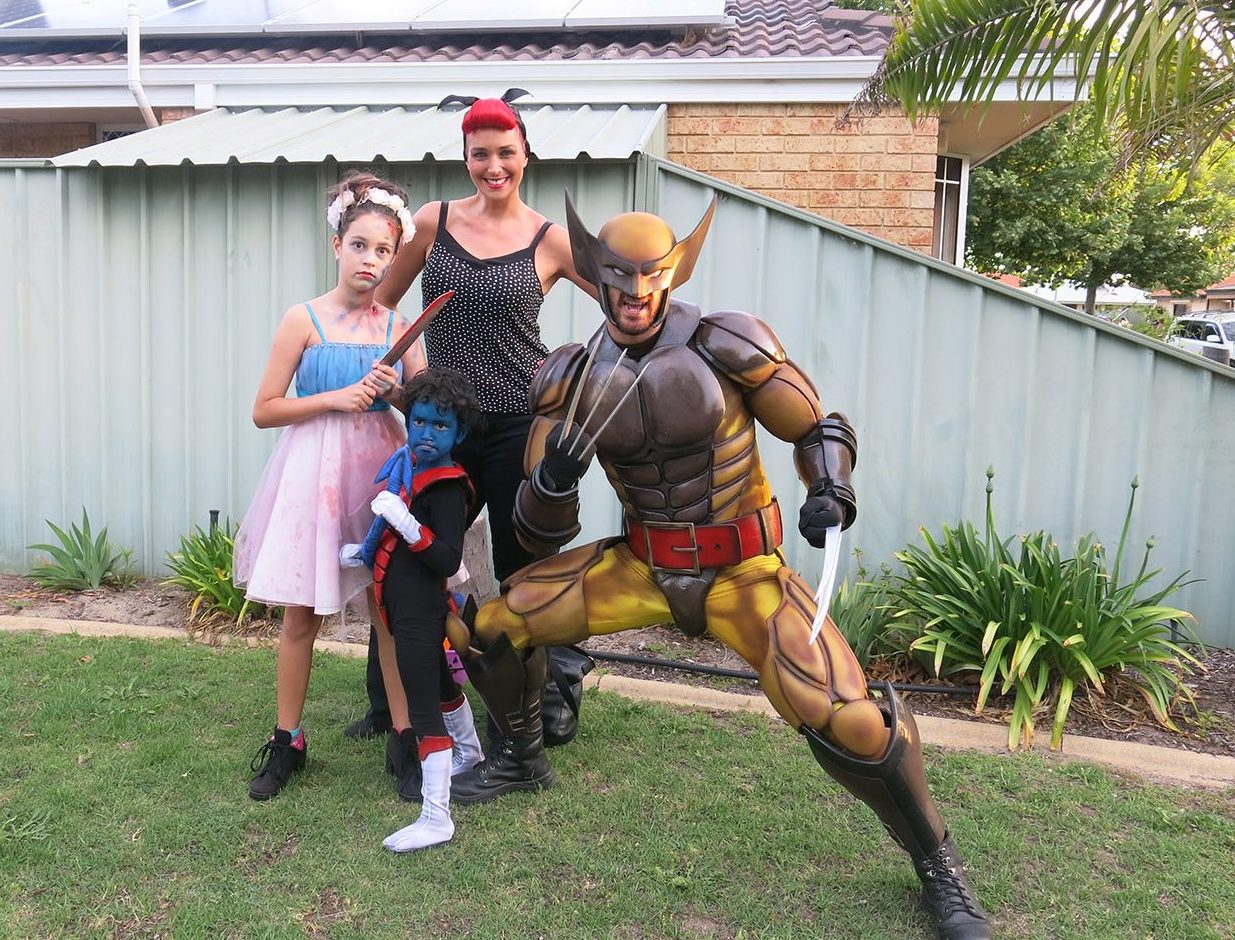 The biggest challenge for Dadpool and the family has been keeping everyone united and motivated at cons. "We love to cosplay together and we have so much fun, but as many know, a full con day of cosplay can be hard work. A good 3-4 hours is as much as little feet can take sometimes, so it's best to get the kids home early so they are excited for the next day of cosplay." For those interested in family group cosplay he says, "It's all about fun — do it for your kids, make a day of it and show them how fun you can be. You might be nervous or scared to cosplay and that's OK… don't worry that you will look silly, because to me you'll look like the greatest parents there!"
Dadpool's creative abilities have gone from strength to strength, and he was recently a featured cosplay guest in both Perth and Malaysia. He and the family are super-excited about their latest plan: Julian's mother, who is in her 70's, has come from New Zealand to take part in an ambitious three-generation cosplay. She joins them as Blind Al for a full Deadpool family ensemble, along with Casey as Death, Xavier as Cable, and Willow as Domino.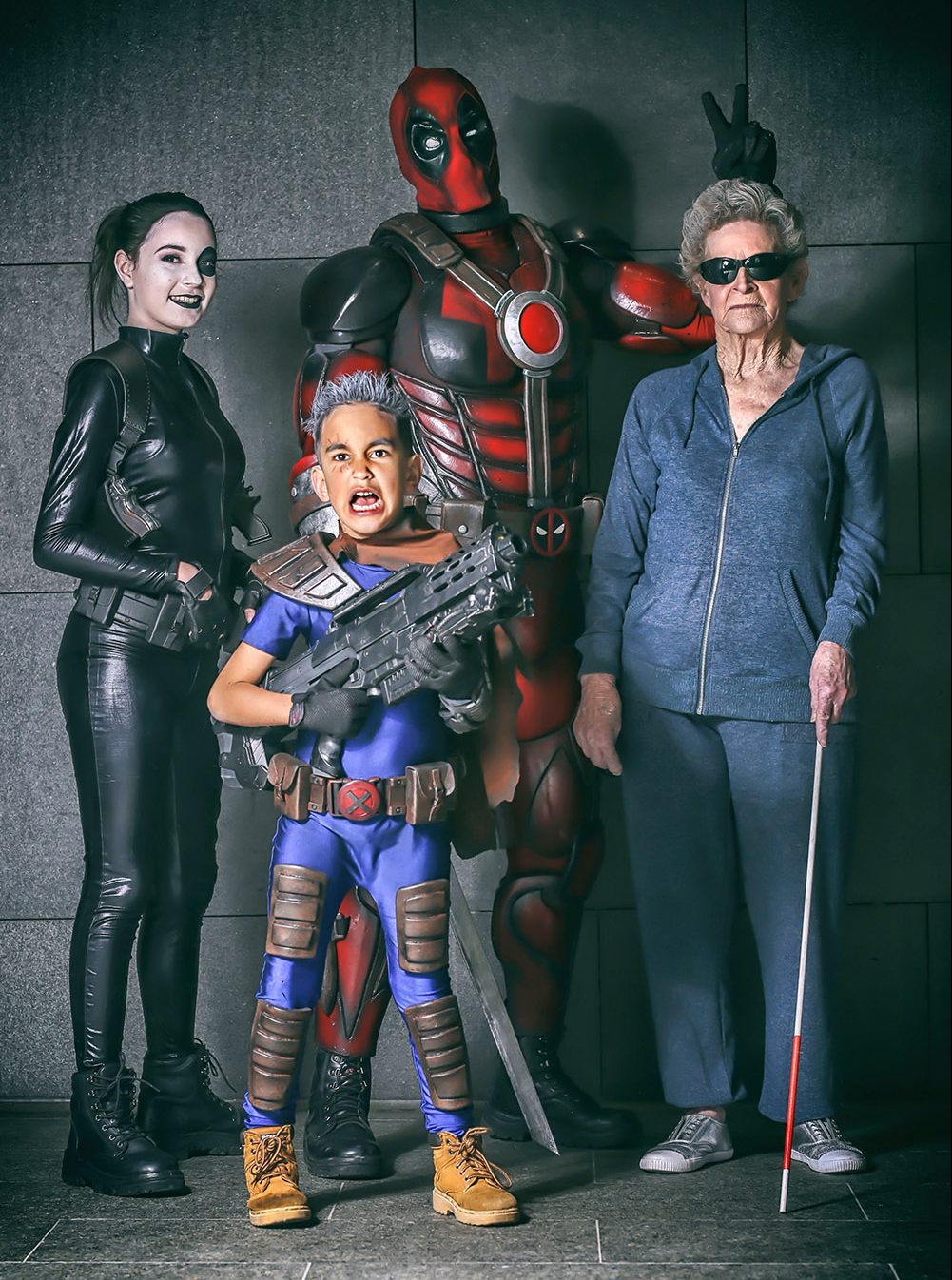 "To have my mum cosplay with us is a dream come true," says Julian. Adds Casey, "It's my dream to get us cosplaying as a family at an international convention; New York and San Diego are our dreams." And if the quality level of their cosplay continues to grow, attaining these dreams shouldn't be much of a problem for Mr. Pool and Family.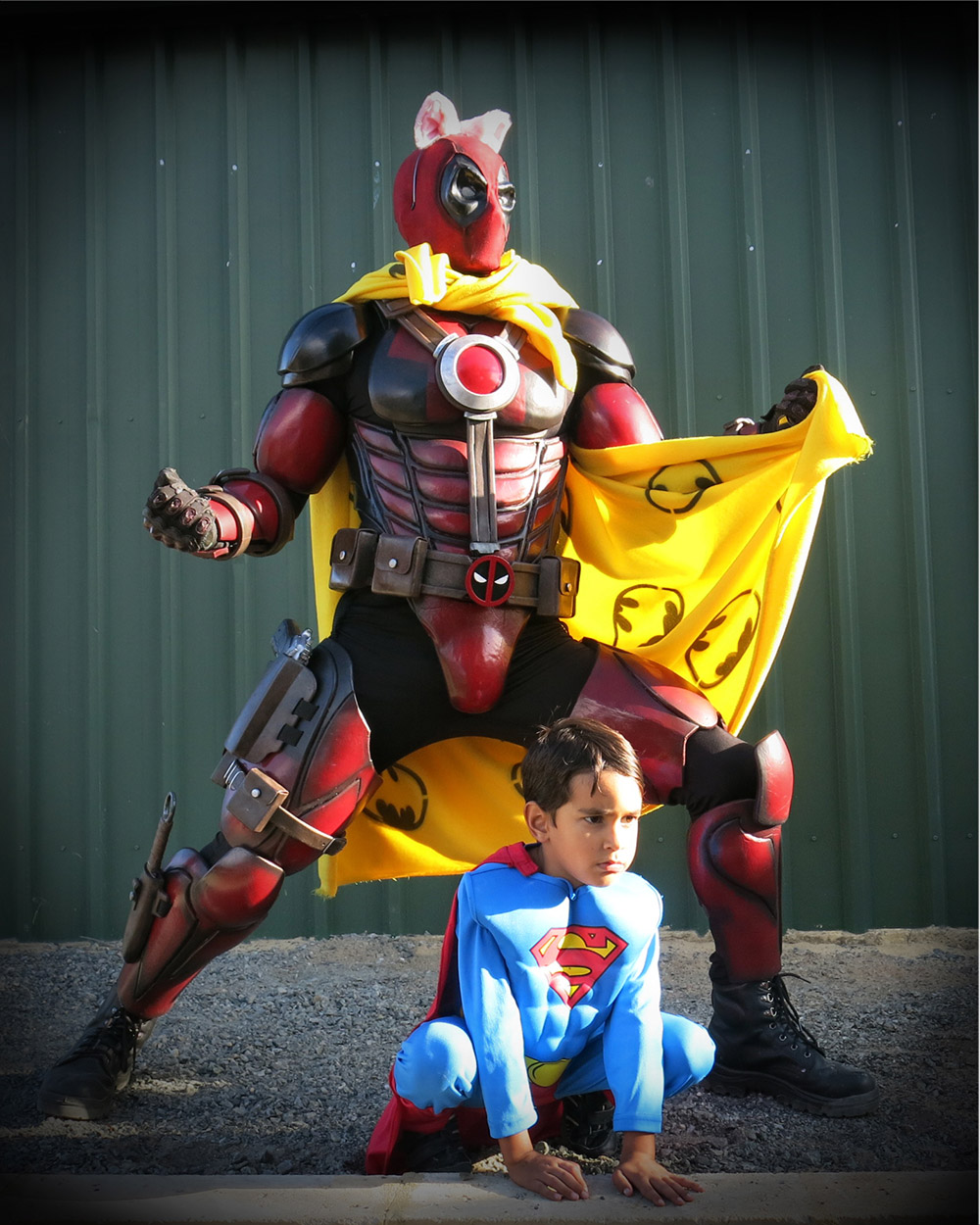 Check out more of Dadpool's work on Facebook here and Instagram here.