A look at the upcoming movies, TV, games, and anime properties that will be inspiring cosplayers for the next year and beyond, to be seen at conventions world-wide…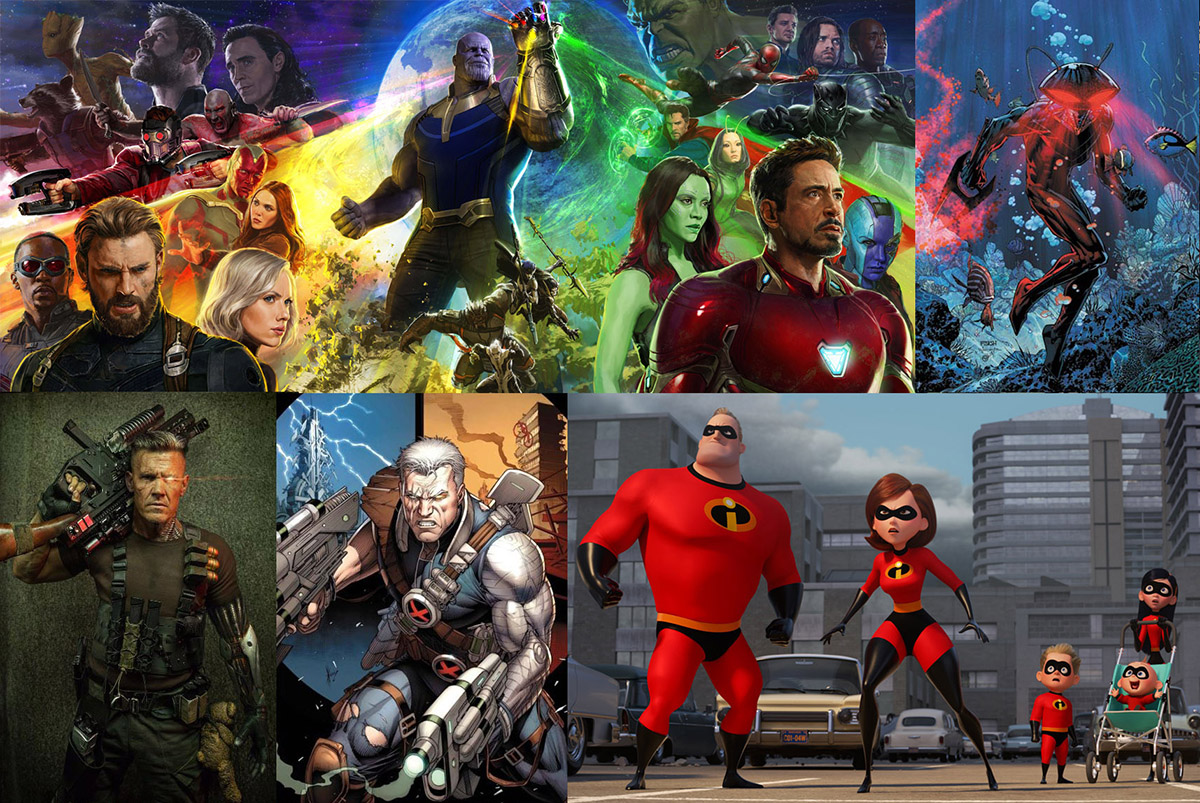 MOVIES:
Black Panther  (Feb. 16)
Aside from promising to push boundaries for representation with an almost all-black stellar cast, this Ryan Coogler-directed film boasts intricate and colorful African-inspired design work. With multiple notable characters and costumes that look like nothing else we've seen thus far, it's likely poised for blockbuster status.
Avengers: Infinity War  (May 4)
In Marvel's showdown 10 years in the making, we will no doubt get character upgrades and new looks for many of our favorite players, including Iron Man's new Bleeding Edge-inspired armor, Cap's Nomad, Thanos and his minions, etc. Prepare to be overwhelmed by countless cosplay choices and potentially the most ambitious group cosplays ever…!
Solo: A Star Wars Story  (May 25)
The next prequel in the Star Wars universe will feature the early adventures of young Han Solo meeting Chewbacca, Lando Calrissian, and hopefully many new aliens and droids for our viewing and rebuilding pleasure.
Deadpool 2  (June 1)
The follow-up to 2016's hyper-successful R-rated action comedy will finally include fan-favorite Cable, as portrayed by Josh Brolin, as the time-traveling warrior joins the Merc with a mouth. Get the metallic gray arm paint ready…
The Incredibles 2  (June 15)
With Brad Bird returning to his creation after 14 years, this sequel should re-energize animation's number one family action-team, and debut new villains to go up against them.
Ant-Man and The Wasp  (July 6)
This MCU sequel finally gives us a fully suited-up Wasp, with Evangeline Lilly back as Hope van Dyne ready to kick and/or help Paul Rudd's butt. We will also most likely see original Wasp Janet van Dyne return, perhaps in vintage 60's-style costume, as director Peyton Reed brings it on.
Alita: Battle Angel  (July 20)
Cyberpunk action film based on Japanese manga Battle Angel Alita by Yukito Kishiro features cyborgs involved in a futuristic gladiator game called Motorball. Produced by James Cameron and directed by Robert Rodriguez.
Venom  (Oct. 5)
The first film in Sony's projected Marvel Universe, this Spider-Man spin-off starring Tom Hardy may re-popularize the iconic Symbiote antihero.
X-Men: Dark Phoenix  (Nov. 2)
The latest X-Men flick will likely give us new redesigns for all our favorite mutants, including Jean Grey, Storm, Cyclops, and Mystique, as well as new aliens like Shi'ar Empress Lilandra, depending on how closely it follows the famous comics storyline.
Mortal Engines  (Dec. 14)
Based on the YA book series, this post-apocalyptic action film has mobile cities battling it out with each other for precious resources amid lots of steampunk. Peter Jackson produces and co-writes.
Aquaman  (Dec. 21)
The new solo film directed by James Wan will feature Jason Momoa's ruler of the seas in full Atlantean armor, along with new costumes and presumably lots of screen time for Mera and villains Black Manta and Ocean Master.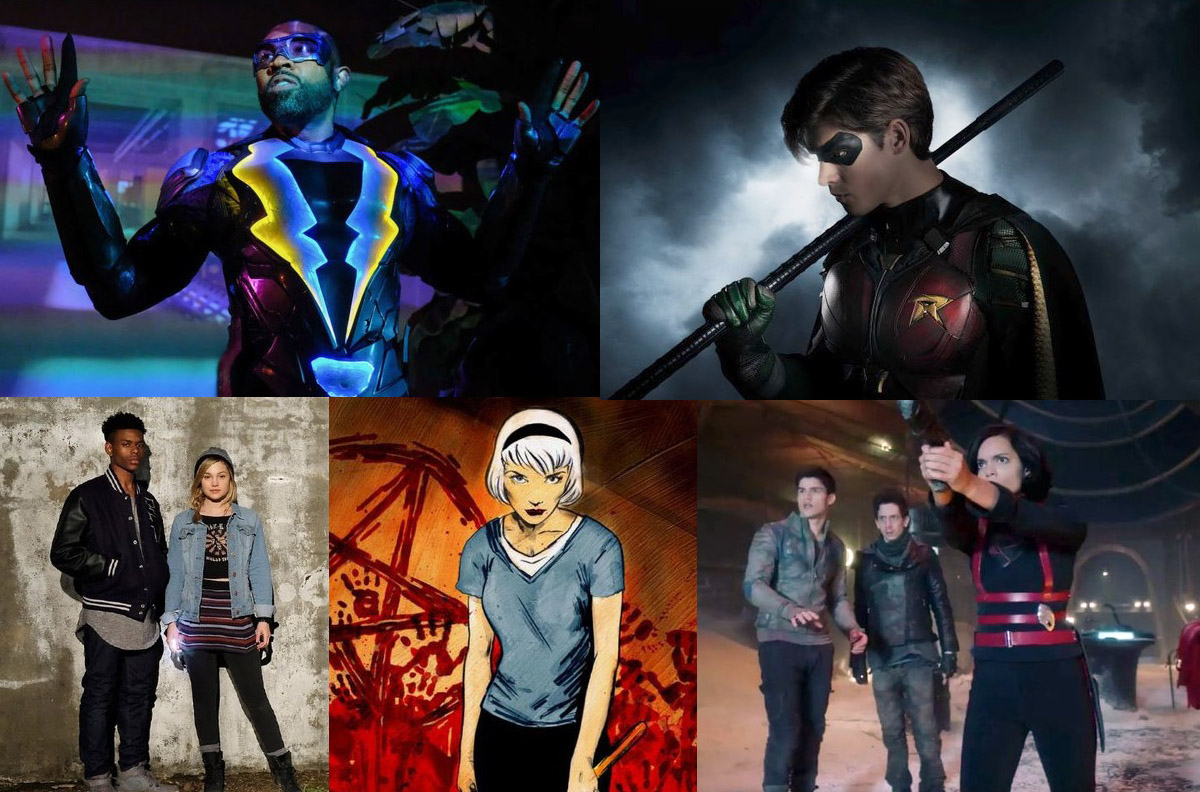 TV:
Black Lightning  (Jan. 16, The CW)
Originally created in 1977, this retired hero returns to join the DCU's roster of super shows, with Cress Williams as Jefferson Pierce.
Krypton  (Mar. 21, Syfy)
Centered on Superman's grandfather Seg-El, this prequel will feature characters from before the destruction of the Man of Steel's homeworld. Adam Strange is also set to appear as a time traveler, so expect visuals to be good and weird.
Cloak & Dagger  (date TBD, Freeform)
An adaptation of the Marvel teen duo created in 1982, featuring Olivia Holt and Aubrey Johnson as runaways from New Orleans who end up with sudden superpowers.
The Chilling Adventures Of Sabrina  (late 2018, Netflix)
Like Riverdale before it, the classic comic character Sabrina the Teenage Witch will get a complete overhaul, this time into a dark, H.P. Lovecraft-inspired horror aesthetic. Creator of the source comic book Roberto Aquirre-Sacasa will executive-produce the series, for further fidelity.
Titans
Super-team The Teen Titans get the live-action treatment and will feature Robin, Starfire, Raven, and Beast Boy, as well as Hawk & Dove. To be released on DC's new digital platform.
also returning, with hopefully revised looks:
Daredevil Season 3, which may adapt celebrated storyline Born Again and bring the return of Wilson Fisk's Kingpin.
Luke Cage Season 2, which will include both Iron Fist and Misty Knight (with new bionic arm).
Jessica Jones Season 2, which will again have pal Trish Walker along as Jess examines her past.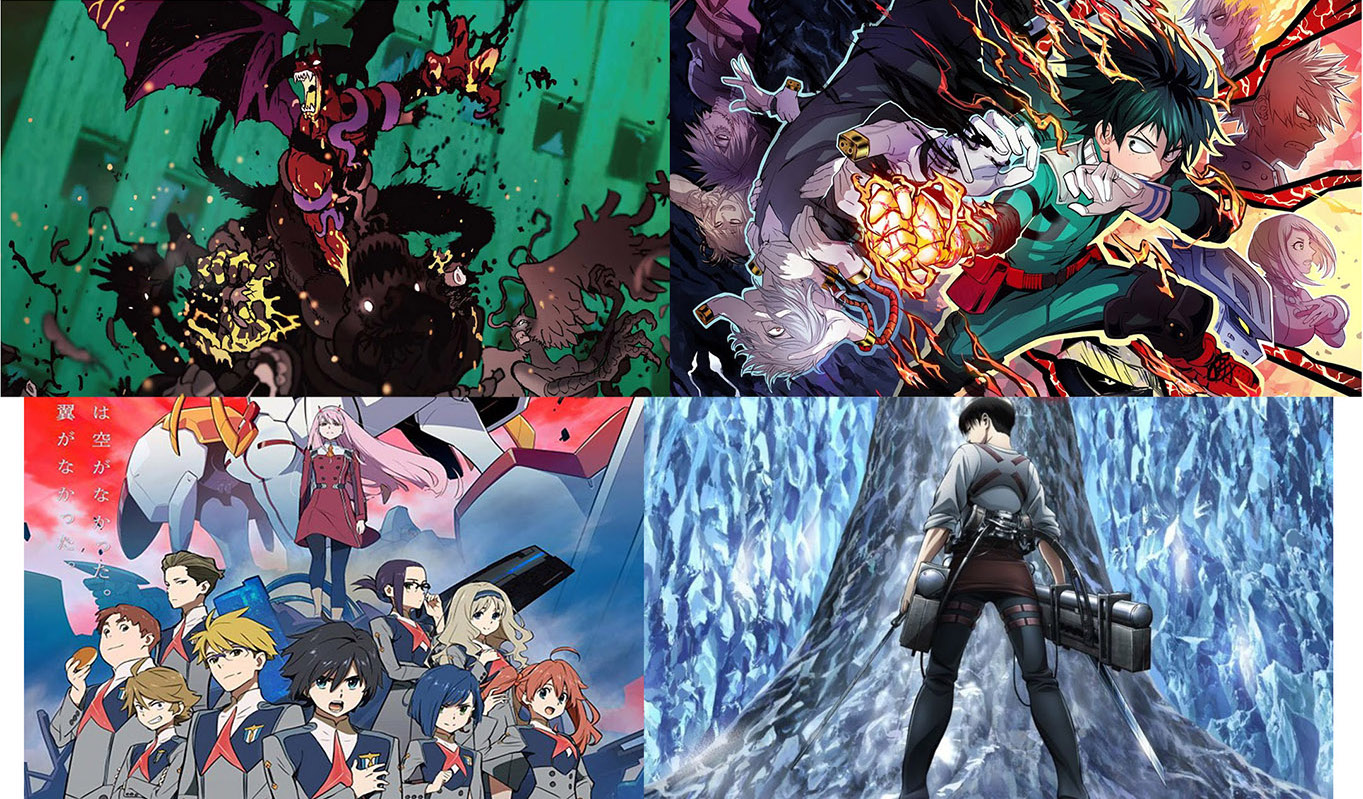 ANIME:
Devilman Crybaby
Based on Go Nagai's classic 1972 horror manga Devilman, this series depicts demonic possession giving super enhanced strength and speed, resulting in some incredibly crazy running sequences.
Attack on Titan Season 3
Adaptation of the super popular manga wherein humans defend against huge killer Titans who have almost destroyed humanity, this time set to rework the Uprising story arc.
My Hero Academia Season 3 (Boku no Hero Academia)
Adaptation of Kōhei Horikoshi's manga about kids who train to become the next generation of superheroes, set in a time where most of the world has some kind of super-power.
Darling in the Franxx
New mecha series produced by Studio Trigger, set in a post-apocalyptic future where children must pilot giant robots to defend against huge enemy Klaxosaurs.
Steins;Gate 0
Sequel to 2011's Steins;Gate, this White Fox studio production based on 5pb's visual-novel video game deals with complicated time travel.
SSSS.Gridman
Another Studio Trigger creation, with a Power Rangers aesthetic, adapting live-action series Gridman the Hyper Agent (which was first adapted in the US as Superhuman Samurai Syber-Squad).
GAMES:
God of War  (PS4)
The painted warrior returns, newly revised to make things different and more grounded, including swapping a killer axe for his Blades of Chaos, and introducing his son Atreus as a major part of the game play. Mythology is changed up as well in this fourth entry, now based on Norse-type myths instead of Greek.
Red Dead Redemption 2  (PS4, Xbox One)
Actually a prequel to the Western adventure game, this Rockstar Games wild west epic will again focus on outlaw Arthur Morgan and the Van der Linde Gang.

Sea of Thieves  (Xbox One, PC)
This action-adventure game fully immerses players into the life of pirates, including naval assaults, treasure hunting, and drinking, with a very colorful and fun look.
Anthem  (Xbox One, PS4, PC)
SF multiplayer RPG game from BioWare featuring mercenary Freelancers who must defend their walled community and explore the outside with customizable Javelin exosuits, which give superhuman capabilities.
Monster Hunter: World  (PS 4, Xbox One, PC)
The newest title in the franchise sets Hunters to once again capture and kill ferocious monsters that roam the land outside of Astera, with plenty of armor and weapons to choose (and cosplay) from.
other notable games include:
Bloodstained: Ritual of the Night, a Metroidvania-type game created by Castlevania producer Koji Igarashi.
Spider-Man, a new version from Insomniac Games focusing on an older Peter Parker and his conflicts with Wilson Fisk/Kingpin and the Inner Demons gang, led by villain Mister Negative.
Detroit: Become Human, a branching storyline with androids interacting in a neo-noir society.
A Way Out, a split-screen prison break adventure.