by Rich Kirby
DC Comics' Ragman has always been a quirky pleasure. In a universe of tight spandex rendered in primary colors, Ragman's swirling mess of, well, rags was very nearly an anti-costume. That was fine with us.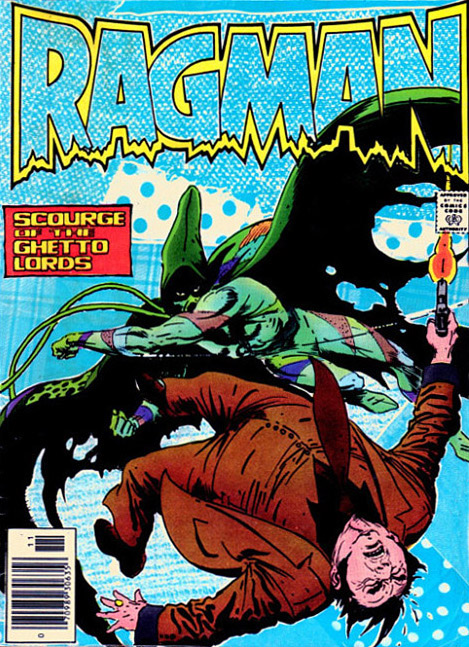 The creation of Robert Kanigher and Joe Kubert, the original Ragman lasted only five issues in 1976-77. He was DC Comics' proto-social justice warrior, avenging the down-trodden and disadvantaged from his pawn shop in the heart of a slum. Unlike Green Arrow, DC's billionaire with a bleeding heart and the original costumed SJW, Ragman's alter ego Rory Regan was born poor and likely to stay that way. Joe Kubert's art gave Rory's rags an ominous and malevolent personality of their own not to be seen in comic book costumes until the debut of Todd McFarlane's Spawn over 15 years later.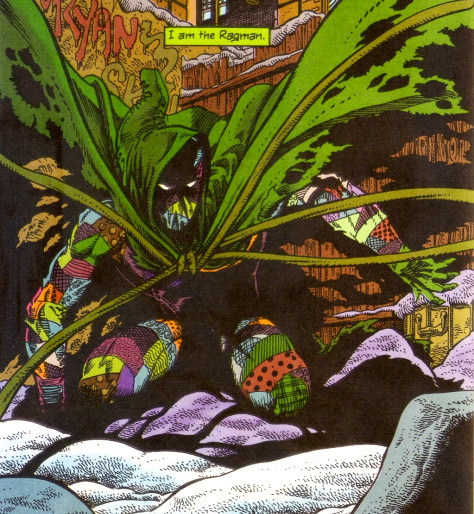 When Ragman returned to a Keith Giffen/Robert Loren Fleming/Pat Broderick mini-series of his own in 1991, he still owned a pawnshop, but now he was Jewish. He may not have been the only super hero to also be a member of the tribe but he's certainly the first to (literally) wear it on his sleeve: Instead of gaining special abilities in a freak electrical accident/Silver Age trope, his post-Crisis powers came from the freaky rags themselves. Rory got retconned into the latest in a line of mystic warrior/guardian/Ragmen who traced their origins back to the Book of Deuteronomy.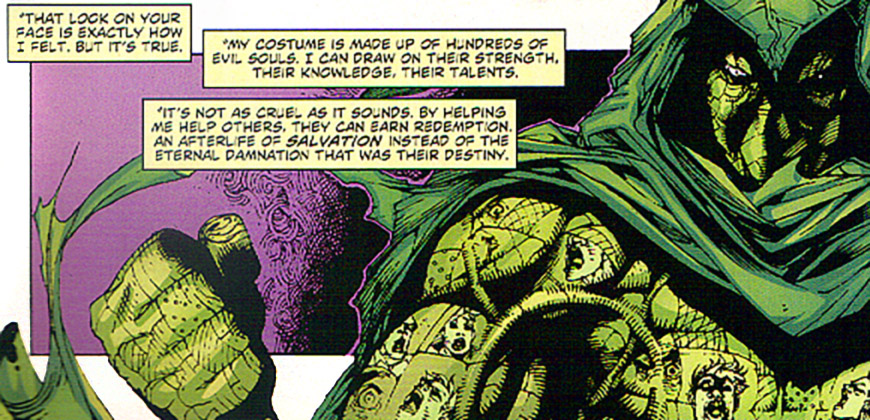 What's more, instead of just combining the best qualities of a circus acrobat, strongman and prize fighter as Kanigher had penned his powers in a much simpler era, Giffen's take on the Tatterdemalion of Justice made him the scariest champion on the street. Batman beat you within an inch of your life, see, but Ragman absorbed your soul, and that really had to hurt. It was all very, very 90s – not that there's anything wrong with that.
Like we said, a quirky pleasure. So when we first heard that the producers of the the CW's Arrow decided to give the small-screen treatment to our favorite mystic vigilante in its fifth season, you could have knocked us over with a mezuzah. Costume fans and cosplayers who tuned in hoping for scary set pieces with swirling capes woven from the howling and the damned would be disappointed, however. Arrow's Ragman looked like any other hooded member from the Emerald Archer's band of moody misfits, albeit one who shopped in the seedier low-rent part of town.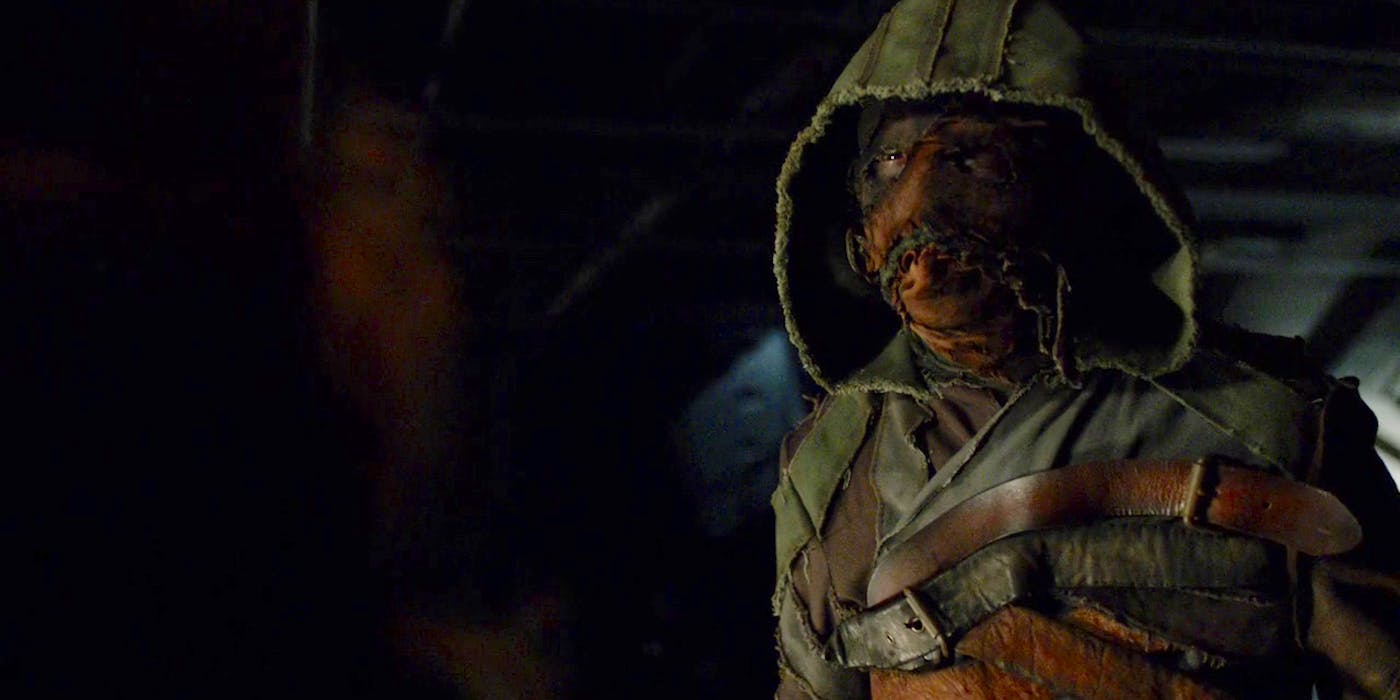 Rory Regan was played by Canadian actor Joe Dinicol for less than one season, exiting the series abruptly when his suit lost its juice after it was used to absorb the blast of a nuclear bomb. (Deuteronomy or not, we're betting that wasn't covered in the warranty. A nuke's a nuke, Bubbalah…)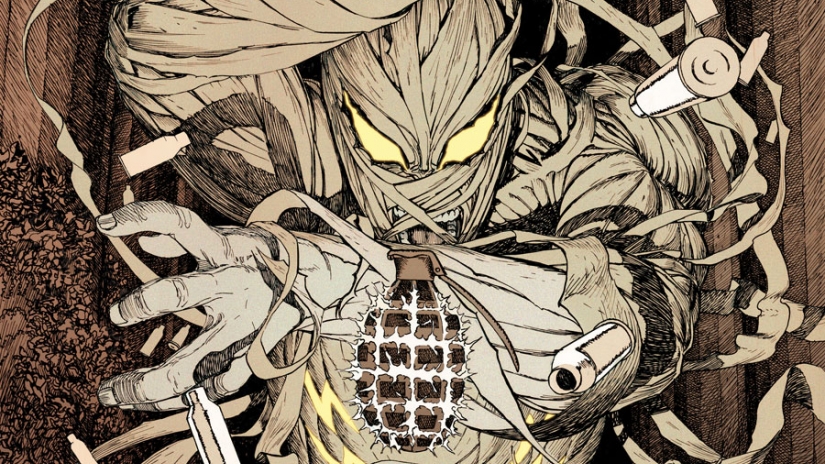 As drab as the Arrow Ragman's couture was, it was a Peter Allen floor show next to the costume afforded him by Ray Fawkes, Inaki Miranda and Guillem March. They're the creative team DC selected to capitalize on Rory's new-found post-Arrow celebrity in the six-issue mini-series that wrapped up in March. In it, Rory Regan is a PTSD-stricken soldier who stumbles upon the "Suit of Souls" in the desert and transforms into a hero resembling N'Kantu, The Living Mummy more than any Ragman we had gotten to know.