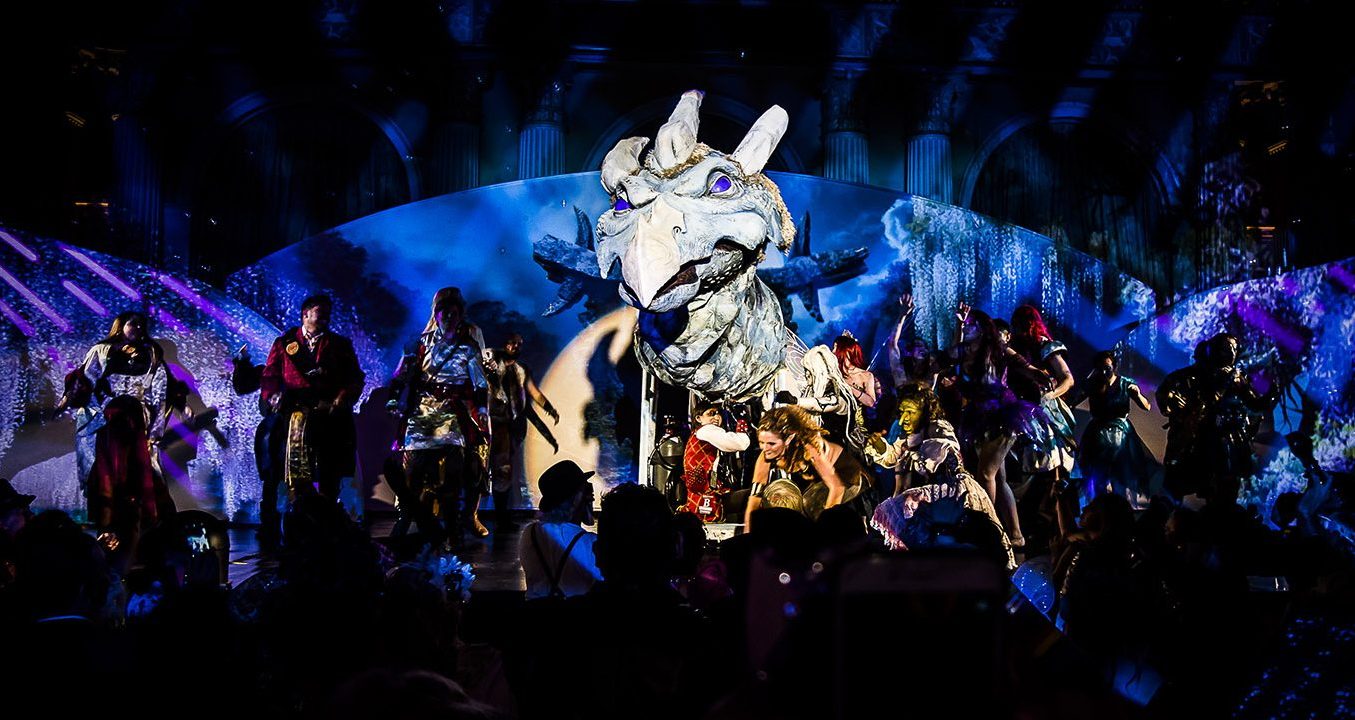 by Steve Savitsky
Goblins, orcs, wizards, and Celtic faeries mix together with trolls, dragons, Goths, Steampunks, and all types of other elaborately costumed characters at an historic grand hotel. While such a gathering is not unusual for Cosplay veterans of fantasy and anime conventions, the Labyrinth Of Jareth Masquerade is quite something else entirely. Unlike the traditional Cosplay event, this formal fantasy ball is a full-scale theatrical production and immersive theater experience, featuring work by top artists and industry professionals. In addition to the spectacular costumes, puppetry, and music and dance performances, everything is structured around an epic narrative, one that has been evolving for some 15 years now. When the Gateway opens each year, all manner of creatures are free to explore and mingle, and to take part in the continually unfolding story of the Court of Sypher. Now in its 19th year, the LOJ has become the largest Masquerade Ball in North America, and one of the biggest in the world. Shawn Strider is founder and creator of the event, and head of Sypher Arts Studio, a dedicated team of fantasy, effects, and make-up artists and costumers who each year meticulously transform Los Angeles' Biltmore Hotel into a massive fantasy nexus for thousands of costumed revelers at a Masquerade party like no other.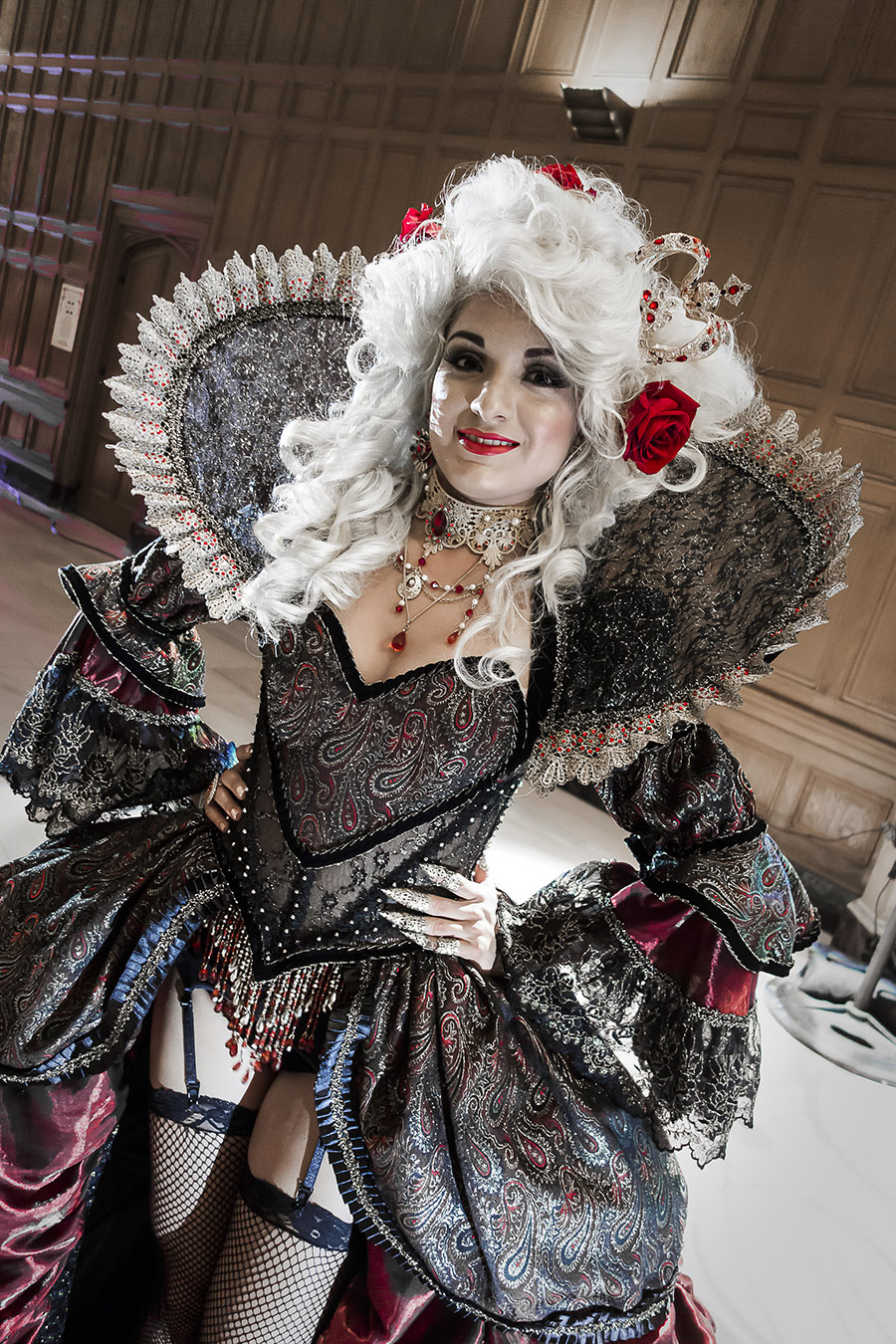 Coming out of comics publisher Sypher Publications, the LOJ began modestly as a way to realize Strider's dream of a Masquerade ball, steadily growing into a two-day spectacle as it moved to Los Angeles. First inspired by the films The Dark Crystal and Labyrinth, (whose Goblin King played by David Bowie lent the event its name), further influences range from 12th century Venetian masquerades, Celtic and Norse mythology, Cosplay, and fantasy genres. A big leap came in 2003 when Brian Froud, art director and lead artist for the original Labyrinth and Dark Crystal films, suggested Strider use his writing ideas to expand on the story and its universe. "It was right at that point I realized LOJ was a place to give the audience a palette to play with, and which would do the most honor to Jim Henson and our influences." Those influences eventually formed the linear storyline running across LOJ's five stages, essentially a huge long-form serial revolving around the Court of Sypher, which has taken up residence in the Labyrinth, a land where time no longer flows properly. Each year Strider writes a script with a basic story arc, "and I spend the rest of the year finding parts in it for 500 of my closest friends! " Even characters portrayed by attendees, ranging from Joffrey from Game of Thrones to Optimus Prime, can be incorporated into the story.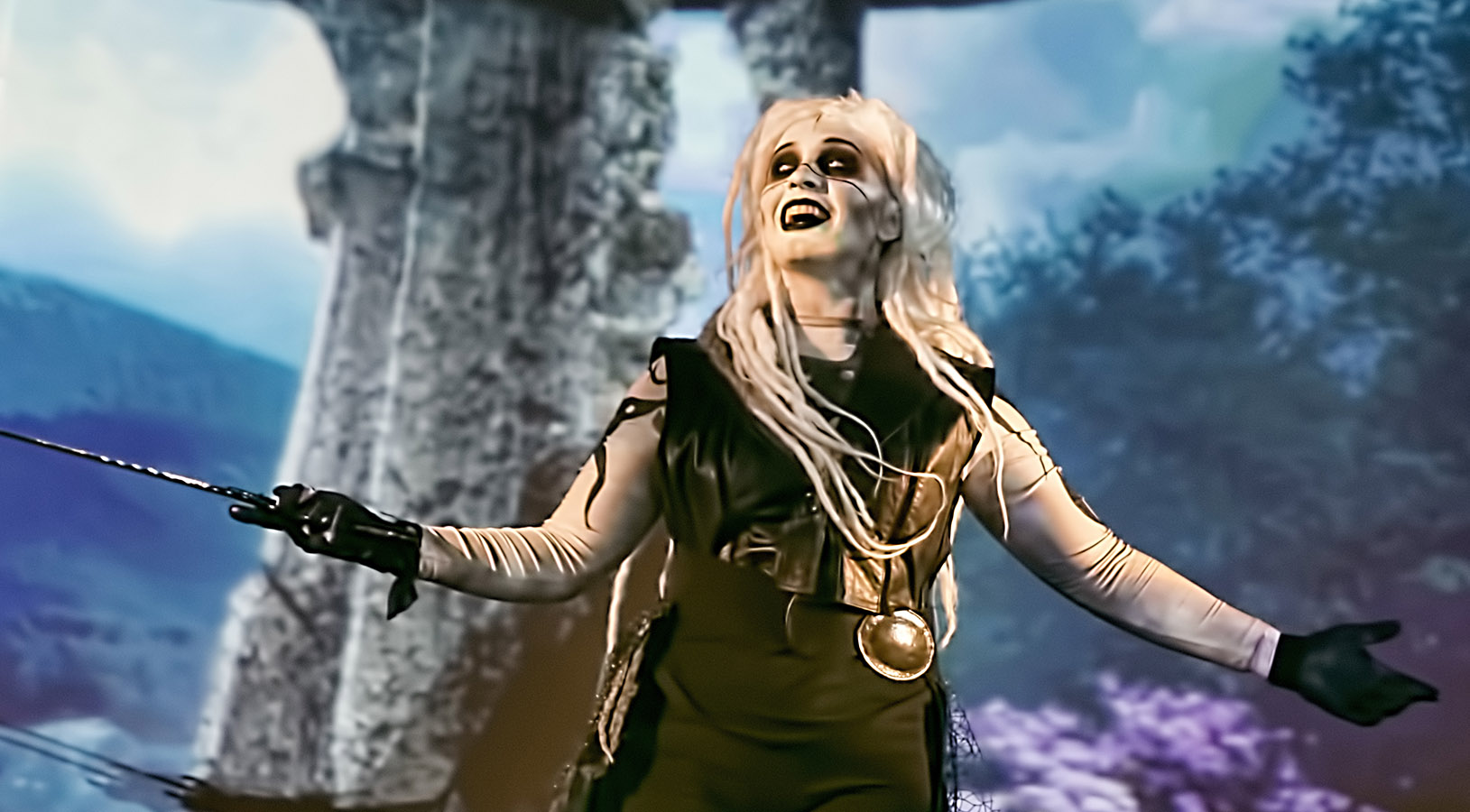 The studio begins pre-production in February, with a fun internal presentation to show the size and scope of costumes, set design, and character development. It's the first time a lot of the artists hear what the story is going to be and "gives us the singular vision of what we're building for Labyrinth." In addition to artists and costume designers, other creatives include sculptors, puppeteers, stunt choreographers, and blacksmiths to make weapons. Pre-visualization art, costumes, prosthetics, props, and makeup all go through multiple iterations. One character, such as the Temple Elves, will go through two or three years of development before a design is satisfactory.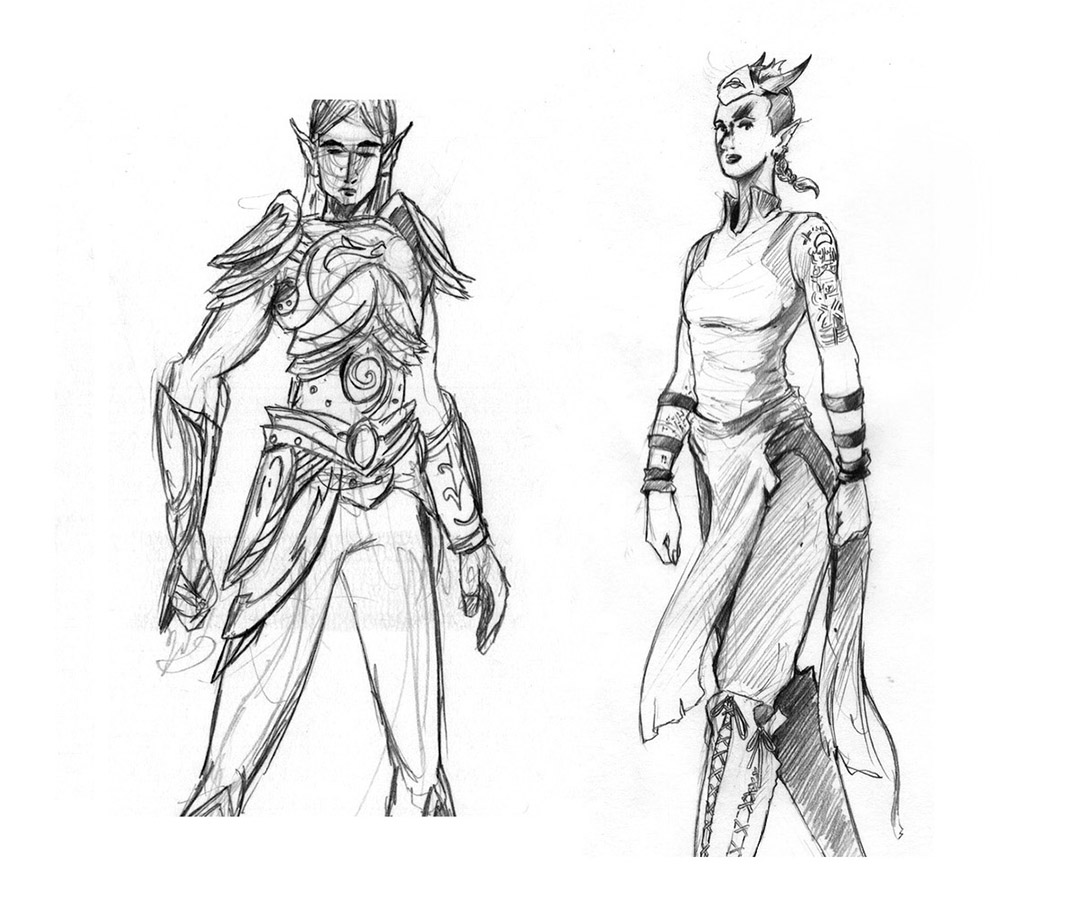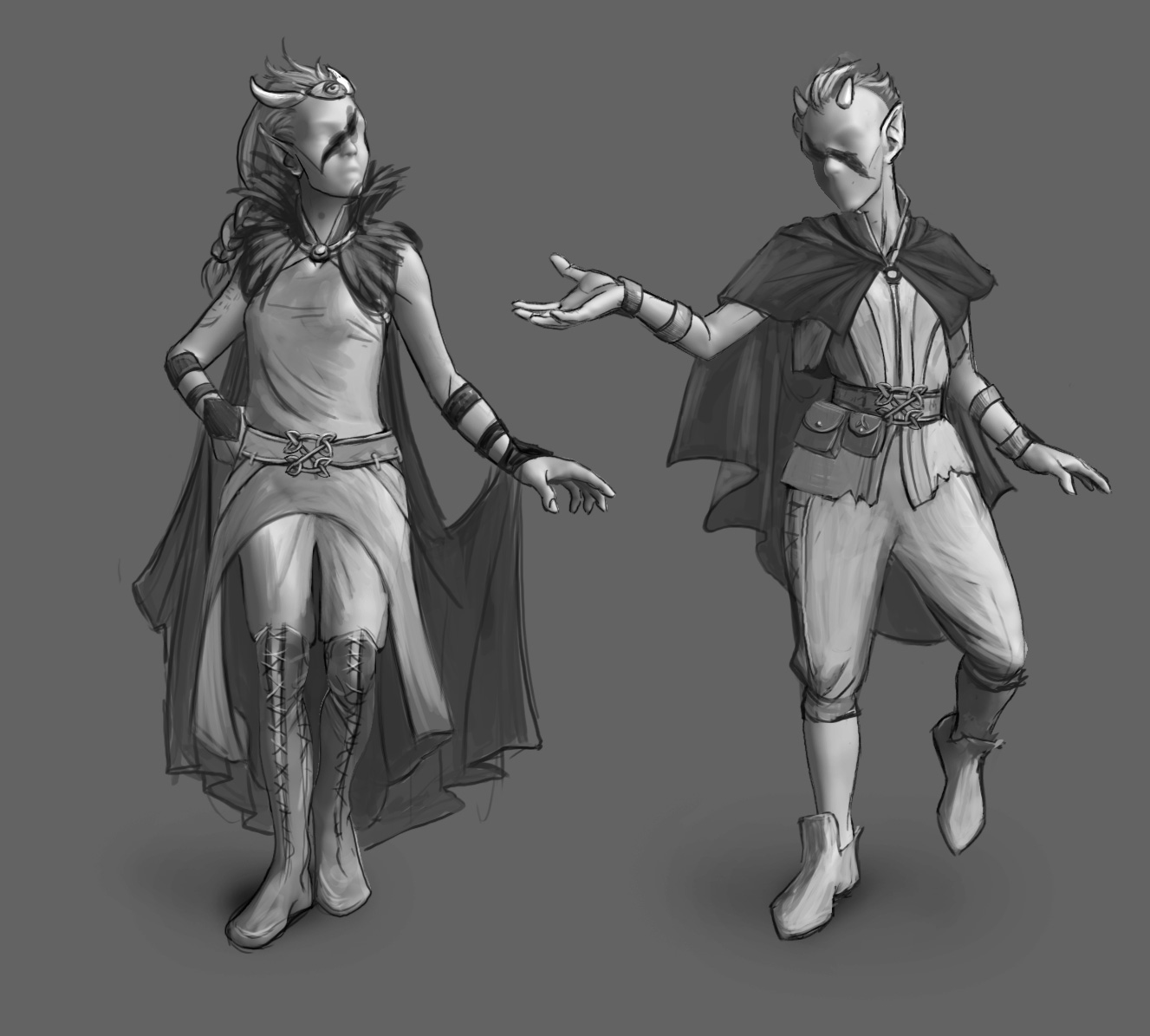 From years of developing their own techniques, the building of the final costumes is now a fairly quick process, and one can be constructed in a week's time. "I have an amazing crew that rises to the challenges no matter what they are. We have a pretty low turnover rate–most of our people have been working with LOJ from 5 to15 years, and we're constantly growing, we're constantly getting newbies." Most of the artists of Sypher Arts Studio work in the entertainment industry for their day jobs, and Labyrinth "is the one thing that we do together, part of our ethos. We do LOJ because we've learned the skills to sculpt and make these characters come to life. We don't have the resources of Warner Brothers or whatnot, but we do what we can with what we have. We're all volunteers, myself included, and we spend every dime that we make on production value."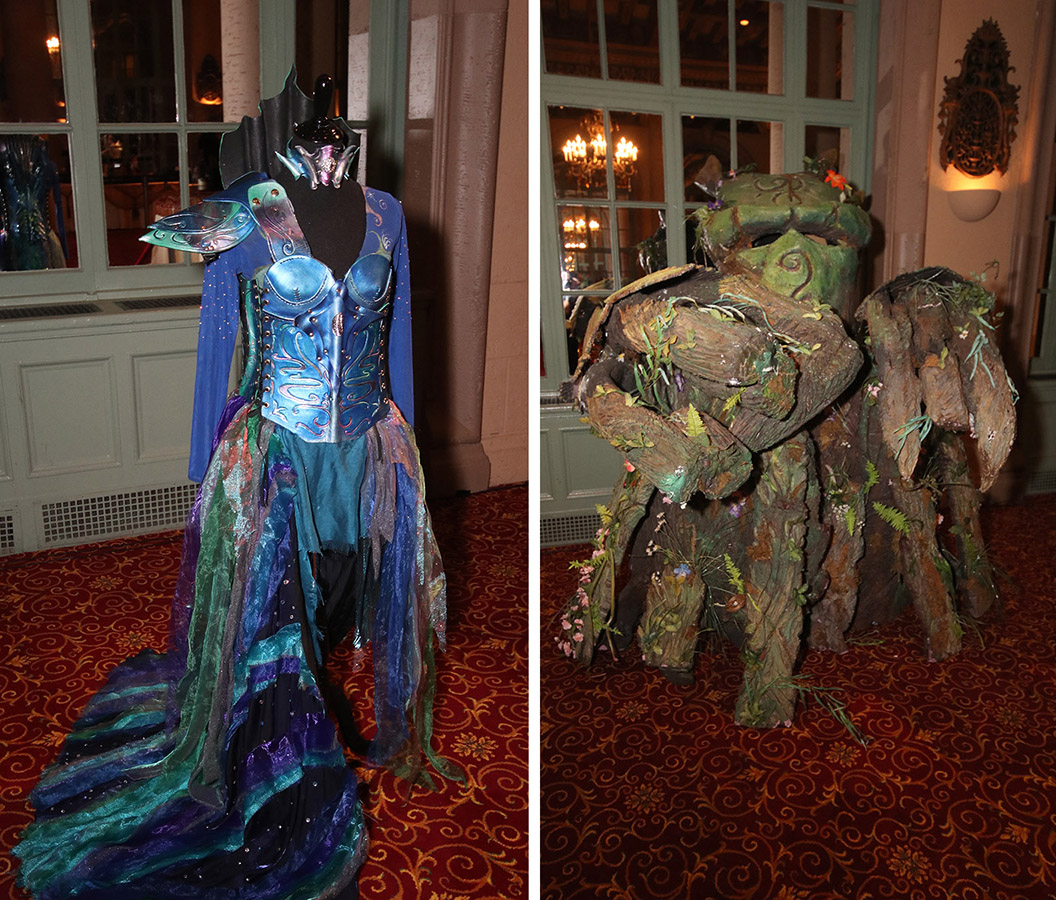 Strider describes LOJ as a very intense close-up event, where costumes and props are meant to be touched and interacted with. "It's a very visceral experience that we try to create. It's not just putting up some banners and calling it a convention. We're not a convention, we're a multimedia experience, and our patrons are part of that experience. LOJ is unique in that for every two attendees we have, there's either one artist or performer that's there with them." He considers it a cultural movement that is a part of the Cosplay culture, part of the Masquerade culture, and part of the music scene culture. LOJ has the support of some of Cosplay's biggest names, with people like Jessica Nigri and Yaya Han attending often. "We have really tight bonds with the anime and Cosplay communities, and this is a place where they're able to explore things a little differently, and go into more creative directions. Some have commented that LOJ is like Cosplay leveled up, and I think that's very true! The first time you come and wear a costume you think, 'Yeah, I got this,' and then you see how everyone else is sort of bringing up their game. They influence you on how to bring up your own game, and you walk away and your head is just full of ideas. We try to make a sanctuary for inspiration, and I hope we do a good job."
With the 20th anniversary coming up next year, one would expect there to be a lot of pressure and expectation to make the Labyrinth Of Jareth Ball even more elaborate and more momentous. However Strider is not worried. "We always put a lot of pressure on ourselves, so we don't feel a particular pressure about going into year 20. We're always pushing the envelope, every year's our most ambitious year. We are a very restless group of artists, and we get bored very quickly. We always try to pick a new challenge and make it happen. It's gotten to the point where we have our own dialog, our own lexicon of how we do things. We made LOJ a place where the different artists could tell stories in a new way, where we could indulge in all the fantasy stereotypes that we want. We work in broad strokes and great iconography. We're blending in the professional industry with the fun and pop arts culture, and there's nothing quite like it."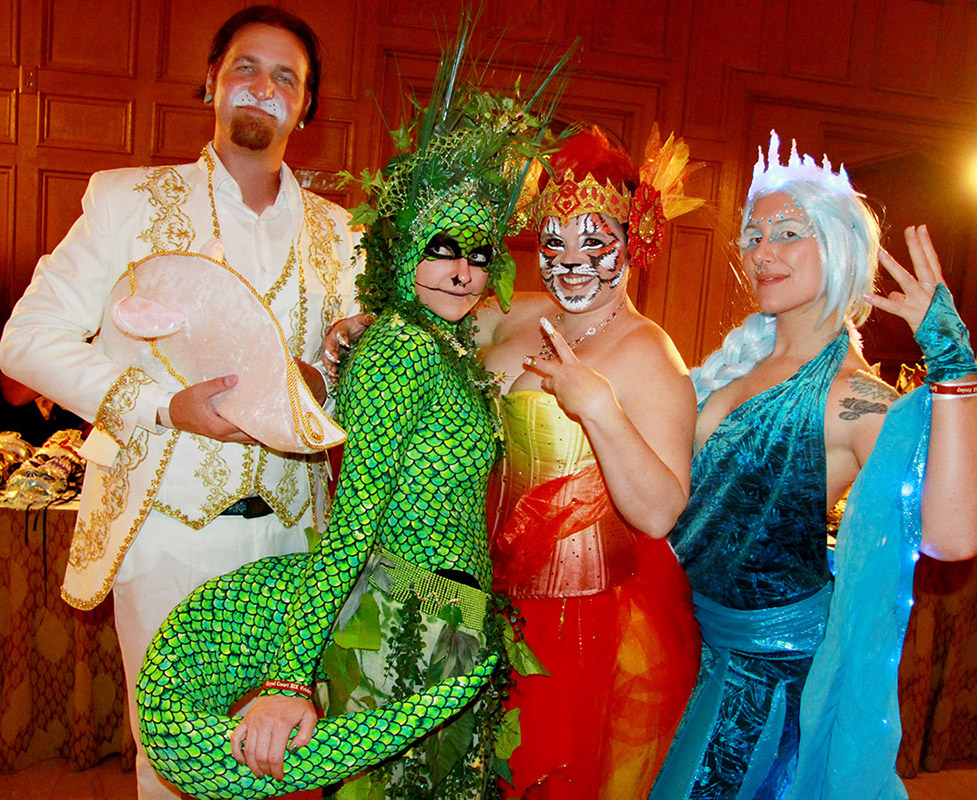 LABYRINTH OF JARETH  –  BY THE NUMBERS:
5,500
Total current number of attendees
550
Artists & performers that put on the show each year
400
Costumes created for each Masquerade
200 to 300
Sketches & paintings made for pre-visualization
250
Prosthetics built & used
150
Attendees at the first LOJ (50 were expected)
30
Costume designers
20′
Length of Sparkles the Dragon
(built with Greg Aronowitz of Jim Henson's Creature Shop)
19
Years LOJ has been staged