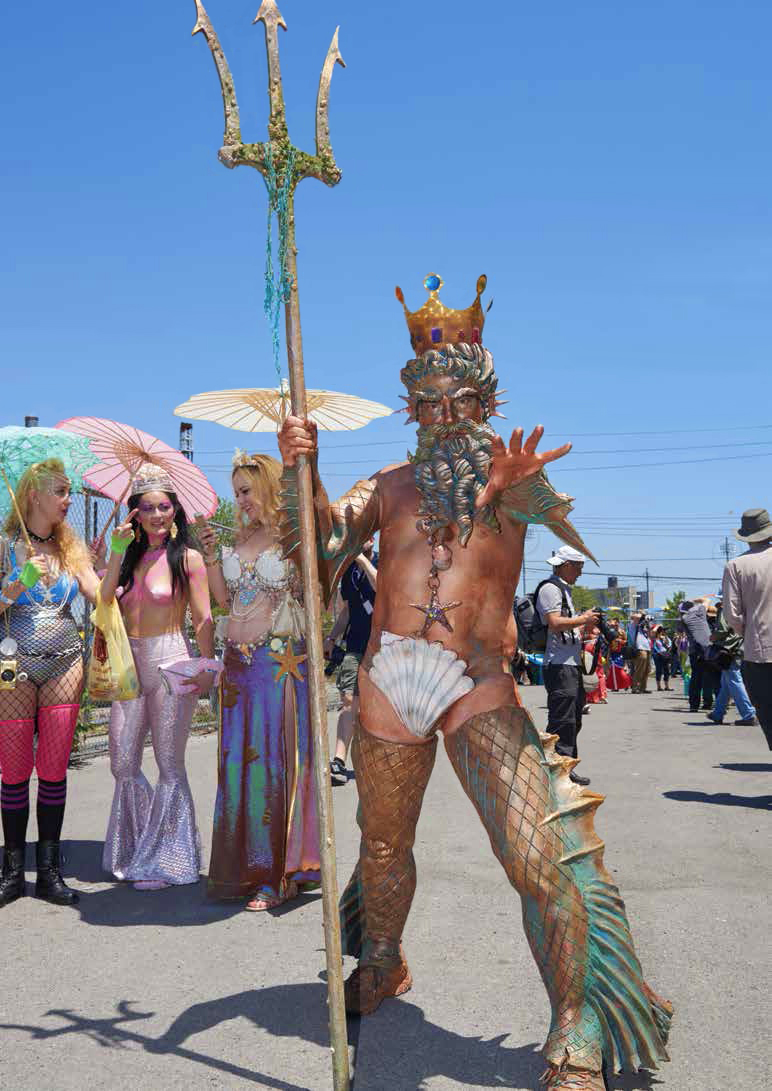 by Dan Howell
photos by Dan Howell / Paul Latimer / Sue Candia
Ancient mythology meets Honky Tonk rituals in a cavalcade of outrageous costumes!
Mix one part Mardi Gras, one part fashion show, and one part Gay Pride, and you start to get an idea of the saturated colors of the 34th Annual Coney Island Mermaid Parade. Held each year on the closest Saturday to June 21st to celebrate the beginning of summer at New York City's historic beachside amusement area, the Mermaid Parade has become a Brooklyn treasure and one of the most significant forces in revitalizing the once-depressed neighborhood, and is growing into the nation's largest art parade in the process.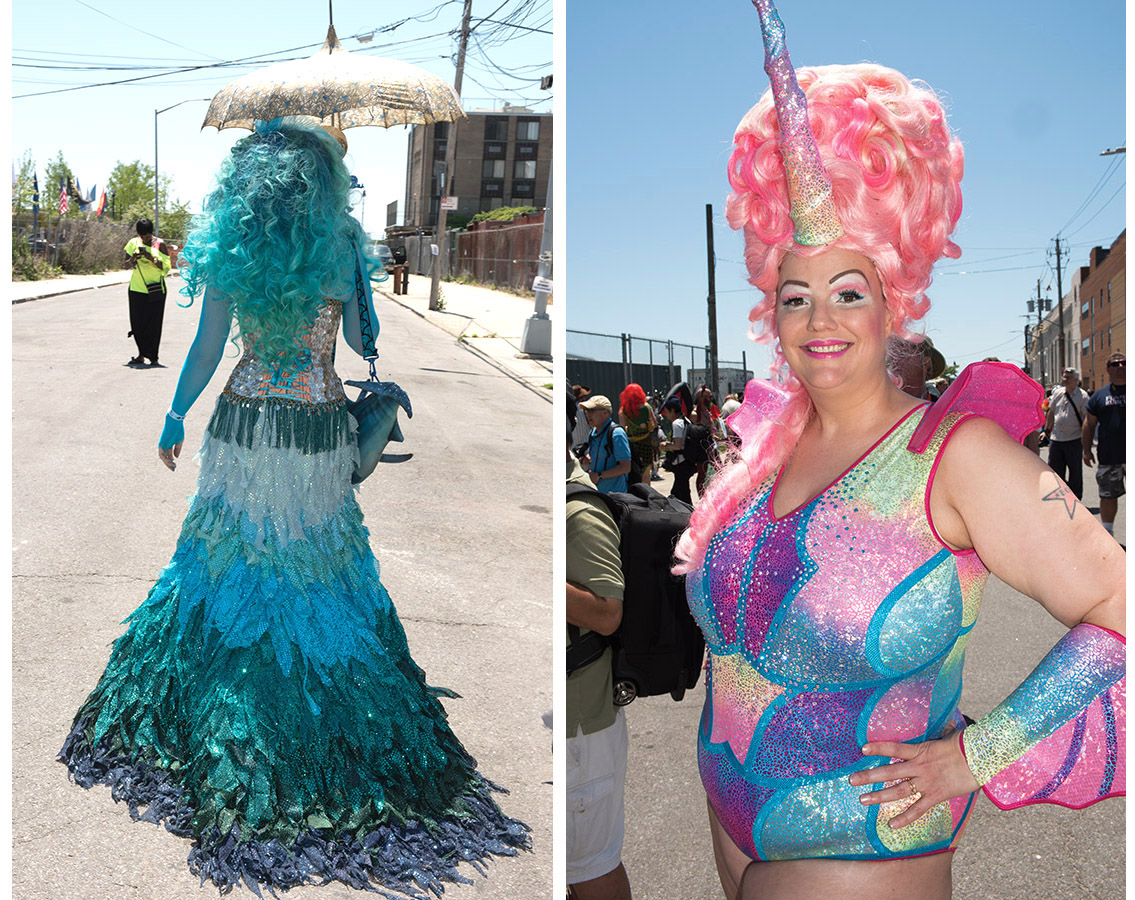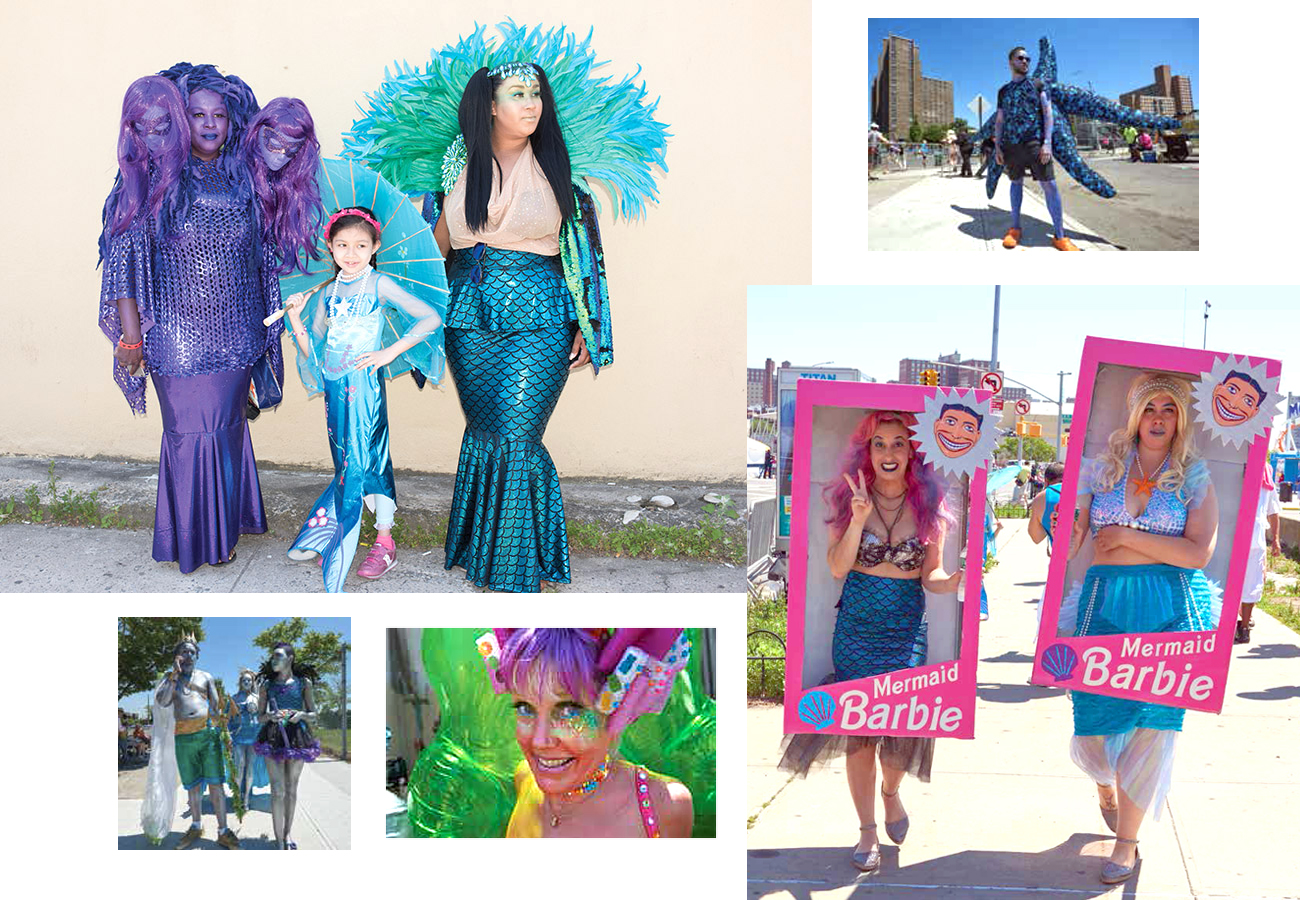 The audience for this installment was treated to a picture-perfect summer day, with photogenic costumed mermaids, King Neptune, and even a marriage proposal! Never short on attractions, colorful and historic Coney Island turned its streets and boardwalk into a virtual runway displaying hundreds of wiggling mermaids, colorful sea creatures, dancing groups, and marching bands, which passed by icons like the Cyclone roller-coaster and the original Nathan's Famous Hot Dogs (home of the hot-dog-eating contest), finally ending with a sandy beach ceremony officially opening the beach for the summer.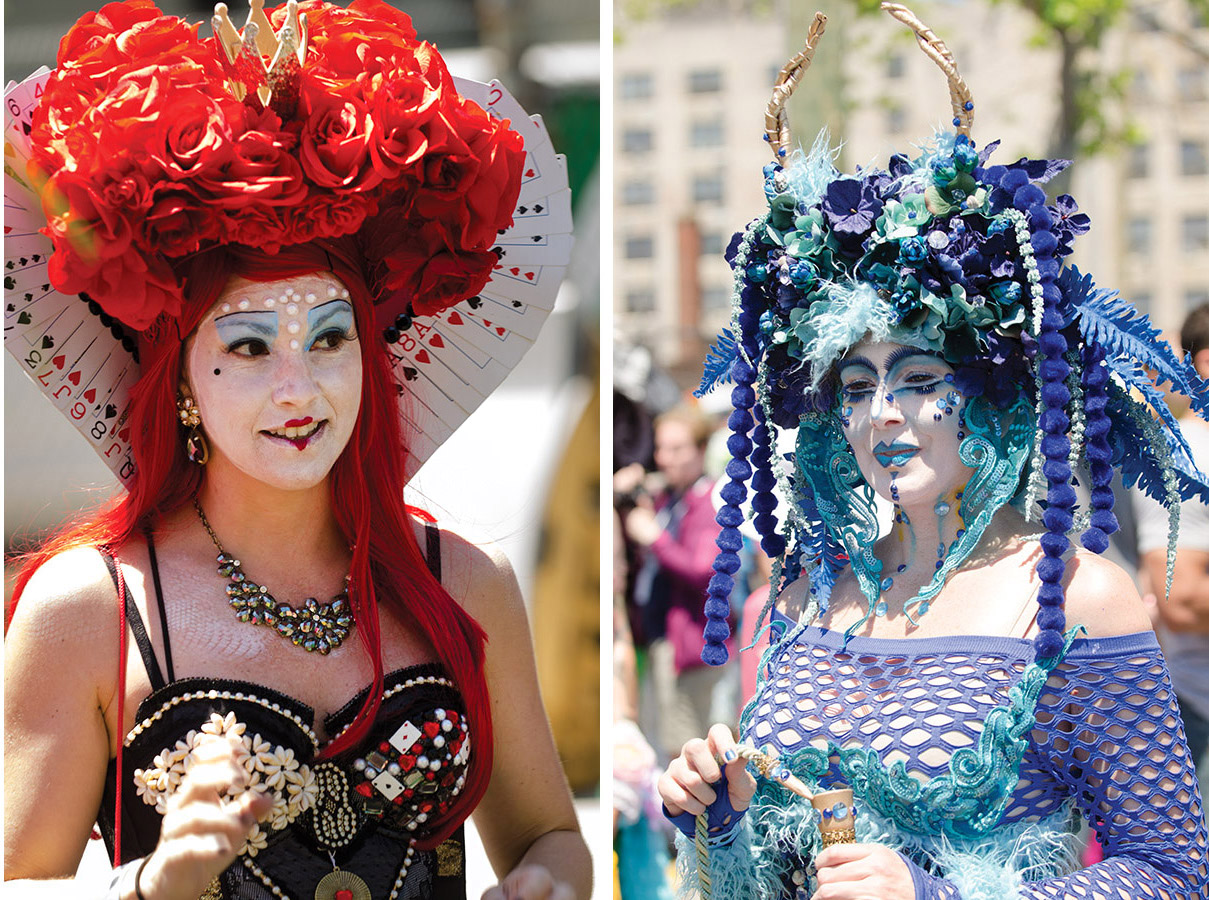 The event was started as an art parade in 1983 by Dick Zigun, founder of Coney Island USA and unofficial "Mayor of Coney Island", as an outlet for New Yorker's creativity and self-expression centered in the Brooklyn neighborhood with streets with colorful names like Mermaid and Neptune Avenues. The Mermaid Parade has grown from a gathering of a mere 300 marchers and a group of 1,000 mostly-local spectators to a massive event drawing 3,000 registered participants and hundreds of thousands of witnesses from across the country.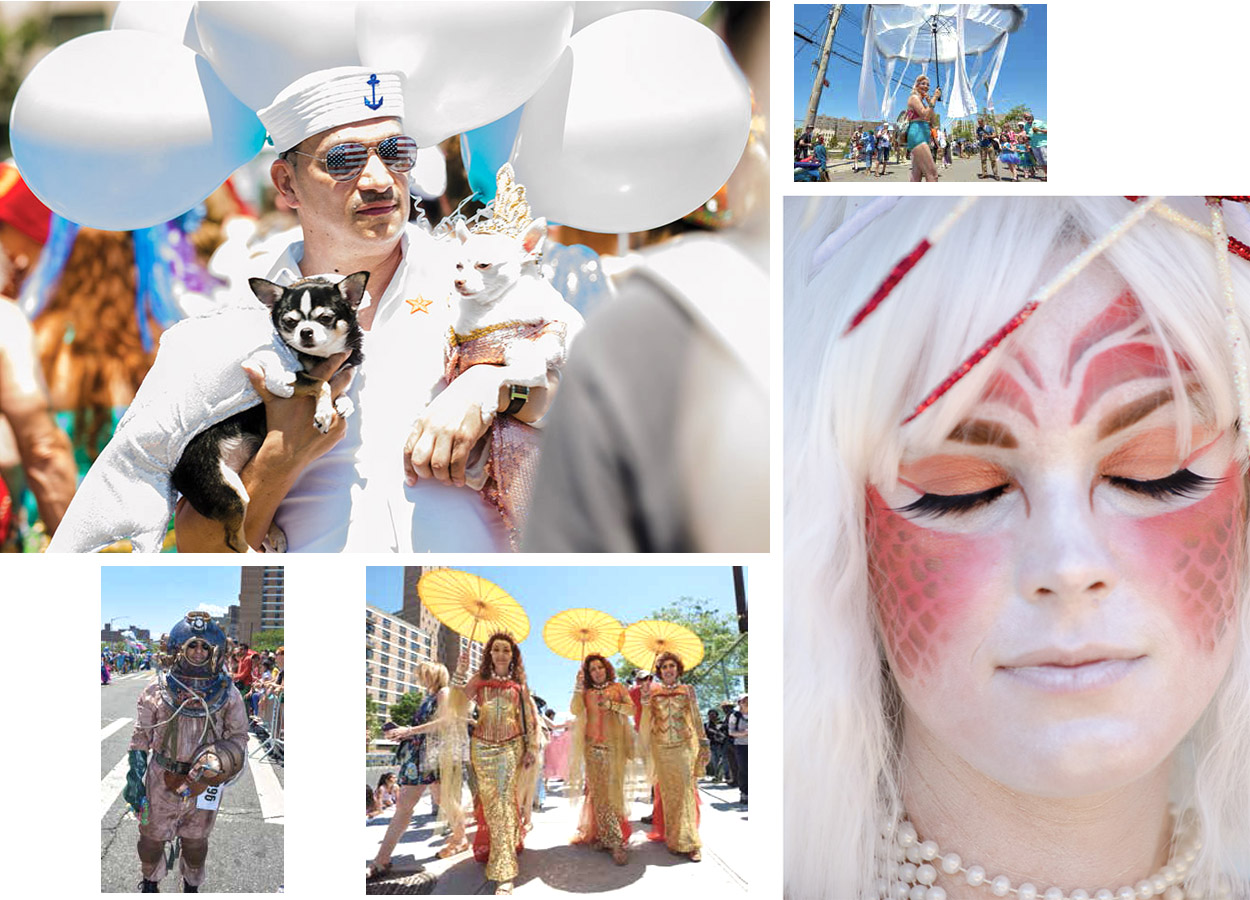 The Mermaid Parade has become an annual event for both costumed marchers and seasoned spectators who laud their favorite perennial characters and find new favorites to follow.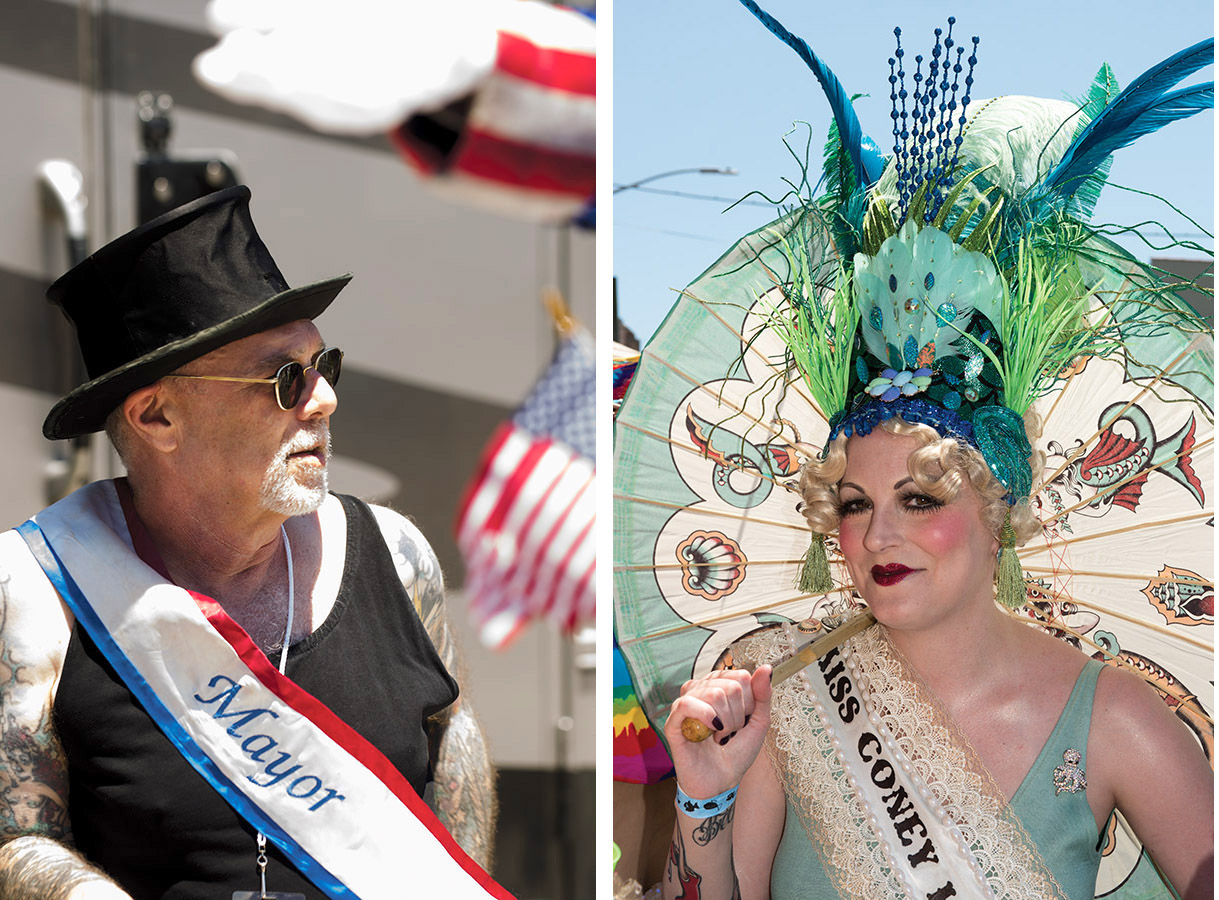 Each year, a parade Queen and King are selected to preside over the parade and open the beach. This year's royal couple were 2016 Sports Illustrated Swimsuit Edition's cover model Hailey Clauson and Brooklyn Chamber of Commerce President Carlo A. Scissura. Past kings and queens have been a mix of local and national celebrities like actors Annabella Sciorra and Harvey Keitel, and musicians Lou Reed, Moby, David Byrne, and Queen Latifah. A panel of judges, who pay for the privilege, award prizes to the best Mermaid and Neptune costumes (for both adults and children), best sea creatures, best floats, and best music or marching groups. Marchers curry favor with the judges with bribes of trinkets and candy in order to claim their respective titles.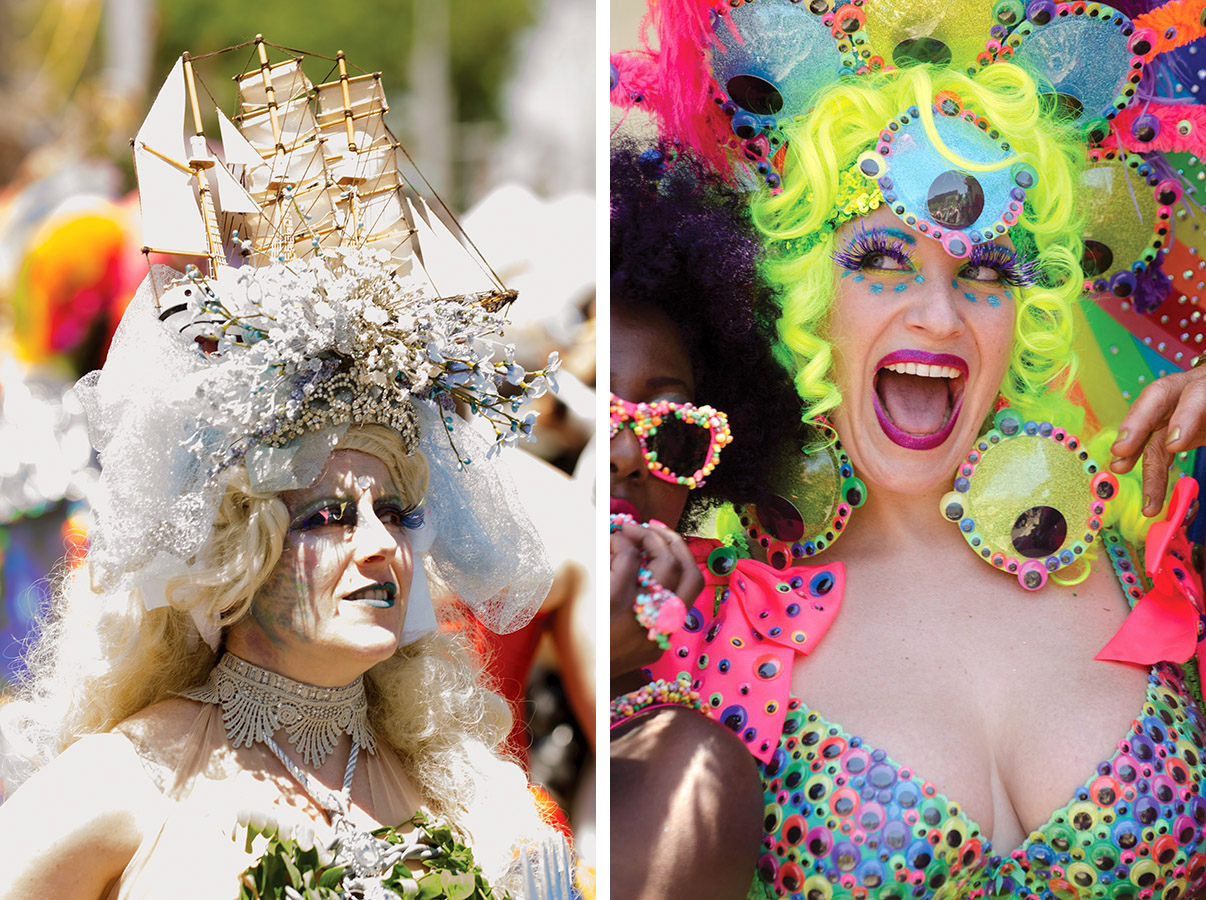 Parade participants marched united in pride and pageantry in Coney.
As the name implies, mermaids were out in full force among the parade's registered participants, but many put their own personal spin on the theme with a rainbow of interpretations, including numerous topless mermaids, body- painted mermaids, and even gender bending 'mermen.' Others stuck with the traditional shell bikini tops, but all were wearing mermaid tails of one sort or another. Many chose to work off other themes, including a whole group recreating the characters of Alice in Wonderland as mermaids, a troupe of Wonder Women mermaids, political candidates as mermaids, and a pair of Mermaid Barbies still in their boxes. In addition to mermaids there was a panoply of other sea creatures, both recognizable and abstract, like jellyfish, starfish, and seahorses, as well as pirates and sailors. For many it is simply a fun opportunity to don colorful costumes and cavort at the beach.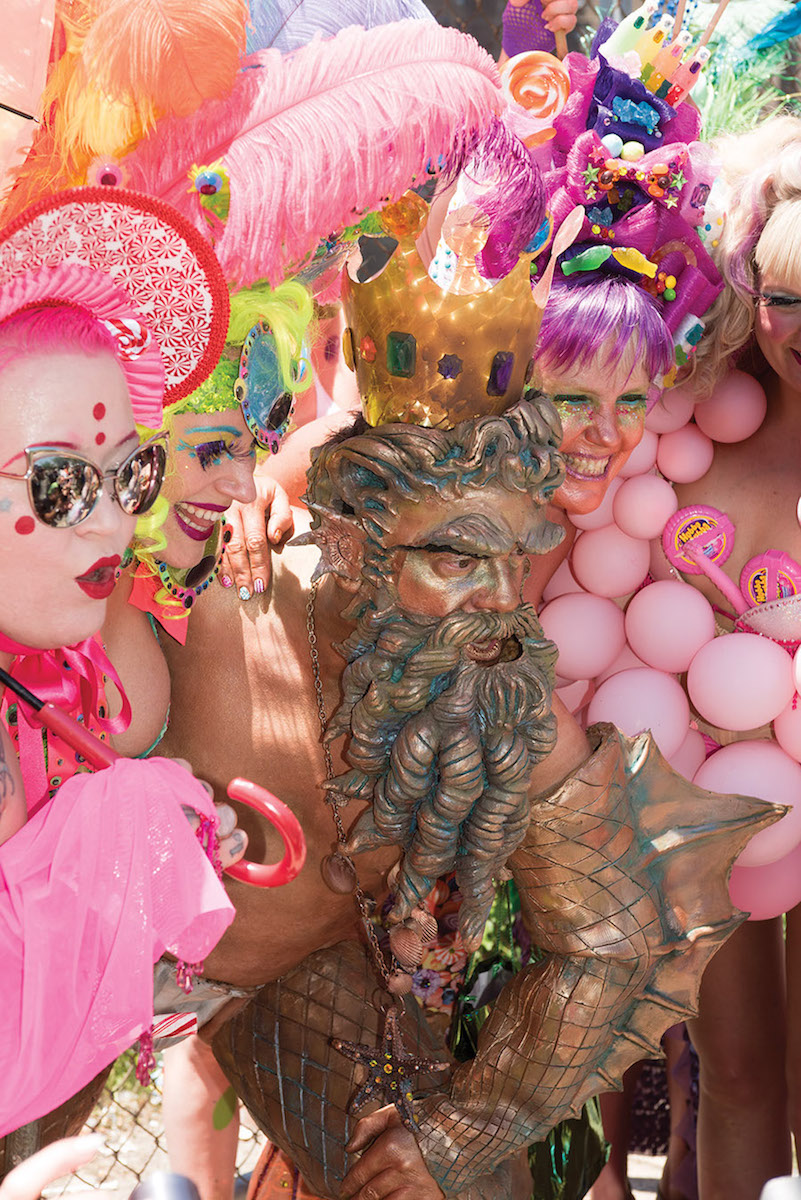 A regular fixture and feature of the Parade is Coney Island USA's artist-in-residence and burlesque legend Bambi the Mermaid. Bambi has participated for more than 20 consecutive years and had the honor of being the 2006 Parade Queen. She chose a candy theme for her mermaid costume this year, and recruited several of her friends and fellow burlesque dancers to join her candied band. "I picked a candy theme because I saw candy print fabric that I wanted to make into a mermaid tail!" said the New-York-based artist and performer. "All of my closest friends were in the group, as well as a rotating cast of characters who ask to march with me each year!" These included burlesque performers Little Miss Lix as pink bubble gum and BooBoo Darling as atomic red hot candy. Bambi openly proclaims the Mermaid Parade as her favorite day of the year and plans each year's outfit well in advance. "I pick my themes every year a year ahead because I already know what I want my costume to be. I already have the next two years planned!"
Bambi was also the center of a special surprise this year when her boyfriend Chuck Varga (costume designer and founding member of shock-rock band GWAR), dressed in a golden King Neptune costume, proposed marriage in front of the judge's stand with the help of compatriot artist Joe Coleman, also a judge, who produced a giant engagement ring (made by Chuck in his workshop, later replaced with a more traditional ring). Bambi accepted the proposal in front of the judging stand and assembled crowd. The couple had originally met at the previous year's Mermaid Parade.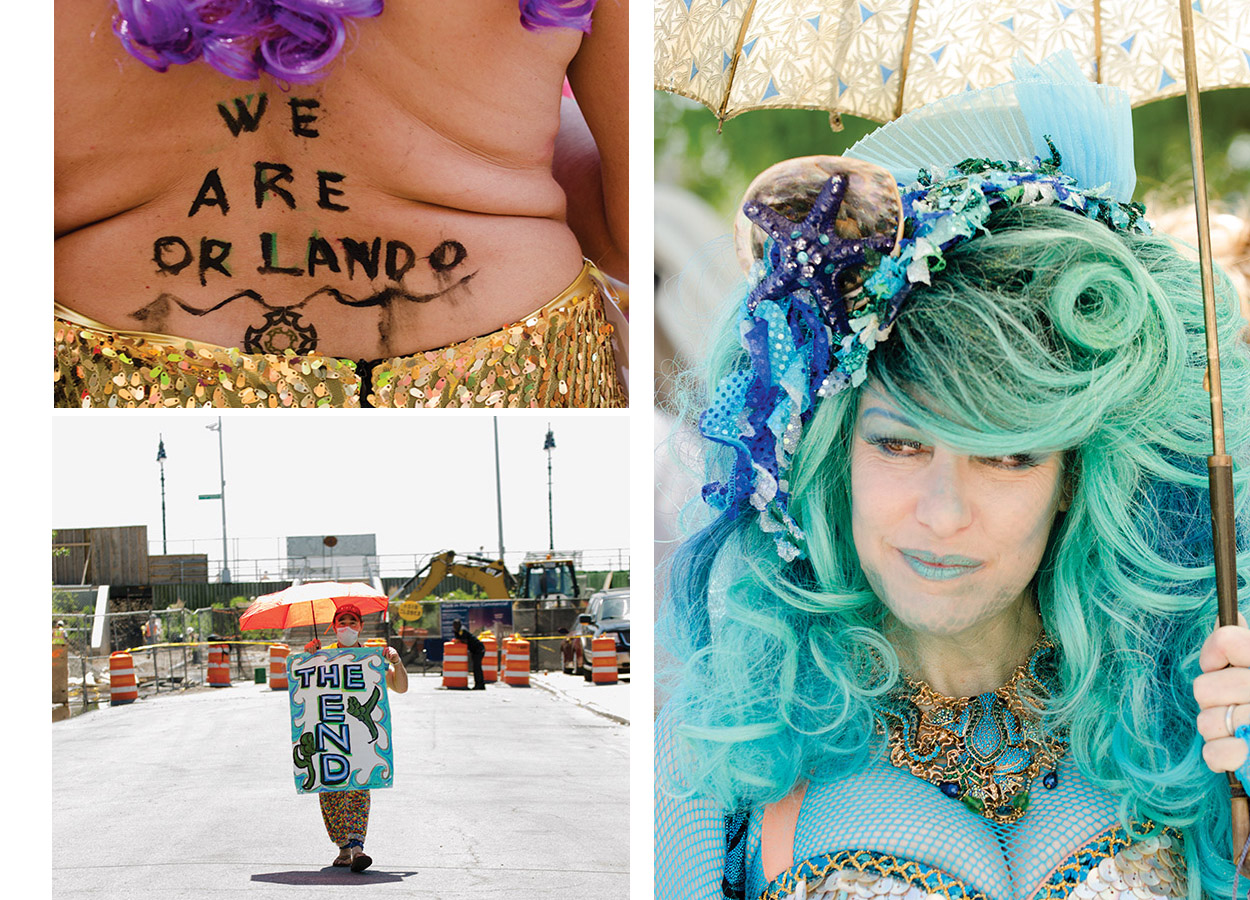 The Mermaid Parade established an inclusive atmosphere from the outset. Many of the marching groups promote eco-sensitive themes, frequently highlighting the threat and pollution of the oceans. This year the victims of the Orlando shootings were remembered by several individual mermaids and marching groups alike. It was, as it always is, a celebration of diversity, of individuality, and of a community that always comes together to support its own—and anyone else who needs a place to call home.