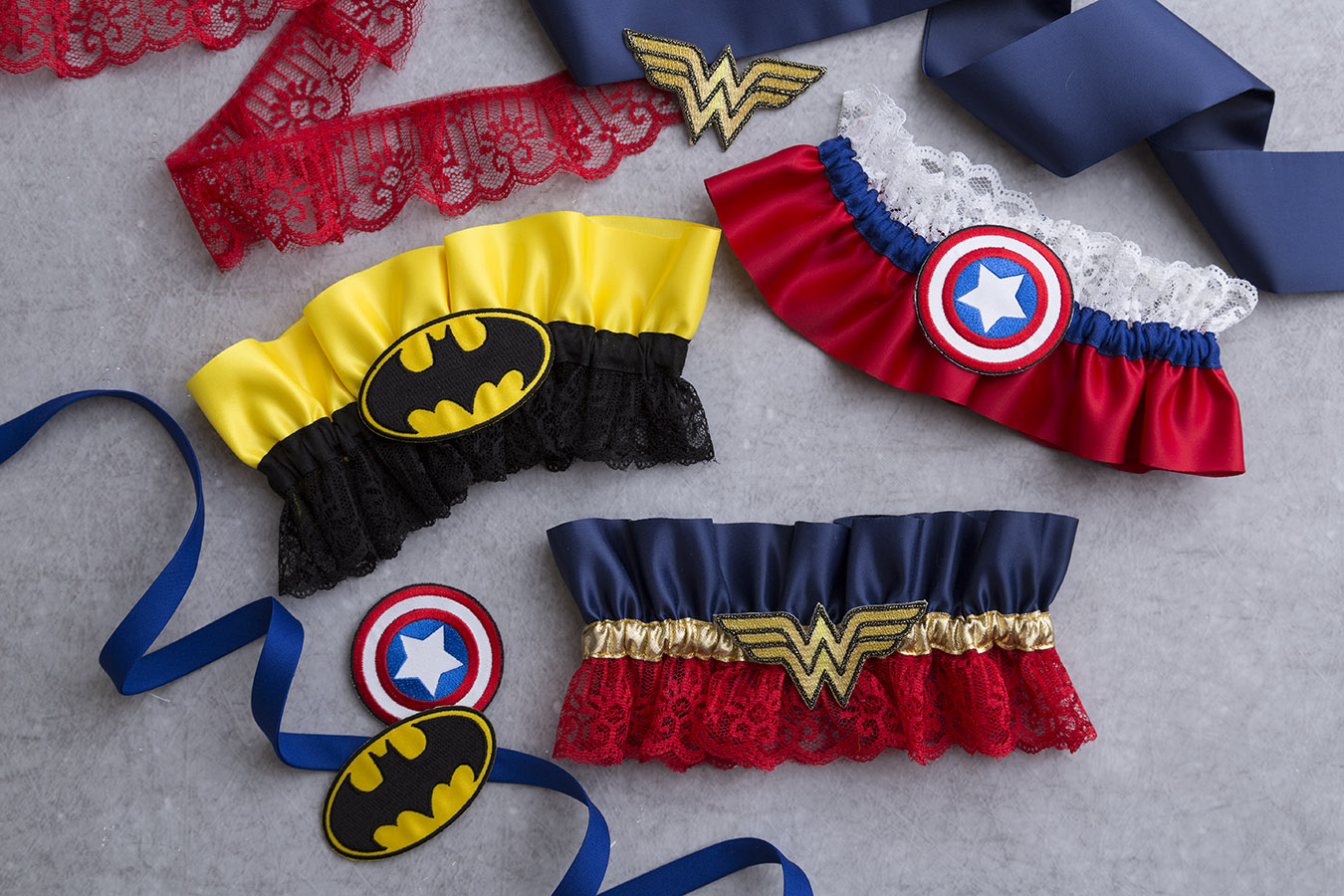 No cosplay wedding is complete without this super and sexy superhero garter! Surprise your mate on the big day with this fun and fashionable accessory!
MATERIALS
1 small Simplicity® Super Hero Applique
1 package Wright's® Satin Blanket Binding
1 spool or 1 yard Simplicity® lace trim (1 1/4" – 1 5/8" wide)
1 package Wright's® Extra Wide Double Fold Bias Tape
1 piece of ¼" Wide Elastic (length dependent on thigh measurement)
Sewing Machine and Matching Thread
Measuring Tape
Scissors & Straight Pins
Safety pin
Hot Glue Gun & Hot Glue Sticks

INSTRUCTIONS
STEP 1
Use your measuring tape to measure the circumference of the part of your leg where you'd wear your garter. Subtract 3" from that number to determine the length of elastic to cut.
STEP 2
Use your leg circumference measurement and add 8" to determine the length to cut of blanket binding, lace trim, and bias tape.
STEP 3
Cut the blanket binding along the center fold to create two separate pieces. You will only use one of these pieces for the next step.
STEP 4
With the right side of the blanket binding facing up, place the lace trim on top of the blanket binding so that the header of the lace overlaps the cut edge of the blanket binding by approximately ¼". Pin in place.
STEP 5
Using a zig zag stitch, sew the blanket binding and lace together.
STEP 6
Center the bias tape over the zig zag stitch you created in step five. Pin in place and stitch as close to each edge as possible. This creates the channel for the elastic.
STEP 7
With right sides facing, fold the garter in half so that the short ends are together. Using a ¼" seam allowance, stitch together to form a circle, making sure not to sew through the channel you've created for your elastic. (Tip: Make sure to backstitch when skipping over the channel).
STEP 8
Secure a small safety pin to the end of your elastic and thread it through the bias tape channel. Stitch the ends together, making sure to back stitch several tips to make sure it's secure.
STEP 9
Use hot glue to secure the center of the applique to the center front of the garter. Because the garter is stretchable, the hot glue will hold better than the heat activated glue on the back of the applique.