by Rich Kirby
Developed by Platinum Games and published by Sega in the U.S. for PS3 and Xbox 360, Bayonetta broke its fair share of ground upon its release in 2010. With the recent release of both Bayonetta and Bayonetta 2 for the Nintendo Switch, we expect a new cadre of cosplayers and gamers to cozy up with the stylish character that Computer and Video Games magazine called the "sexiest collection of pixels [they'd] ever seen."
The eponymous lead character may resemble a tarted-up edition of your sophomore year geometry teacher, but she is in fact an Umbra Witch who is definitely not on the side of the angels. In fact, it's a boat-load of angel-butt through which Bayonetta must kick, shoot, and ensorcel as she deciphers the secrets of her true origin.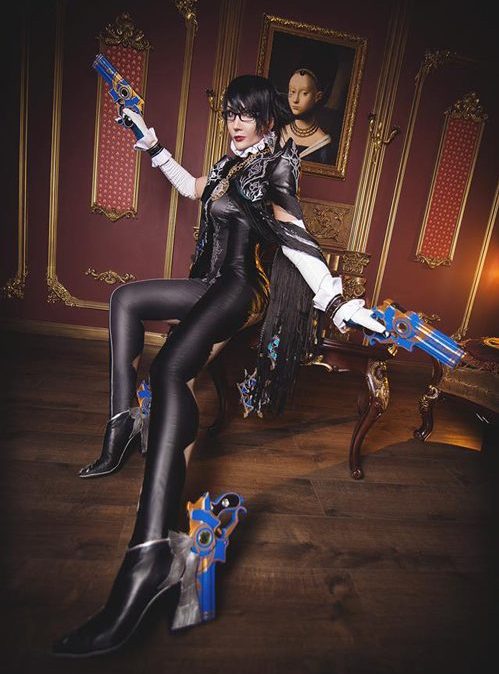 Bayonetta's four guns (in each hand, on the heel of each foot) make for innovative play for gamers and challenging crafting for cosplayers. The character's beehive hairdo breathes new life into costumers' otherwise discarded Marge Simpson wigs. Note that, like Audrey Hepburn before her, Bayonetta trades that piled-high-and-heavy look for a pixie cut in her second act in Bayonetta 2. Critics enjoyed that 2014 sequel considerably more than its predecessor, but you probably never played it — the franchise's new distributor Nintendo only released the game for its Wii U console.
Cosplayers were big fans of Bayonetta 2, as well, for it offered a whole closet full of unlockable costumes and a new arsenal of weapons. Players of the game on the NS port can grab the new gear gradually by playing through the campaign, or instantly by purchasing the compatible amiibo figurines. For the uninitiated, these are tiny action figures similar to the more popular Skylanders from Activision that communicate wirelessly with your NS, Wii U or 3DS-family game console.
Bayonetta 2 also introduced the lead character's friend and rival Jeanne, another witch from Bayonetta's clan. After a brief set-up of double-witch angelic ass-kicking, Bayonetta spends much of the second game questing to rescue Jeanne's soul from the infernal realm of… "Inferno." It's what friends do.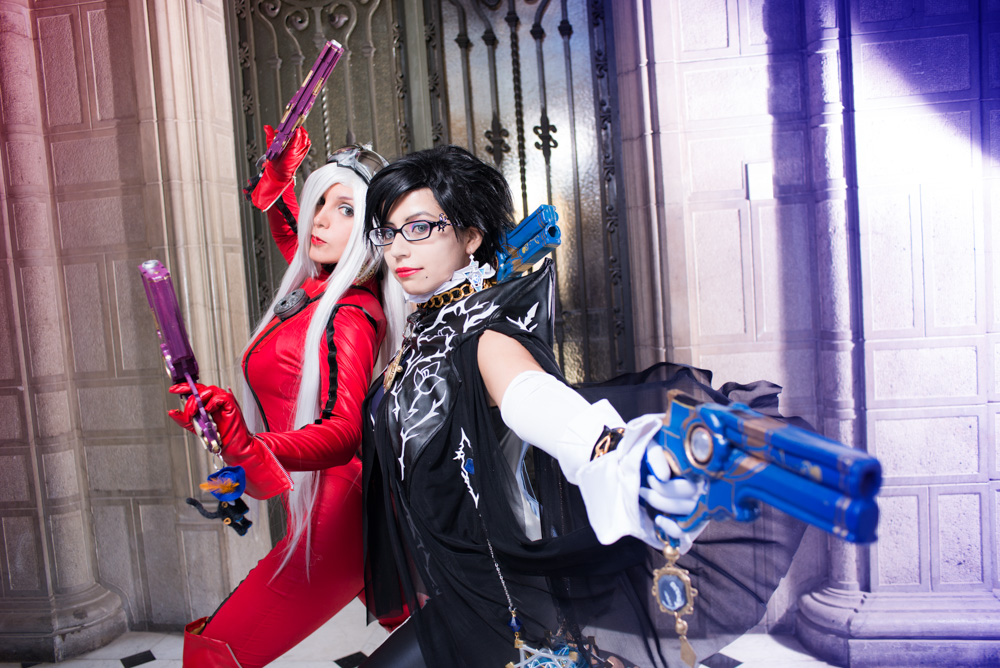 In between game releases, the Bayonetta character starred in the anime feature Bayonetta: Bloody Fate from Gonzo studio. The film opened in Japanese theaters in 2013, and had a limited release on disc stateside. The title remains a rare but worthwhile find for anime fans and Bayonetta completists alike.
Bayonetta and Bayonetta 2 were re-released for the Nintendo Switch on February 16, 2018. A third title has been announced as well, but with no release date set.