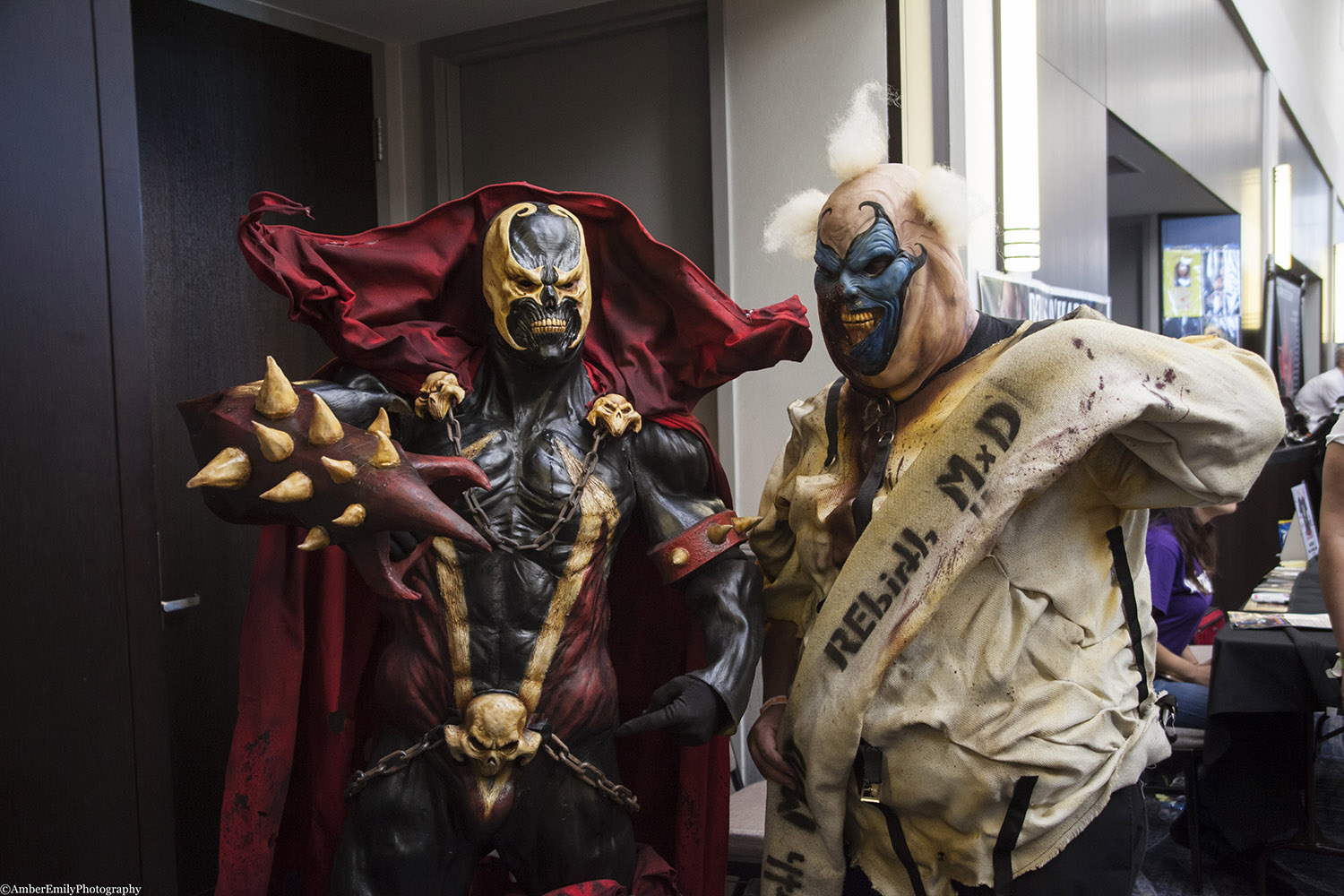 by Scott Essman
Photos by Amber Emily Photography
Cosplayers of all shapes and sizes flooded the Burbank Marriott Convention Center on September 17, 2016, for the sequel to the wildly popular Monsterpalooza convention, deemed Son of Monsterpalooza. Now eight-years-old, the Monsterpaloozas, run by New Yorker Eliot Brodsky, have easily been the most successful of the Los Angeles-based horror conventions, even surpassing Fangoria's legendary Weekend of Horrors. Packing the entire Marriott, the Monsterpalooza conventions — with the main weekend occurring in March/April every year — bring out fans not only of horror, science-fiction, and fantasy, but also comic book properties, mystery, intrigue, suspense, and the craftsmanship which goes into creating the otherworldly.
One cosplayer named Erwin, going by the name ZombieCat Cosplay, spent over five hours on his costume, "a concoction of Re-animator and Pet Cemetery," he said. Going to all of the main Southern California conventions, Erwin noted that he has also hit San Diego Comic Con, Long Beach Comic Con, Kamikaze, and Days of the Dead. He feels as though the genre is flourishing, seemingly now more than ever before, Erwin noted, "probably from their childhood — everyone likes a good scare."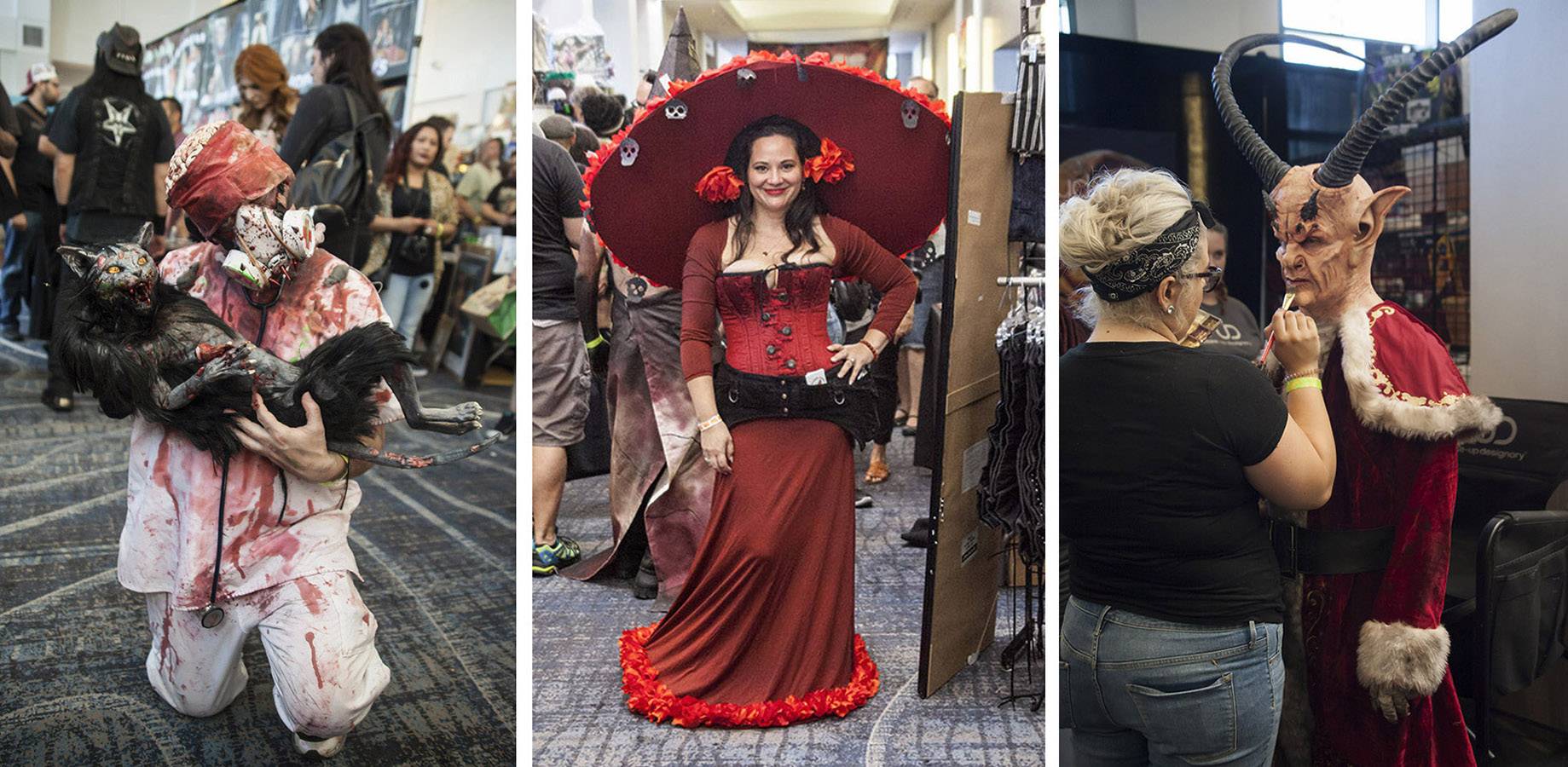 Creating the iconic horror production company Blumhouse's website, Rob Galluzzo has worked in the genre for many years. "Everyone still loves their monsters and even if you're remotely a horror fan this is the best show to go to, plain and simple," he said. In point, his company currently has 37 feature film projects in the works.
Working in marketing for genre titles at Lions Gate, another noted production company active in development, Chela Johnson looked around the crowded hallways of the Marriott filled with fans and felt a kinship with the crowd. "This is home," she said. "You're with your friends; you're here with these people who you see in the movies that you admire all the time; you are home."
Even parents packed into the Marriott for Son of Monsterpalooza to watch their children become engrossed in cosplay both as performers and artists. For Kebra Stapp, she was on hand to celebrate her 19-year-old daughter Kyrsta Morehouse, a makeup artist. "She started playing around in the garage when she was 16," Stapp revealed. "She loved Mrs. Doubtfire, and would watch it for hours. She got to do an internship with a former Face-Off winner for two months when she was 17, and she has never looked back."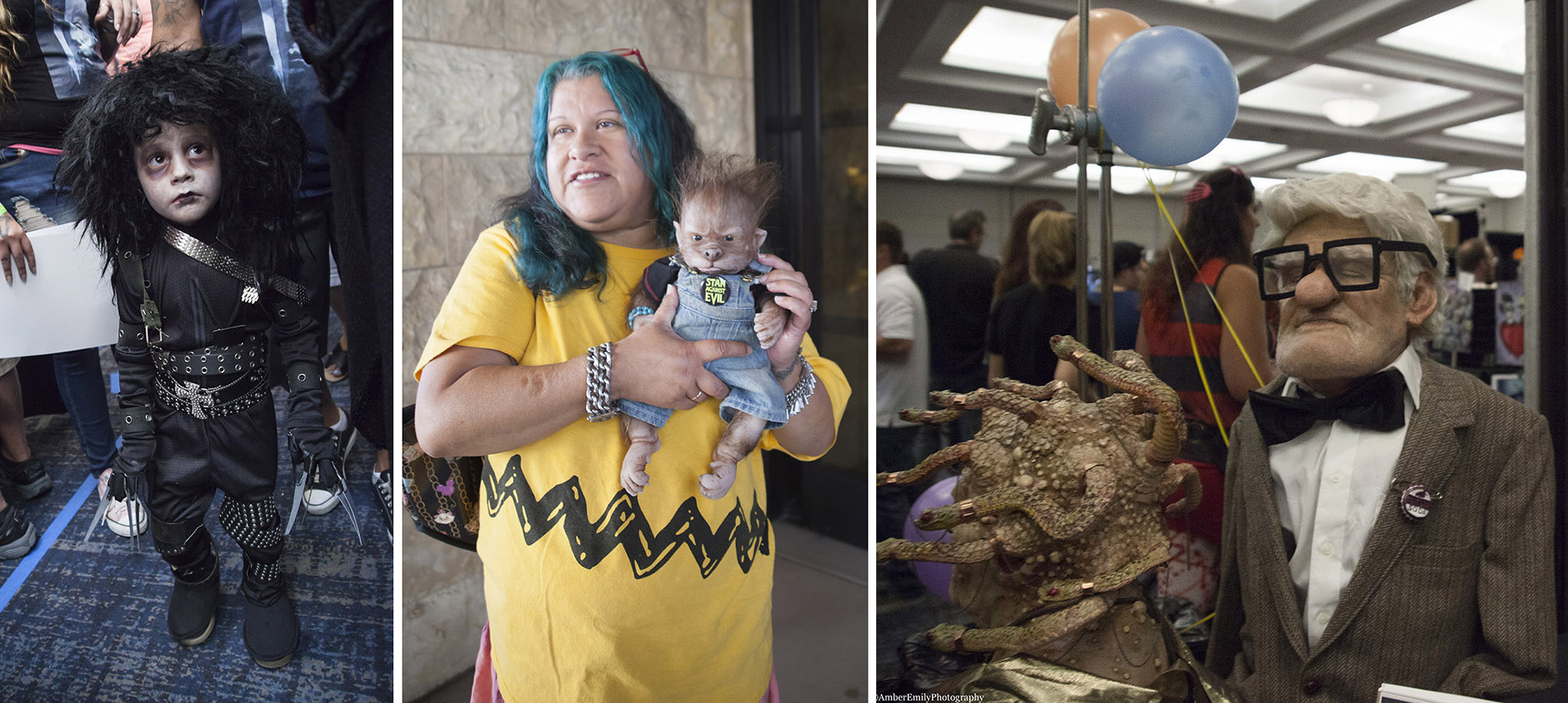 Longtime special makeup effects creator Norman Cabrera, with creations going back several decades, was matter-of-fact as to what draws huge audiences to events such as the one on-hand. "Everyone loves monsters, man!" he exclaimed. "That's the only reason." Joining Cabrera was artist Steve Prouty, with over 20 years in the industry. "It's better then anything else," he said. "It's better than reality — living vicariously through the imaginary character."
Cabrera elaborated on the success of fan conventions which triumphed on the East Coast but met some indifference on the West Coast until Monsterpalooza coalesced interest in the genre, coinciding with the explosion of San Diego Comic-Con the past 20 years. "We grew up watching monster movies when we were little kids," Cabrera said. "Some kids still want to see stuff from the 80s, the 70s and the 60s. They are still excited about movies like The Howling, and An American Werewolf in London. Unfortunately they don't make movies like that anymore, but maybe if Hollywood sees enough of these people and these lines to see this kind of stuff, then maybe they will."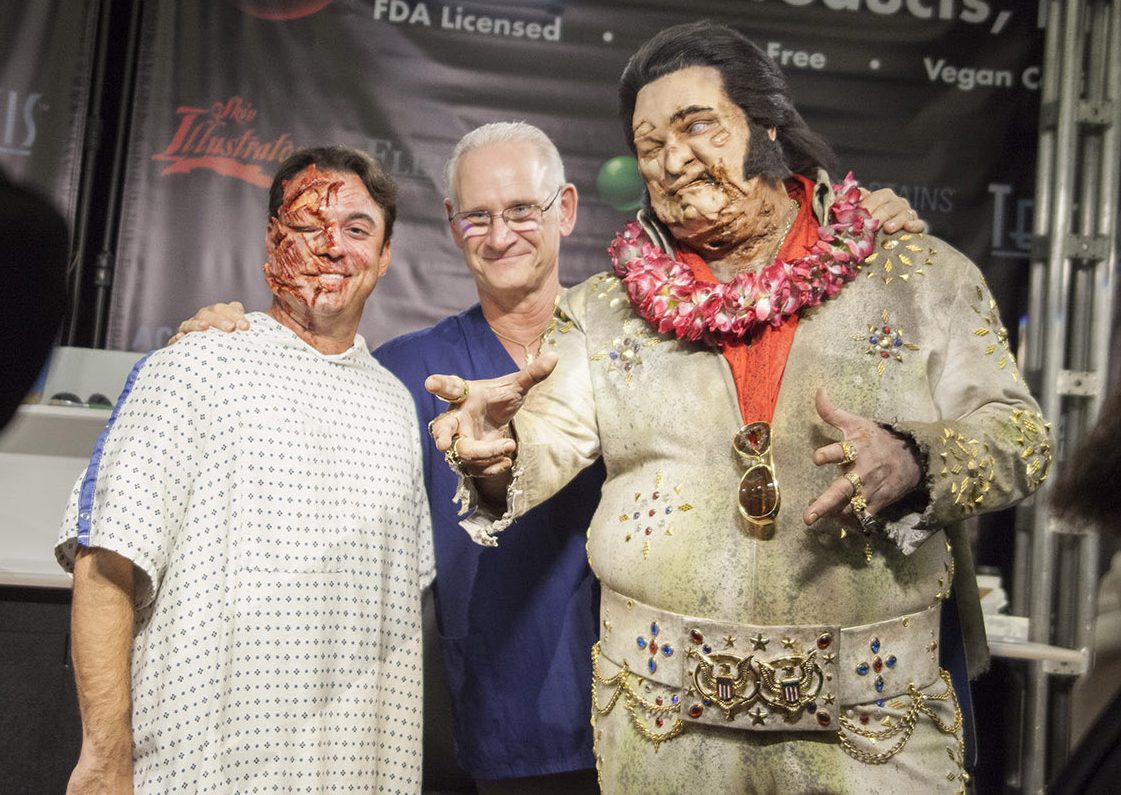 Christine Montoya, who wore a multi-hour-prepared makeup and costume, offered what might be special for cosplayers attending fan conventions such as Monsterpalooza. "People can live their fantasy of their favorite movie when they were a kid," she said. "Be the person [you] grew up loving as a kid, in real life."
Though not a cosplayer himself, dramatic actor and teacher Perry Shields has been running the convention's theater since 2009—and Son of Monsterpalooza since 2012. "I think that it was the first of its kind," he said. "Certainly, in LA, we hadn't had a convention [about] the art of monsters which is what Monsterpalooza is; it's not a Comic-Con; it's not a Fangoria convention. It is about the art of special effects creature makeup, and I think it fills the void—the need in this era for people to get together."
Artist K.C. Wong spent several months to assemble his full-size figure of Lon Chaney's creation, The Man in the Beaver Hat from 1927's London After Midnight. "It's visceral," he described of his fascination with the work. "There is something that resonates in people, and that's why people come back. They are tortured souls," he noted of his monstrous creations before adding, "which a lot of us are — you know, misunderstood."
Historians and authors also filled the Marriott to the brim for two days and a night in mid-September. For one, David Del Valle has written extensively on the genre. "The people that populate this convention are all from the 80s, and they worship at the shrine of Friday the 13th, Nightmare on Elm Street, what we would have called all the slasher genre one time," he detailed.
Fellow artist Steve Wang, whose own creations include the original Predator, spoke of the more uplifting aspects of what he does. "Back in the 80s, movies didn't take themselves too seriously," he related. "It was all in the name of fun — the 80s was a very fun decade, and I think these monsters became so iconic and so endearing, so entertaining."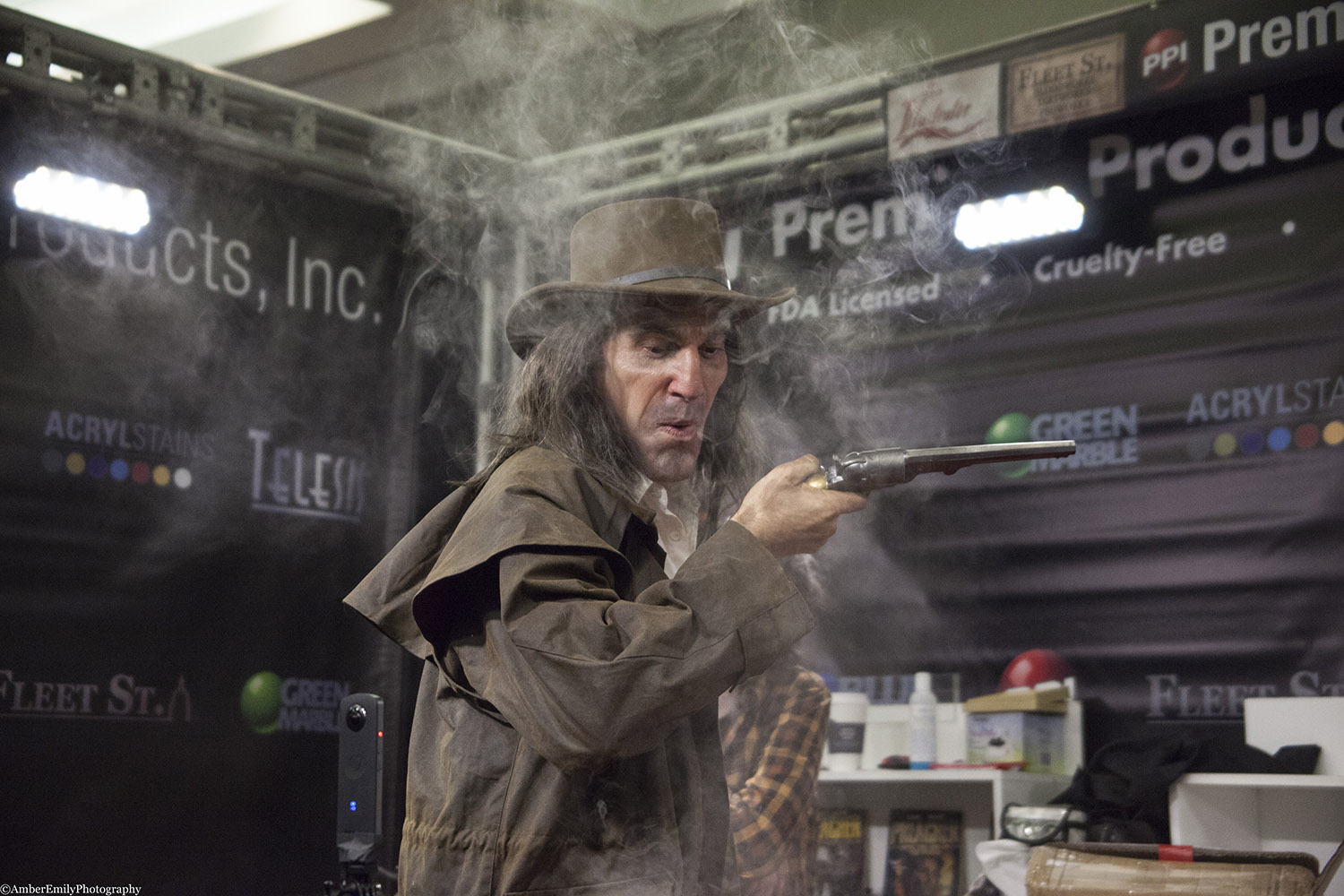 Makeup and creature artist Christopher Nelson, with 30 years in the business, commented offhand on who cosplayers and fans are in aggregate at conventions. "This is the Island of Misfit Toys," he quipped. "This is where everyone can come and be together we all share an interest that isn't the norm. It's like a big club and everyone is the same here: the same likes and interests in the macabre and movies and monsters: this is our world."
Three-time Oscar winner for Best Makeup Greg Cannom was on hand to demonstrate techniques at an elaborate booth established by makeup brand Premiere Products. Regarding a Saturday spent in talking about his work, Cannom, who won Oscars for Bram Stoker's Dracula, Mrs. Doubtfire, and The Curious Case of Benjamin Button, concluded that it made a day off well worthwhile. "It's the best venue; I love it," he said. "I get to see my old friends, and I get to see everybody here — it's just the gathering of amazing and talented people."
Cannom's colleague Ve Neill, herself a multiple Oscar winner and current Face-Off television personality, explained why so many people are still enraptured with monsters. "There is a fascination for dead people, weird people, half-alive people, and creatures — all that groovy stuff we love to make see," she said. Neill collected a statue with Cannom for Mrs. Doubtfire and also won for Beetlejuice and Ed Wood. "Everyone loves a good monster—it's fantasy, it's otherworldly, we want to be somewhere else."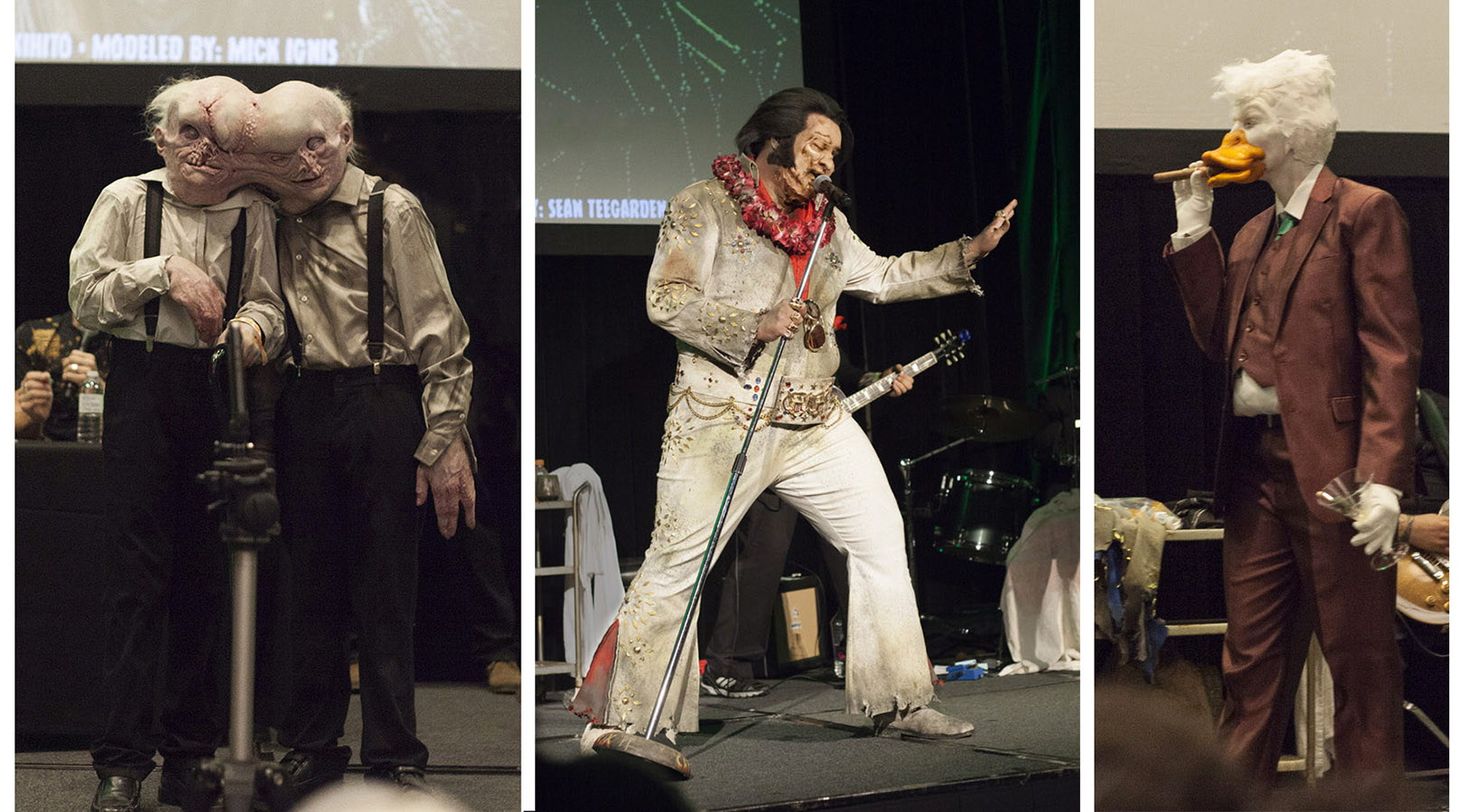 Filmmaker and writer Spooky Dan Walker, who just completed a Christmas-themed horror film entitled Slay Bells, explained why cosplayers, fans, and professionals are drawn to Monsterpalooza twice a year. "We are at the epicenter of the horror community right now," he said. "All the cosplayers and people are so excited to be here—I'd rather be here than anywhere else."
Ryan "Rotten" Turek, a development head at Blumhouse, waxed philosophically on what brings huge crowds to live communal events. "Horror can be escapism, horror can be fantastical, horror can be real," he divulged. "Horror can be whatever the viewer wants it to be."
Finally, Monsterpalooza creator and proprietor Eliot Brodksy, standing amidst the throng of midday patrons, explained his reasons behind creating the conventions. "This is an art form that will never ever ever ever die," he said. "In fact, look around — it's getting bigger; there is more passion, more people involved."
Concluding, Brodsky conveyed the mentality of the average Monsterpalooza guest. "Everybody likes to see something up close and personal, and by seeing the artist and hearing that they created something, that's not the norm when it comes to a monster convention," he said, noting that typical conventions solely focus what is on the screen. "People are intrigued here — they see the work that goes into it, and I think they appreciate it. It's a coolness factor."