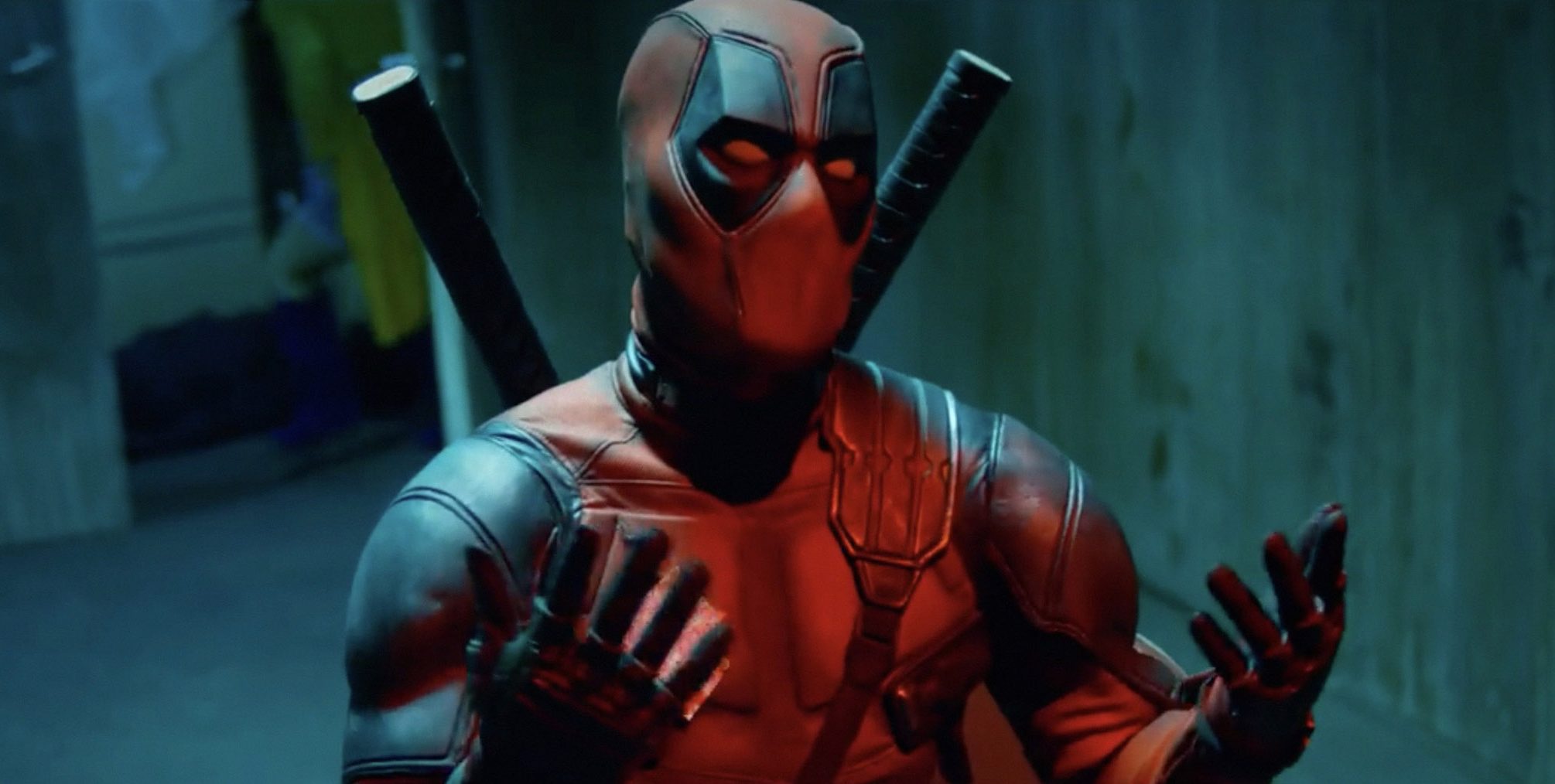 by Zamurai Productions
With the success of film sequel Deadpool 2, the popularity of the crazed Marvel character shows no sign of slowing down any time soon, and The Merc With A Mouth continues to be a massive cosplay inspiration for many, particularly video and fan films, as demonstrated by the superior new parody film Deadpool The Musical 2.
Created by Julian Higgins, Michael Parker, Brian Danner, and Paul Bianchi of Zamurai Productions as a sequel to their 2017 viral musical mash-up of Deadpool and Beauty and the Beast song "Gaston", this time the filmmakers have pulled out all the stops to create an insane action-filled fan-film epic with a huge cast of cosplayers and stunt people. As they describe, "watch as Deadpool sings and slays his way through some all-time favorite Disney movie songs and superhero teams, from the X-Men to the Avengers and more!"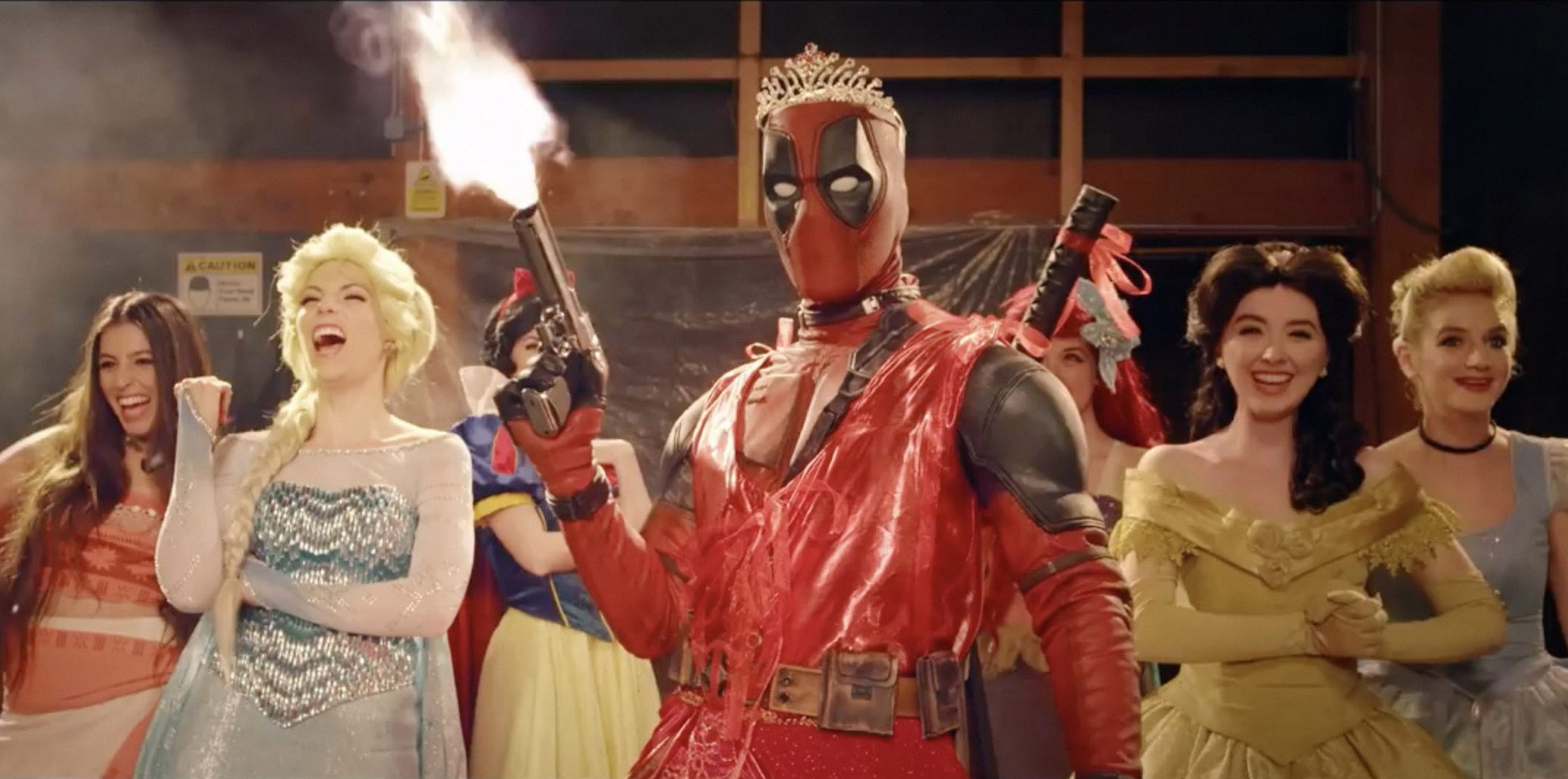 With plenty of movie-quality costumes, from Deadpool's screen-accurate suit to X-Men uniforms for Wolverine, Rogue, Cyclops, Jubilee, and Beast, to a complete roster of the Avengers, plus deep-dives like Puck and Sasquatch from Alpha Flight, it's cosplay heaven, even if it is R-rated. So perhaps you shouldn't watch it at work. Or at least, put on headphones.
The team responsible for costumes was led by Wardrobe Supervisor Bridget Desjarlais, with Christy Hauptman stitching some of the specialty costumes, and additional costume work by Paul Bianchi, Jo Crandall, and Professional Cosplay. "A LOT of effort went into making them," says Executive Producer Michael Parker. "Given the quality of the Deadpool suit, it was VERY important that every character have a movie-quality costume."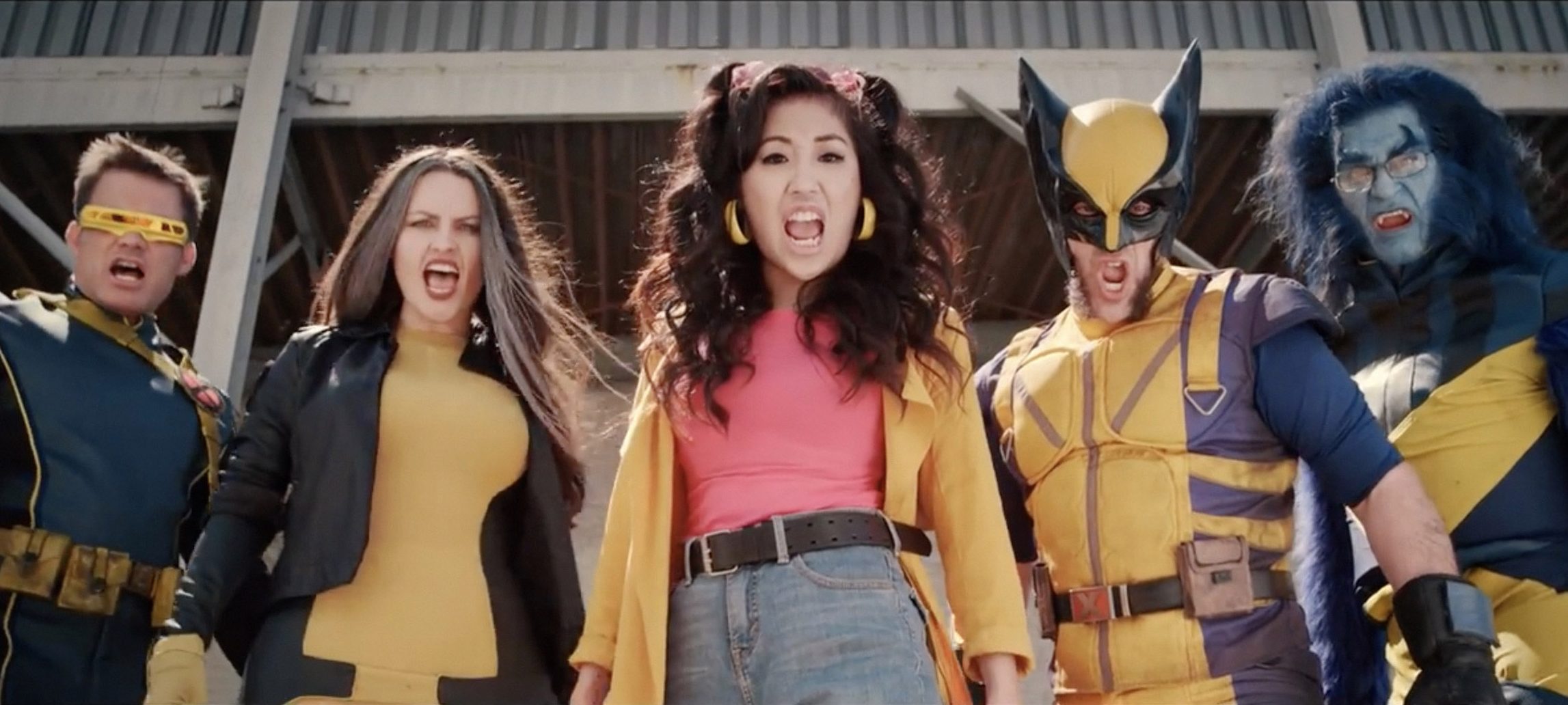 "Bridget Desjarlais worked on the Morlocks and The Hand, as well Nick Fury and a multitude of others with Christy. Paul Bianchi designed the Puck, Sasquatch, and Rogue costumes. Jo Crandall was critical to the Iron Man suit, which was specially created for the shoot. I personally worked on Captain America and Black Widow, and other costumes were brought in by the actors themselves. Sword Fights, Inc. brought in the stunt team and the costumes for the Mercs, who Deadpool laid waste in the opening 'I'm Deadpool' song. And for Beast, we had the guy who did the make-up for Beast on X-Men: Last Stand."
With their previous musical parody racking up numerous awards, including a Webby for Best Writing, and reaching over 21 million views across YouTube and Facebook, the sequel no doubt promises even more notice.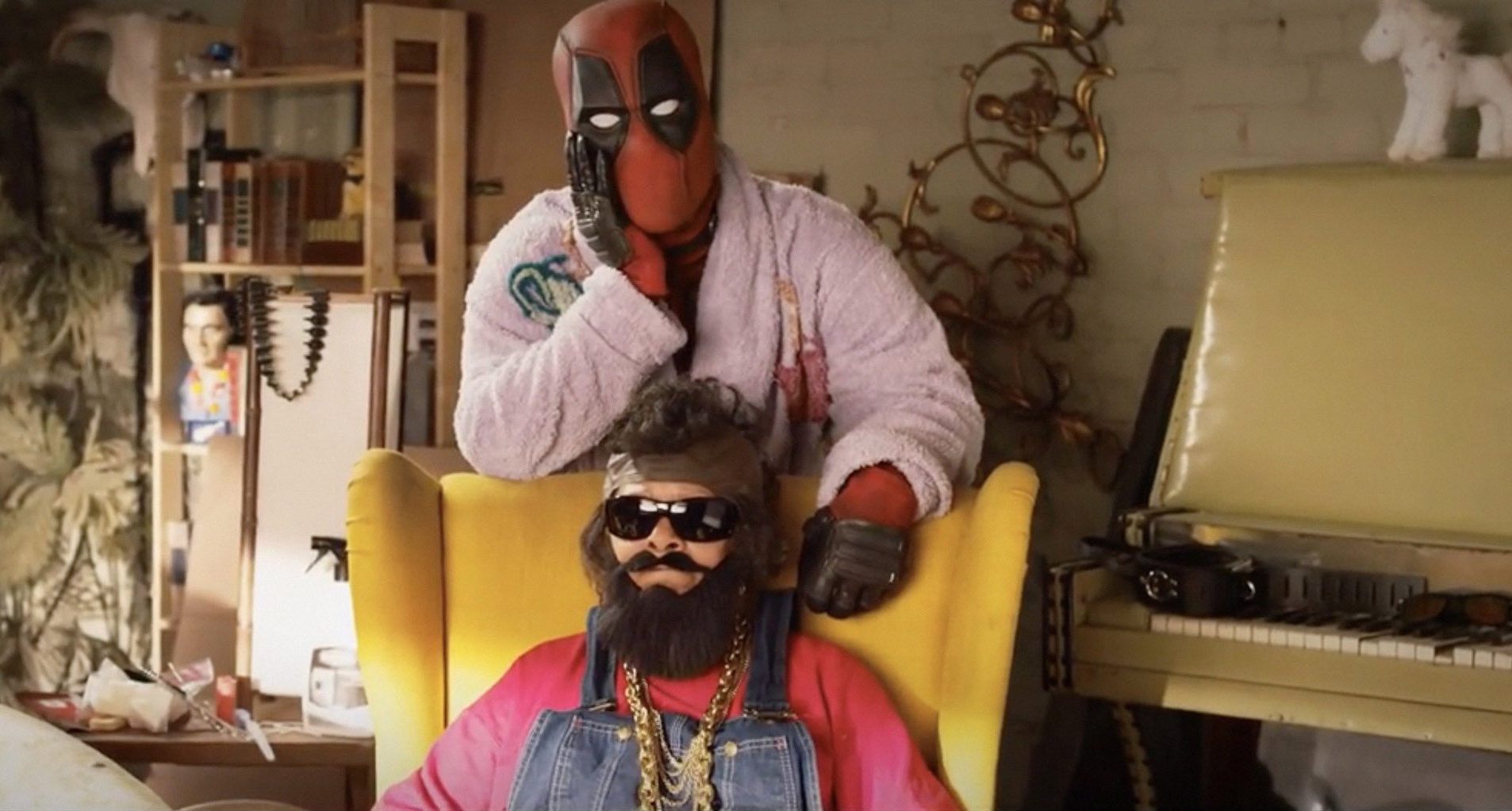 Official Disclaimer:
100% Unauthorized, Not-For-Profit Fan Film. Not intended for commercial use. Characters/trademarks are owned by 20th Century Fox/Marvel Studios/Walt Disney Pictures, and this fan film is not connected in any way to said companies.
WEB: http://www.deadpoolmusical.com
FB: http://www.facebook.com/DeadpoolMusical
Directed & Edited by JULIAN HIGGINS
Executive Producer MICHAEL PARKER
Producers JULIAN HIGGINS, BRIAN DANNER, PAUL BIANCHI
Associate Producers E. PATRICK HANAVAN III, EUGENE RODDENBERRY
Written by PAUL BIANCHI
Story by MICHAEL PARKER, JULIAN HIGGINS, BRIAN DANNER, PAUL BIANCHI
Production Coordinator KRISTEN BRANCACCIO
Director of Photography PIERCE COOK
Production Designer PAUL BIANCHI
Art Director JO CRANDALL
Prop Master AARON HIGGINS
Wardrobe Supervisor BRIDGET DESJARLAIS
Stunt Coordinator & Fight Choreographer BRIAN DANNER
Hair & Makeup Supervisor LISA HANSELL
Based on Music by ALAN MENKEN
Based on Lyrics by HOWARD ASHMAN
Original Musical Arrangements ZAMURAI PRODUCTIONS
Original Instrumentation by DIRTY INK MUSIC
Thumbnail Elements SPENCE
First AD ALEC SCHIFF
Second AD GEORGINA CAPTAN
Cast
Deadpool: MICHAEL PARKER
Scared Guard: NOAH KAPLAN
Pissing Guard: BRIAN MONK
Junk Guard: BRENT HORST
Screaming Guard: KEVIN MORAN
Laughing Guard: REED IMHOFF
Frozen Guard: ADAM CRITCHLOW
Jubilee: KATE LE
Jubilee #2: KAITLYN TANIMOTO
Blind Al: SHEILA COLLINS
Wolverine/Logan: BRIAN DANNER
Rogue: JENNIFER VAN DIEN
Cyclops: CASPER VAN DIEN
Beast: DAVID "Dax" BAUER
Beast (Voice): VIC MIGNOGNA
Callisto: CHRISTIE NEWBY
Iron Man: KEVIN ALLEN
Iron Man (Voice): JAMIE COSTA
Black Widow: MONETTE MOIO
Captain America: VIC MIGNOGNA
Thor: THOR KNAI
Star-Lord: JO CRANDALL
Ant-Man: BRIAN DANNER
Black Panther: HAILÉ D'ALAN
Hawkeye: JOE SANTOS
Nick Fury: ELLIOT BRANCH
Puck: CHRISTOPHE ZAJAC-DENEK
Puck (Singing): MACK DUGGER
Sasquatch: KRISTOPHER BLOUNT
Spider-Man: CHRISTOPHER TROY
Spider-Man (Singing): PAUL BIANCHI
Doctor Strange: ORION BARNES
Jessica Jones: JACQUELINE ROSENTHAL
Captain Marvel: ALEXIS QUINN
X-23: KATE TOMLIN
Princesses: ALI WILLIAMS, TEENA PHOENIX, MEGAN GAINEY, TITA SAPAG, SCARLET SHEPPARD, KAYLIN ZEREN
Stunts Performed by SWORD FIGHTS, INC.
Asst. Stunt Coordinators ADAM CRITCHLOW, KEVIN MORAN
Addt'l Fight Choreography KRISTOPHER BLOUNT, DAVID "Dax" BAUER, MELANIE OBREGON
Previz Camera Operator ROBERT ANGIER
Deadpool Stunt Doubles ADAM CRITCHLOW, DREW KNIGGA
Rogue Stunts (Previz) LAURA CRONE, JACQUELINE ROSENTHAL
Set Costumer KATY MADZAR
Asst. Wardrobe Supervisor STEPHEN DESJARLAIS
Deadpool Costume PROFESSIONAL COSPLAY
Addt'l Speciality Costumer LOGAN PROPS
Asst. Makeup & Hair MONIQUE LUCERO
SFX Makeup Artists LISA HANSELL, THOMAS E. SURPRENANT, MEG WILBUR
SFX Masks & Gloves https://www.thehorrordome.com