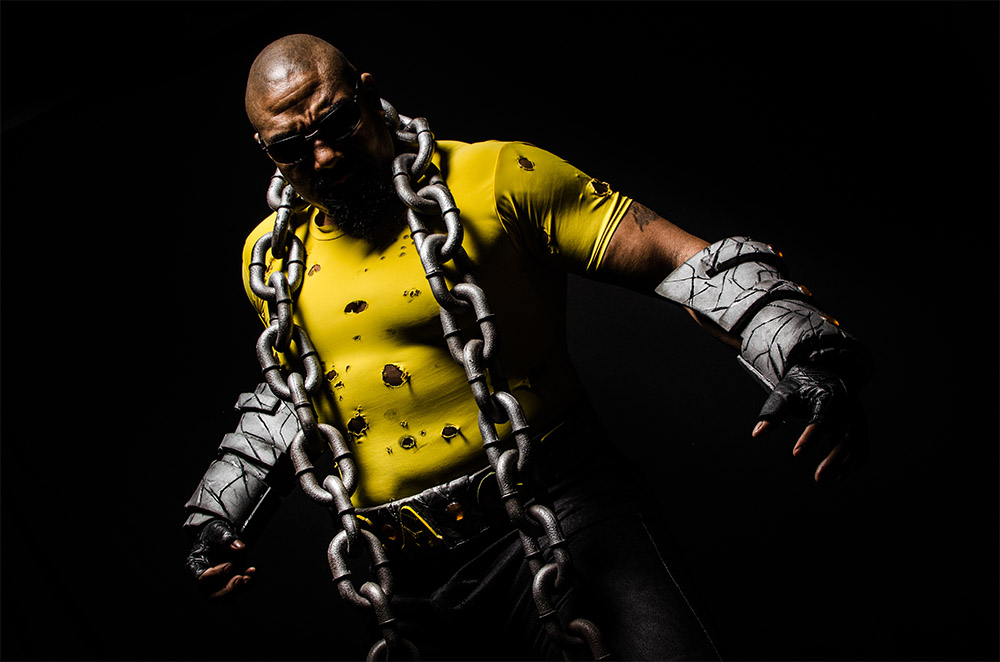 photos by the Portrait Dude

Michael "Knightmage" Wilson was born and raised in Cleveland, and is a decorated 16-year veteran Deputy Sheriff for the Mahoning County Sheriff's Office in Ohio. He has been cosplaying since 2012, and has created over 100 costumes, many of which have been praised and displayed on numerous platforms in print and online. Michael has been called one of the top male cosplayers in the world, and has judged or hosted multiple cosplay contests, panels, and workshops showcasing the positive, inspiring and supportive side of cosplay.
Michael has done stunt work on several Hollywood comic book movie productions including The Avengers, The Dark Knight Rises, and Captain America: The Winter Soldier, and was an alternate for the 2006 reality show "Who Wants To Be A Superhero" hosted by Stan Lee. Michael has created various costumes for World Wrestling Entertainment superstars and is a spokesmodel for the independent comic companies Shot In The Dark Comics and Transgenesis Comics.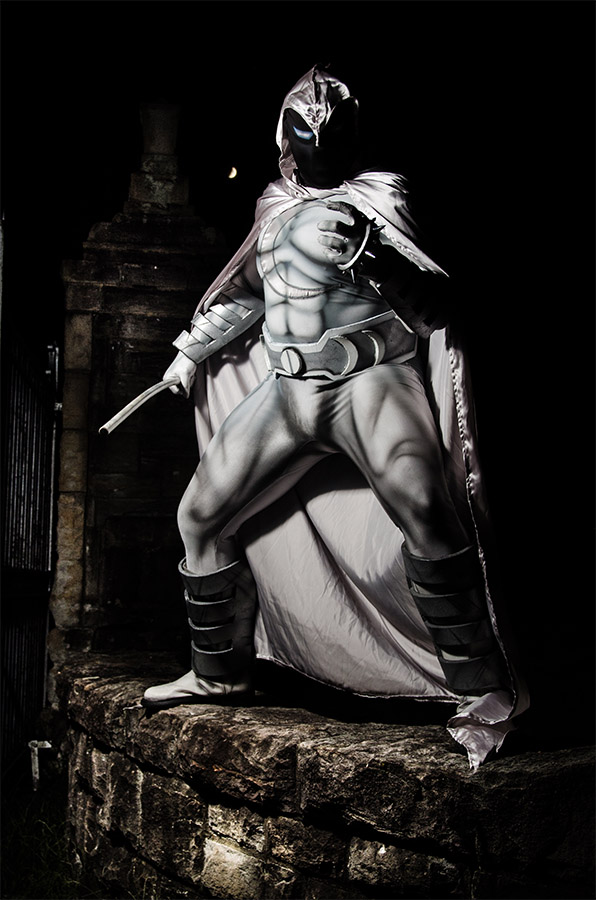 Most often, Michael uses his costuming to make a positive impact by participating in many charitable events, benefits, parades, and hospital visits to children, which led him to join esteemed costuming groups such as The League of Heroes, The Heroes Alliance – Ohio Branch, and Costumers with a Cause. He works as a sponsor for [local and national] charity organizations like the Make-A-Wish Foundation, Capes 4 Heroes, Angels for Animals, and many others. Michael has received numerous awards for his charitable work including the Outstanding Service Award from Credit Where Credit Is Due, and the Presidential Volunteers Award from President Obama.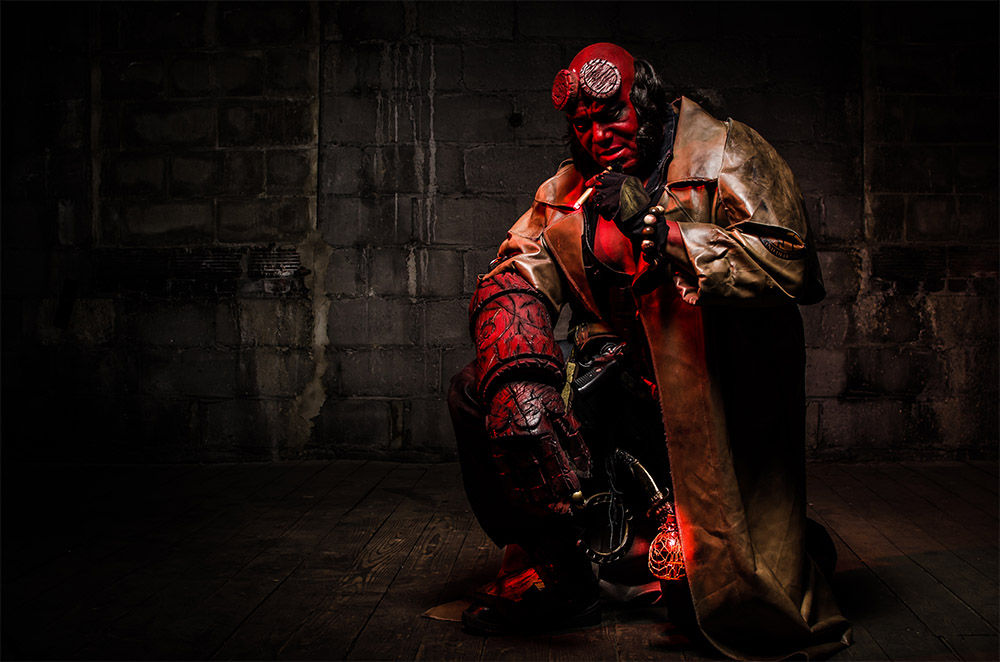 How did you get your start in cosplay?
For Halloween one year I wanted to be Green Lantern, which I pieced together using an Under Armour top and bottom with some green and white fabric. I chose the John Stewart Green Lantern, because at the time I didn't know if it was socially acceptable to be a character that was traditionally seen as another race, such as Hal Jordan or Guy Gardner. After diving into the cosplay community I realized that I was completely wrong in my thinking. I'm happy I chose that character because I was able to later use it as a teaching tool for others.
Weeks later I was asked to participate in a Relay For Life event where the theme was "superheroes" and had a blast! Soon after I was asked to do another charity event and then another—every weekend the only thing I was doing was charity events. At that time I had never been to a convention, and attended my first at the Cincinnati Comic Expo in 2012. The moment I stepped on the convention floor I felt like I was home. I still do many charity events but at conventions I fund-raise for charities: I give away my prints for free with an optional donation to whatever charity I'm partnering with for that event. The charity aspect turned cosplay into a passion that continues to drive me.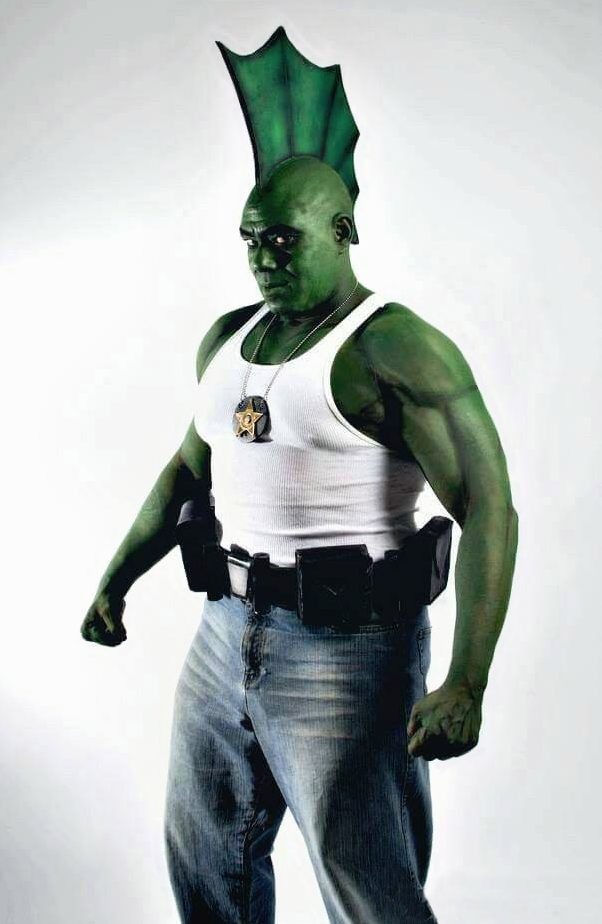 What's your favorite thing about cosplay?
My favorite thing goes along with the first thing that I learned: there are no rules when it comes to cosplay. You can be whomever you want and have them look however you want. Cosplay can be both mentally and physically therapeutic because of the complete unlimited expression of yourself; you can push yourself in so many ways.
What draws you to create a specific cosplay? Is it the costume design or 
the character?
Honestly, there's no rhyme or reason why I choose certain characters other than I thought they would be fun to create. Many of the costumes I've done have been suggestions from fans and my cosplay partner/best friend, Superkayce. We often do duo cosplays and she'll come to me with an idea. Sometimes I know the character and sometimes I don't, but I know I'll have fun with it. That's the key for me—I don't need to be in love with the character or the design; I just need to know that that I'll have fun with it in some way. Then of course there are the characters that I do love, such as Spawn and Predator that were passion projects.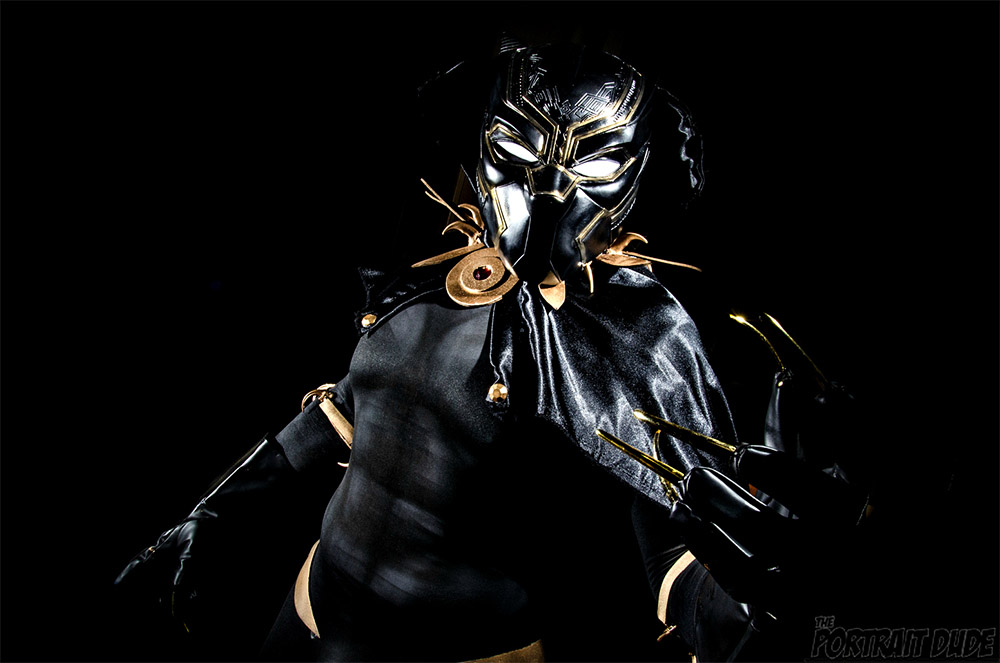 Which of your cosplays has been your favorite or turned out the best?
There's many that I'm proud of because of artistic reasons, but I can't I say I have a favorite. With some, like Goliath or Kratos, I just love the way I look. With others I really start to embody the character, like Lobo and Darkseid. If I had to pick one costume it would be Predator. Many people who cosplay as Predator take their builds seriously, sometimes spending thousands of dollars. Like every other build, once I started I caught my groove, and four days and $125 later my Predator was done. The defining moment for that cosplay was when I was approached by "MAN AT ARMS: Reforged", a popular YouTube show where they recreate iconic movie and comic book weapons using real metal. I constantly use that costume to show others that you don't need to spend hundreds of thousands of dollars for a great costume.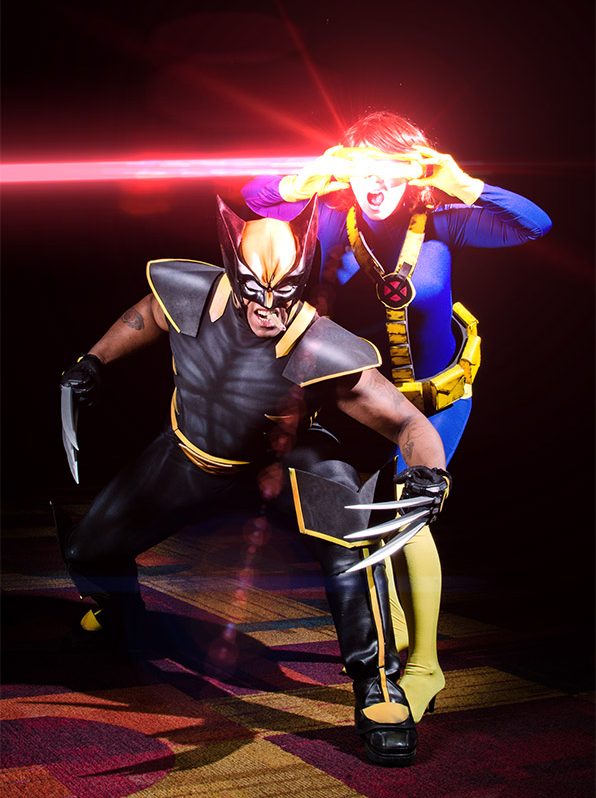 What's been the biggest challenge for you?
The biggest challenge has been figuring out how to do the charity thing along with the convention thing at the pace that makes me feel satisfied. I went through a small period of burnout, and had to learn to say no to certain things and give myself time to breathe. It's easy to get wrapped up in everything and start neglecting yourself. Costume-wise, my next costume is always the biggest challenge. I do things on a strict budget and quickly — if I can't make it or modify it for less than $250 then I'm not doing it. On average a costume takes me about 4 days to complete, simply because I just don't have much time. I don't go into creating costumes with a plan; I just start and work through it.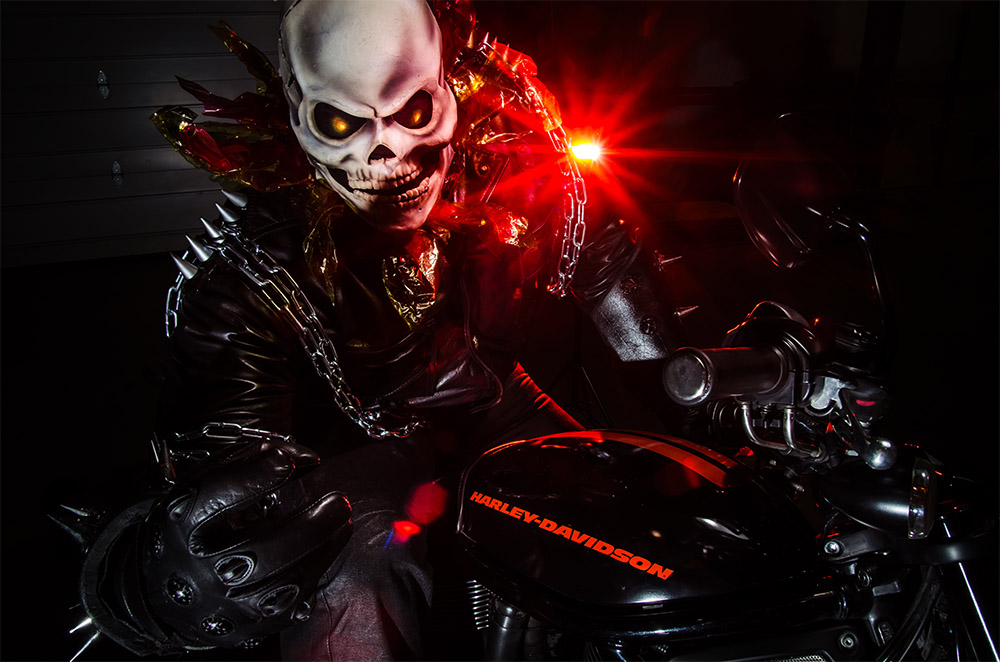 What advice would you give to those who are just starting out?
I always tell people to be prepared for the negative aspects of cosplaying. If you're in a costume there's a good chance you'll get your picture taken, and an even better chance it will end up online. The internet can be a cruel place — someone will find something negative to say. It's easy to say, "Just ignore it," because truthfully there's more love and support in the community than anything else. But it's also easy to focus on that one negative comment over the hundreds of positive ones. The real trick is to surround yourself with good people, who will support and encourage you.
As a cosplayer, you can be whomever you want regardless of size, gender or race. It doesn't matter if you made or bought it, what your skill level is, or how much you spent. None of that matters as long as you're having fun. Lead by example in the cosplay community. Always be willing to teach and pay it forward. Be proud of any success and accomplishments that come your way but remain humble. And the most important advice I could ever give: always make sure you wear a dance belt!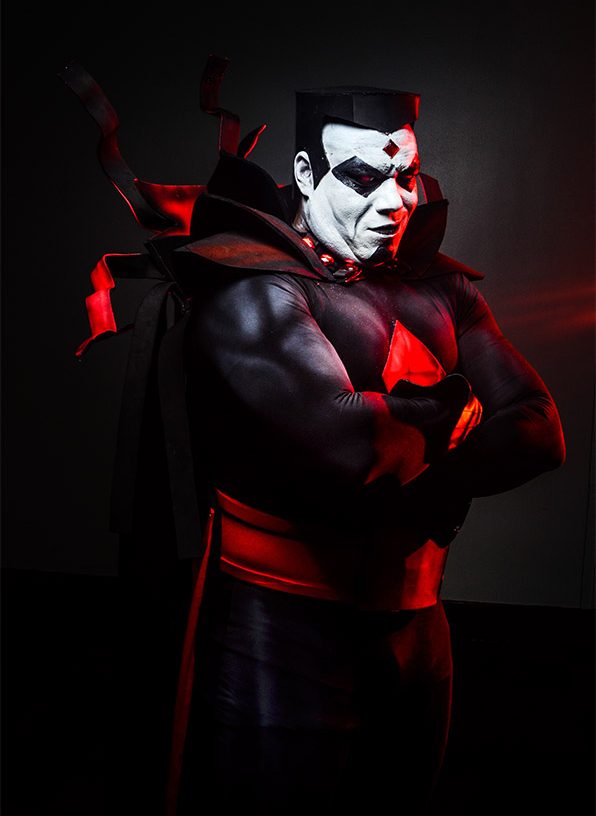 If you wish, become a fan at www.Facebook.com/Knightmage1 and follow on Twitter @Knightmage and Instagram @Knightmage1